SEO is a fierce battleground, and it is essential to stay on top!
That is why some business leaders resort to black-hat SEO techniques to outperform their competitors.
When it comes to search engine marketing, generally, there are two ways in which marketers approach it: Black hat and white hat SEO.
In this article, we'll discuss what black hat SEO is, why you should avoid it and what you can do if you're concerned about your online or brand reputation.
What is Black Hat SEO?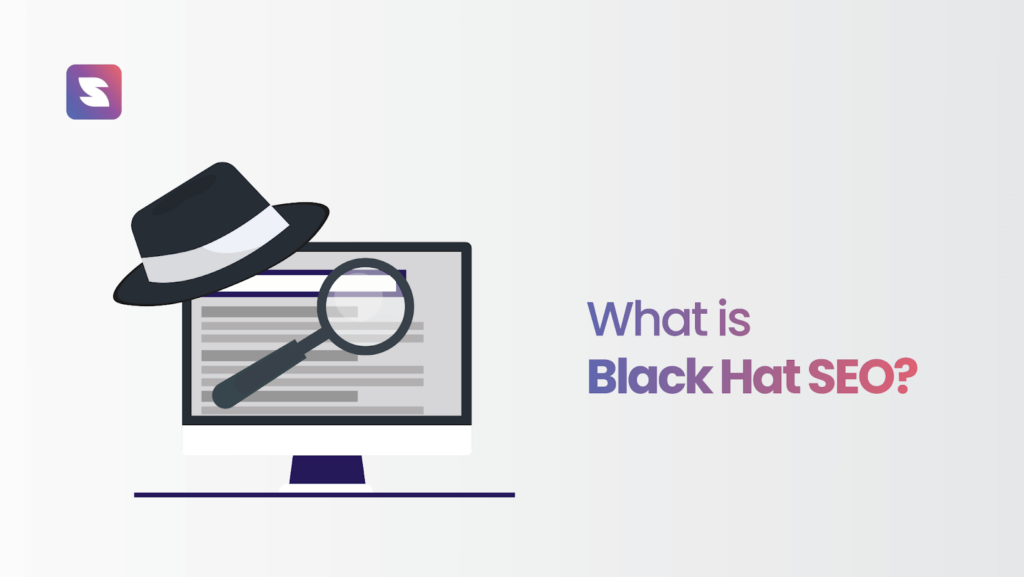 Black hat SEO is the practice of using unethical search engine optimization strategies to gain an advantage over competitors in search engine searches. These black hat marketing tactics include stuffing content with keywords, using irrelevant keywords and employing deceptive practices.
However, it's essential to recognize that black hat SEO exists because many believe it works and may benefit their business or client projects.
Why You Should Avoid Black Hat SEO
Black hat SEO is not just about getting a few extra clicks on your site or stealing links. It's about taking shortcuts that hurt users, devalue brands, and result in penalties from search engines (and consumers).
Though Google constantly updates their algorithm in order to provide value to its users, this updation also ensures that it also undermines the websites that use such techniques.
If you use Black Hat SEO practices to increase your site's visibility, two things are prone to happen.
You will lose ranking and get side-tracked by quality websites.
You may face a permanent ban for the website from search engines.
Black Hat Techniques in SEO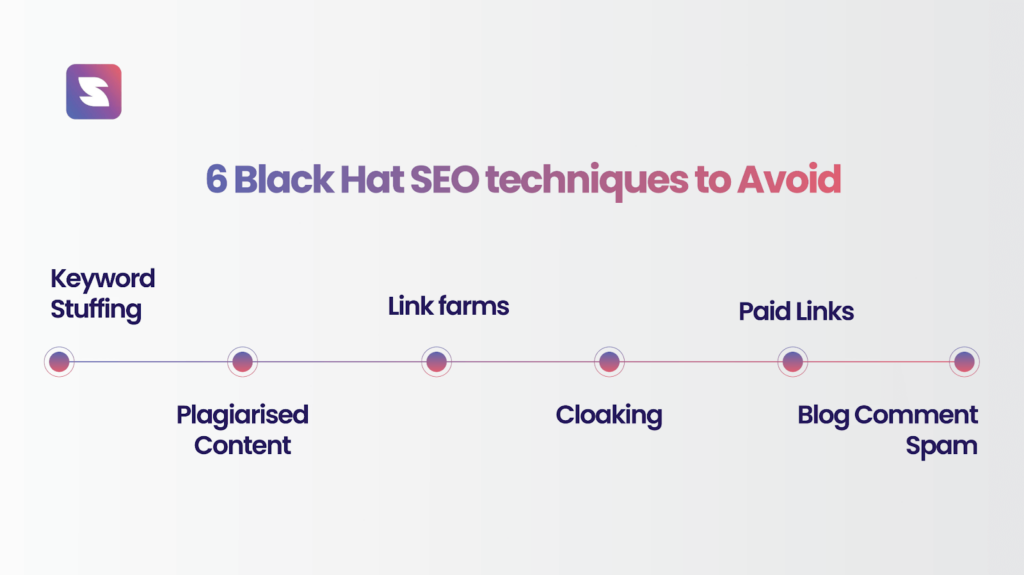 Keyword Stuffing
Keyword Stuffing is the practice of overusing a primary keyword in a given content, hoping to get ranked over your competitors. In addition, the page's content may also have irrelevant keywords and phrases, creating an unnatural keyword density.
Though it might rank, the content you wrote would not provide any value to the readers, damaging your brand voice forever!
How to avoid it
It's simple, stay true to the topic and its original content intends, & include keywords only when necessary.
Google is becoming more human in detecting the quality of the content, especially with its latest algorithm. Instead of focusing on keywords alone, you should focus more on what value you want to provide in the content.
Also, when it comes to meta tags, you should use the primary keyword in the meta title and one or two keywords in your meta description. Try & restrain the length of the meta description to/below 160 characters.
Plagiarised Content
By scraping, duplicating, or plagiarizing content, you are violating trademark and copyright laws. Search engine bots, while crawling your website, can identify this plagiarised content. This meant another reason for the search engines like Google to penalize your website.
How to avoid it
Whenever you are writing an article, you should use your own voice and provide additional ideas as well as original pictures in order to improve your search engine ranking.
Yes, it's possible to have plagiarised content present even when you wrote a new piece. But that's ok.
There are tools available online to help you understand the plagiarised part in your content.
Use tools like Duplichecker to check the plagiarism and make it below 5%.
Blog Comment Spam
Before being the mainstream like now, blogs has rich conversations and discussions between people, But as time went by, backlinks became necessary and these comment sections were a good place to get one.
One will manually post a comment, which will literally be a link of their website or any of their desired web page. And when website is crawled it will read as backlink. This is the black hat seo technique called blog comment spam.
But, what started like that has now become automated through codes, and are commenting on a larger group of website within a short period of time. This will bring in an unrealistic amount of backlinks to your website, which will fall under Google's scrutiny. And thus, the penalization.
How to avoid it
Many authoritative pages have made the links in blog comments nofollow by default. Which means it does not pass authority but merely a link.
However, if you can make reasonable & relevant comments and is actually providing value then adding link is fine.
You can also mitigate this risk by using an advanced anti-spam tool like Google's free reCAPTCHA tool, or if your website is on WordPress, you can activate the Akismet spam protection plugin, which flags spam comments.
Cloaking
Cloaking is another black hat tactic that uses techniques like stuffing keywords and masking them by making their font colour the same as that of the website's background colour, & using redirects to send google crawlers to one web page for ranking & users to another. This can trick search engines into giving web pages higher rankings while also helping you get more traffic.
Users expect X content but are bombarded with ads, irrelevant content, malware, insecure site issues, or whatever the owner can exploit with.
Some search engines can warn users of sites that may harm them, their data, or their devices with protections in place. In the case of cloaking, users receive content that has not been filtered and is likely to be undesirable.
How to avoid it
The best way is to stay away from such malpractices.
Also, stay updated about the SEO best practices and google updates. You can subscribe to channels like Search Engine Journal, Backlinko & Hubspot to stay updated.
Paid Links
When you pay a third-party domain to receive a link from their website to yours, then it's called a paid link.
Search engines also use backlinks to rank your content. Google will consider you a trustworthy and authoritative source if it sees that you have adequate links to relevant & quality websites. This ranking signal is exploited by some users who sell link placements on their sites.
We must admit that paid links are a growing industry with SEO & the reason is that one could attain high quality through this as well.
Though Google has set appropriate measures to spot such paid links, the black hat users have found another way around it by lower the amount of links being done in a particular interval. And it's becoming harder to spot it among the trillion backlinks that are being made every month.
How to avoid it
You can avoid it is doing the following:
Network & build strong relationships between website users for guest blogging purposes.
Create quality content that attracts backlinks
Develop reverse-linking blogs. They are primarily statistical and have original research material others would like to link to.
Link Farms
Link farms are website/s designed solely for the purpose of generating backlinks for other legitimate websites. These sites are mostly will have poor-quality content, no proper contextual links, low Google PageRank and more.
The reason for the existence of such a method is that Google considers websites with more authoritative backlinks, and the more backlinks it has, the more authoritative it becomes and ranks.
But Google's algorithm has seen several updates throughout time, and now it can separate quality backlinks from the others coming from link farms. This means implementing link farms to enrich your backlink profile will not work, and you will definitely see a decrease in your website's visibility online.
How to avoid it
Follow the legit backlinking methods like,
Guest blogging
Directory submissions
Broken links outreach
Infographic outreach
Sharing Content on Bookmarking sites
Press Releases
Wrap Up
For the love of SEO, avoid using black hat SEO strategies to make sure your next search is not about getting rid of Google penalties.
The rewards earned from black hat SEO are short-lived; hence, in the long run, it will only drop your rankings. White hat SEO is the only way to approach SEO and grow in the longer run.
You can use SEO tools like Suitejar as they can help you by flagging the SEO issues and perform a detailed SEO audit.