The main objective of building an SEO-optimised website is to increase website traffic by gaining visibility on search engines. Understanding and implementing best SEO practices can help you get a competitive advantage to win Google's algorithm and gain higher rankings.
Google provides a feature called Sitelinks to enable users to explore more about a particular website. Some users visit a site with the intention of knowing the pricing details or landing on a blogging page. Sitelinks help those users by providing quick access links below the main URL, thus enhancing the user experience.
These quick links include pages like about us, contact us, careers, FAQ section, and blog home page. This feature allows the user to view different levels of your site without even clicking.
Let us explore more about sitelinks and best practices to get rich sitelinks for a website.
What are sitelinks?
Sitelinks are additional links displayed on SERPs to help users navigate to specific pages within a website.
Have a look at the below-provided example; you can find links to other landing pages for the search query 'SuiteJar'. These clustered links are called sitelinks which can save the time of the user by directly navigating them to specific pages.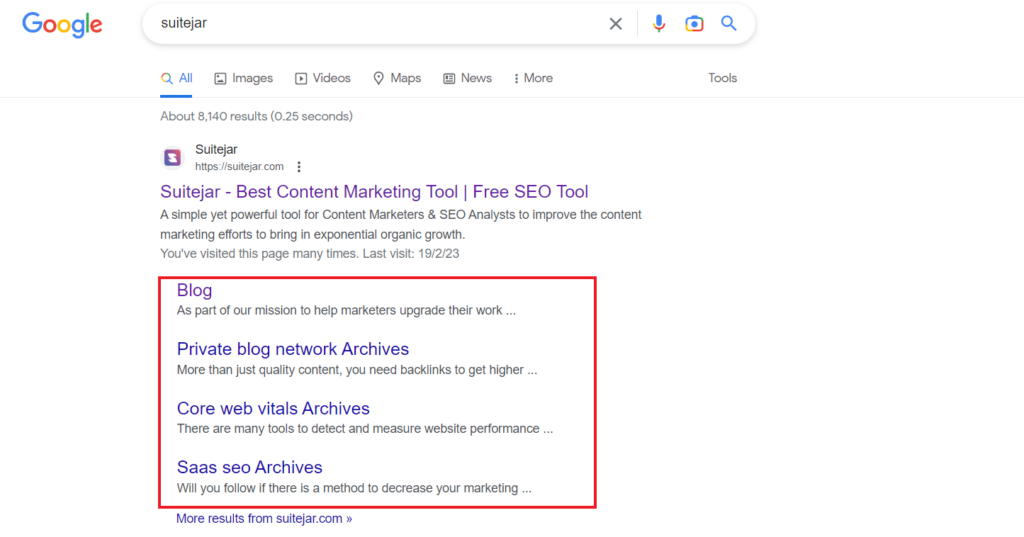 Sitelinks can greatly help you boost your CTR (Click Through Rate) by enhancing the visibility of your internal pages. According to Google, the sitelinks can improve the CTR by an average of 20%.
As you can see in the above example, the sitelinks occupy the first fold of the SERPs page and can be helpful to the users. It improves your chances of getting clicks and gets visitors to your website.
Importance of Sitelinks in SEO
The benefits of having sitelinks cannot be underestimated. One must try to gain sitelinks for the following reasons: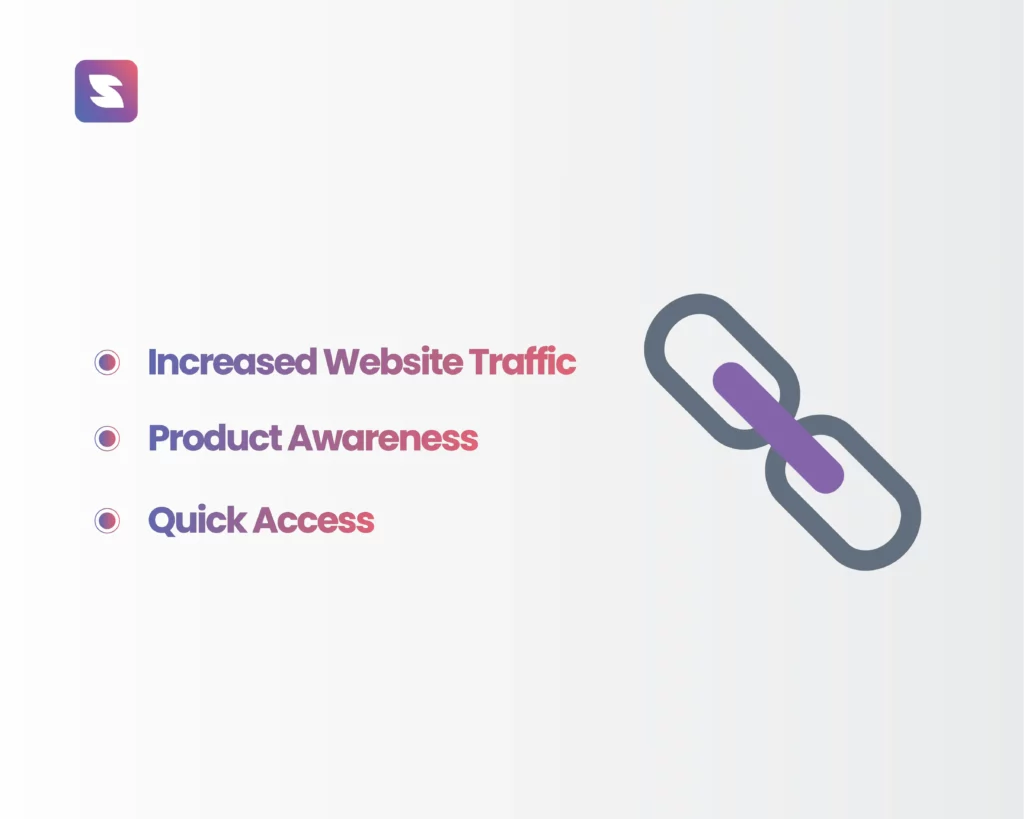 1. Increased website traffic
Over 75% of the website traffic goes to the top three results of the result page. When Google provides sitelinks for your website, you can bag the top three positions and increase your website traffic. A case study conducted by PPC-Hero found that sitelinks increased the CTR by 64%. The more the number of links you provide, the more traffic you can gain for your site.
2. Product awareness
Sitelinks can help users to get all the information they need on the same page itself. This provides faster results to the user's query and enhances the user experience. Potential audiences will find it useful to explore more about your products.
3. Quick access
It also provides quick access to important pages and enables users to reach your product pages directly. This can help you to capture more leads and leverage the profitability of your business.
How Google Determines Sitelinks
Organic sitelinks are automated, and they are determined by Google's algorithm. You cannot enable or opt-in for it. Google provides sitelinks only for pages that it finds trustable and authoritative.
Google has made an announcement about the importance of site structure to get sitelinks: 'We only show sitelinks for results when we think they'll be useful to the user. If the structure of your site doesn't allow our algorithms to find good sitelinks, or we don't think that the sitelinks for your site are relevant for the user's query, we won't show them.'
Below are some of the factors that influence the sitelink selection process of Google's algorithm
Using structured data, rich snippets, and schema markup language, you can ease the process for Google to understand your site structure.
Adding XML sitemaps can also help Google to crawl all your pages and find the important pages.
Sitelinks are greatly influenced by site architecture and internal linking. A good site architecture can reveal the hierarchical structure of your site, and the internal links help Google's bot quickly identify and index your pages.
Another important factor that determines the sitelinks is user behavior. The ultimate aim of providing sitelinks is to enhance the user experience by enabling them to quickly access the information they need. It produces sitelinks only if the algorithm decides that it might be useful for the particular user.
Best Practices for Optimizing Sitelinks
There are many proven SEO strategies that can help you to get rich sitelinks. If you are looking for ways how to get sitelinks in Google search, here are some best SEO practices that can increase your chances of getting sitelinks.
Improve website structure and navigation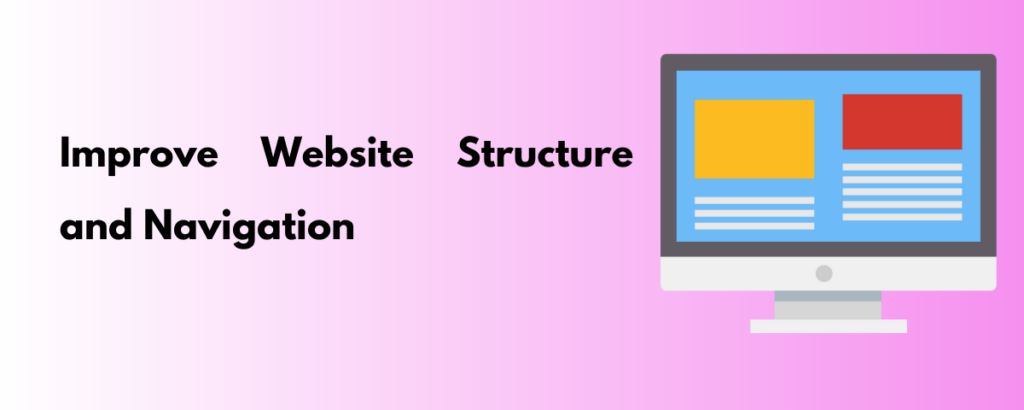 The navigational structure of a website is the order in which different pages are connected together. Google will find it difficult to crawl websites with a complicated site structure, making it difficult to assign sitelinks.
A survey discovered that only 50% of users were able to locate the relevant content on the website with a standard navigational menu. Therefore use a navigational menu that best suits your audience. Identify the pages that are important for your audience and carve a clear navigational path to those pages.
Ensure that your website's homepage serves as its primary page and that all other pages can be easily accessed from it. Your pages should be organized with clear headings and an understandable structure, and whenever possible, everything should be divided into sensible sections.
Implement strategic internal linking
Interlinking is the key influential factor for the website to get a higher ranking allowing the search engine to identify important pages and index them. It serves as a guide for crawlers to understand the structure of your site.
Internal links are hyperlinked texts that point to other pages within the same domain. A strategic interlinking can greatly help to pass authority, and Google will consider those as important pages.
Identify the crucial pages for your business and interlink them. When you build more internal links to a particular product/service page, you are giving a signal to Google to consider them for sitelinks. Use keyword-rich anchor text to help Google understand the content of the linked page.
Optimize on-page SEO elements
The on-page SEO elements help search engines understand the page's content and determine its relevance to a particular user query. Thus increasing the likelihood of getting sitelinks.
Here is your checklist for optimizing on-page SEO.
Optimize the title tags, meta descriptions, and header tags for each page and make them more relevant to match the user's query.
Limit the number of characters in the title to 55 to 65 to avoid title truncation in search results.
Avoid duplicate title tags and include keywords in your tags.
Avoid keyword stuffing.
Create high-quality, unique content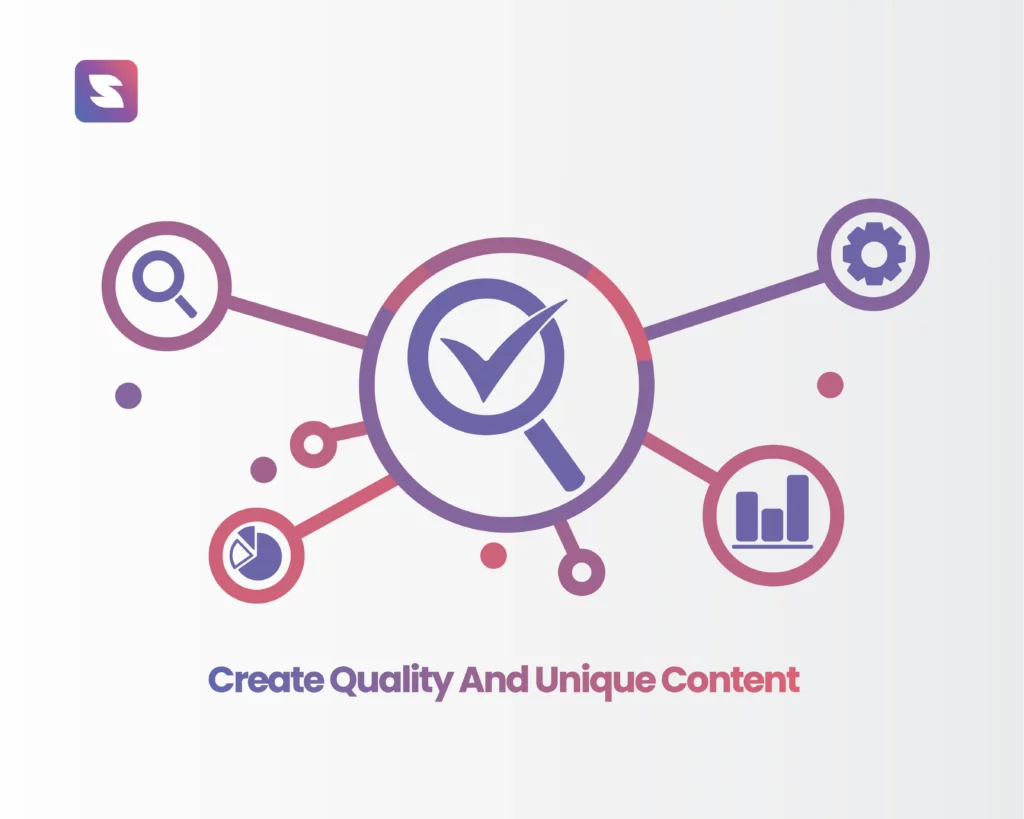 It is important to get your site at the top of the website to get sitelinks. To get a higher ranking in the SERPs, it is essential to produce high-quality content that adds value to the users. Unique content that provides invaluable insights to the audience can grab the attention of Google.
Below are some of the best practices to be followed while publishing:
Create personalized and engaging content and publish them regularly. Be consistent in your process and avoid repeating the same content.
Use different forms of content like blog posts, case studies, white papers, surveys, articles, and others.
Define a clear road map for content creation and monitor the metrics for published content. Use analytical tools like G4 to evaluate the performance of generated content and find ways to create high-impactful content.
Brainstorm content ideas with your peers to receive suggestions from different stakeholders.
Don't neglect the importance of keywords while generating content. SEO-optimized content can perform wonders by increasing website traffic and can gain top positions on the SERP.
Suggested read: How to get Ranked on 1st Page in Google
Monitor and analyze sitelink performance
Evaluating the performance of sitelinks is essential for you to understand the results of all your efforts in SEO. The organic sitelinks of your site indicate that your website is well-structured and optimized for SEO.
You can view the number of clicks for each sitelinks by using Search Ads 360. You can extract data on the number of clicks of each sitelink for different campaigns and understand which sitelink works best for you.
If you are encountering sitelinks that you feel as unnecessary, you can modify them. Here is a short guide on how to change sitelinks in Google search. You cannot completely remove a sitelink, but you can demote them.
In the Search Console home page, choose the links you want to change.
Expand this by clicking Search Appearance, then select Sitelinks.
Enter the URL for the page for which you do not want to display a sitelink in the 'For this search result box'.
Enter the URL you want to demote in the box marked "Demote this Sitelink URL".
Conclusion
Sitelinks are highly valuable as they tell users that your website is trustworthy and authoritative. It helps to build brand awareness by helping your customers to know more about your business.
There is no shortcut to gaining organic sitelinks. Gaining organic sitelinks is a long process for which you need to follow best SEO practices. Sitelinks can certainly be highly beneficial in many ways in improving traffic, even though they aren't essential to a website's success. You can increase your chances of getting sitelinks shown on Google's website by adhering to the rules and requirements set forth by that search engine.