Optimizing or updating old content pieces is considered to be an effective way to boost your website's ranking as well as traffic.
If you are hearing this for the first time, then try it! It is effective.
As a content marketer and an SEO professional, I have had my fair share of optimization of such old content. But the real problem was always finding the right content to update and how to update. And like every other problem, this too has a solution.
That's exactly what I will be discussing with you guys. Let's start with when you should update old content pieces.
When to Update Old Content?
I'm going to lay it straight and simple.
Knowing the right time to update old content pieces requires a basic understanding of why we are doing this. And following are some of the scenarios where I consider updating old content.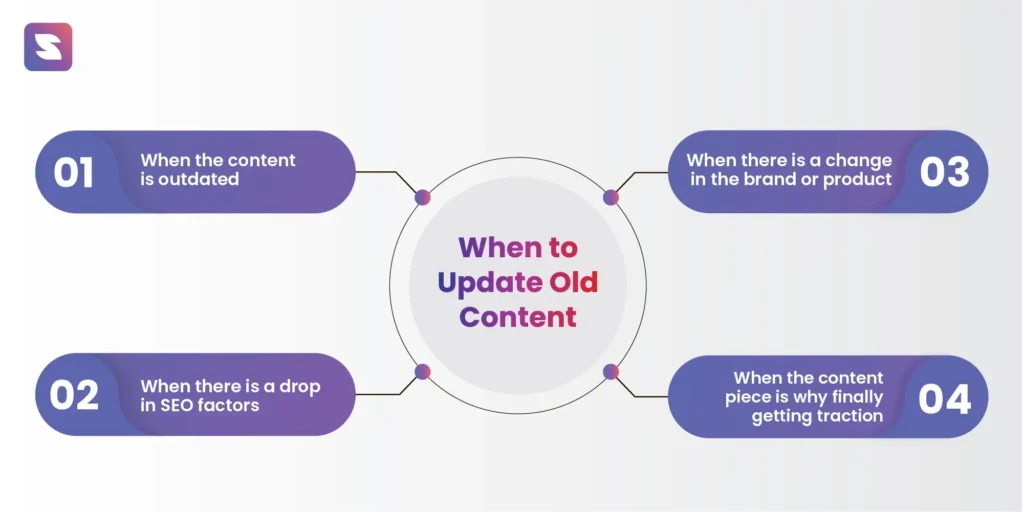 1. When the content is outdated
Now, there is no better reason than this. It's obvious that most content pieces we write are more contemporary. And readers like to get up-to-date information, and search engines are striving to provide it.
The type of content here includes statistics blogs, blogs focusing on current trends, and so on.
2. When there is a drop in SEO factors
Everyone knows the potential of SEO, which means everyone is competing for the number one spot. It's like a wheel of power. Your content can be dethroned number #1 after just two weeks.
So as Daenerys said, we need to break the wheel. Update the content when you see a drop in the SEO ranking. Or be ready to give way to those who do.
3. When there is a change in the brand or product
Obviously, if there is a change in what you provide, you naturally have to update the same everywhere. And a personal note – everywhere means everywhere. It's possible you have used the content for off-page SEO purposes, so update them as well.
4. When the content piece is why finally getting traction
Yes, you read it correctly. I know we are talking about updating old content. But the context depends on how you define old content.
For me, anything past 3 months is old content. For some others, it can be 6 months. Hell, some even update it monthly. Not that I recommend updating monthly, but you got the gist right.
Updating content while it is climbing up the ranking could propel it to the SERP results. Believe me, it does.
There are a few other scenarios that I don't think need to be emphasized here. For example, if a content piece hasn't been updated in a LONG time, then it surely needs updating. Similarly, if there are broken links in your content, you naturally have to update it.
So now that we have understood when to update old content, let's see how.
How to Update Old Content Pieces?
So this is a process that may vary with the people who are doing it. Like how the definition of old content changes for people, the way they update changes as well. What you will read will be the process I follow while updating the old content pieces.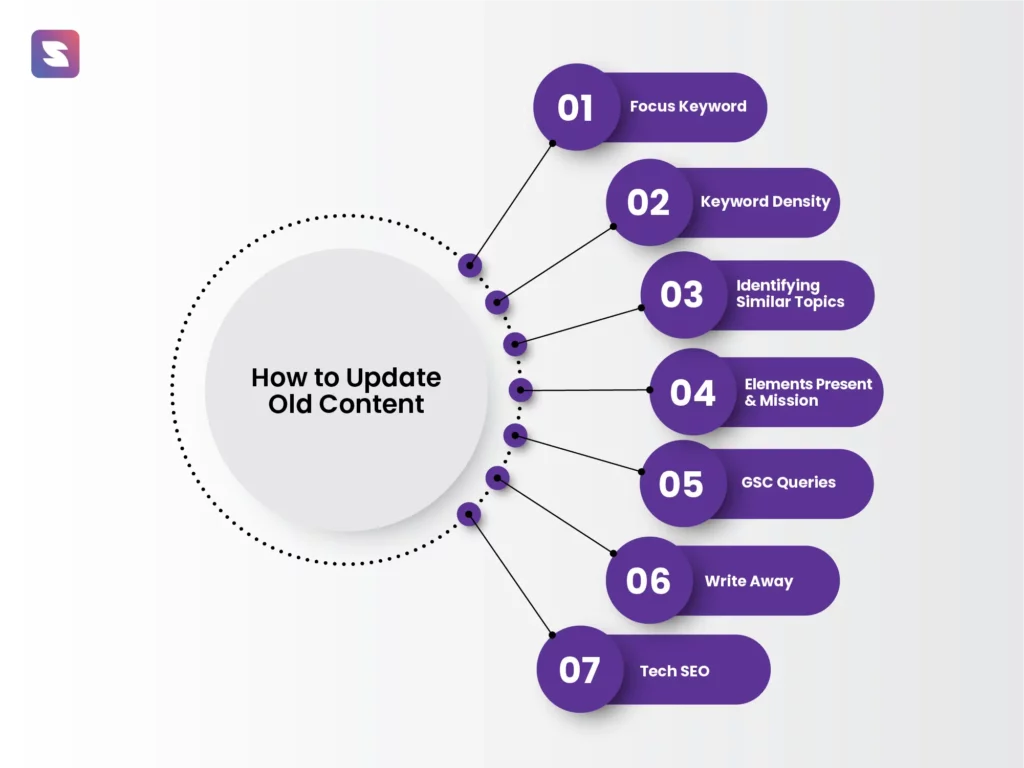 STEP 1: Focus Keyword
This is, from my perspective, the best way to start. If the right keyword isn't used in a blog, then there is no point in doing anything else. So, ensure that the keyword used is right.
How can you cross-check it? The focus keyword should reflect the content intent. For example, if the focus keyword is "remove outdated content", then the blog, or whatever the type of content is, should focus on providing insights on removing outdated content. 
Now in the case where an old blog is written with the wrong focus keyword, don't try to write it anew. But simply do proper keyword research and find the right keyword for the content and add it.
Once you have established that the focus keyword is correct, check for keyword density.
STEP 2: Keyword Density
While there is a class of professionals who believe they can rank with top-class content, it's just a pride thing. The content is being crawled and examined by bots. No matter how sophisticated and human-like it is, it's still a program. Therefore including the focus keyword for a bare minimum of time is necessary.
So how do I define this bare minimum of time?
At least once in the introduction and conclusion part
At least twice in headers
A minimum of three to four times within the content's main body.
At least once in an alt text
I should point out that don't try to stuff the keyword. Write with the keyword in mind, what and why you are writing for. This usually helps in reaching the quota I listed.
STEP 3: Identifying Similar Topics
And why would I do that right?
This step is basically for a better interlinking purpose. The more I know about the content that is available surrounding a topic, the more interlinks I can include.
A complete content audit would be the right approach here. And while listing the content, try to cover all of the following types.
Blogs
How-to Guides
eBooks [CTA purposes]
Comparison Articles
And, of course, Service Pages [CTA purposes]
OK, before moving to the next step, a reminder. We haven't started writing yet. That's the last step.
STEP 4: Elements Present & Mission
Stringent scrutiny of the old content reveals what elements are missing and what are present.
With the elements, I meant images, CTAs, content structure, etc.
I would start with a proper competitor analysis. This way, I get to know how they captivate their readers, what kind of elements they are using, and how they are using them.
Whatever the type of content we are writing, leaning only on the content itself is not the ideal way. Therefore I ensure there are proper images to give the readers an overview of what a section discusses.
Careful placement of Call-to-action buttons [& images] can be effective. But ensure that the content piece is written for conversion. There is no point in adding multiple CTA options in a top-of-the-funnel topic.
So, I list out the elements that are present and missing in the old content before updating it.
STEP 5: GSC Queries
We all know the secret ingredient to the soup is nothing [Kung Fu Panda reference for those who are illiterate to understand this]. But here, GSC queries are the secret ingredient in updating old content.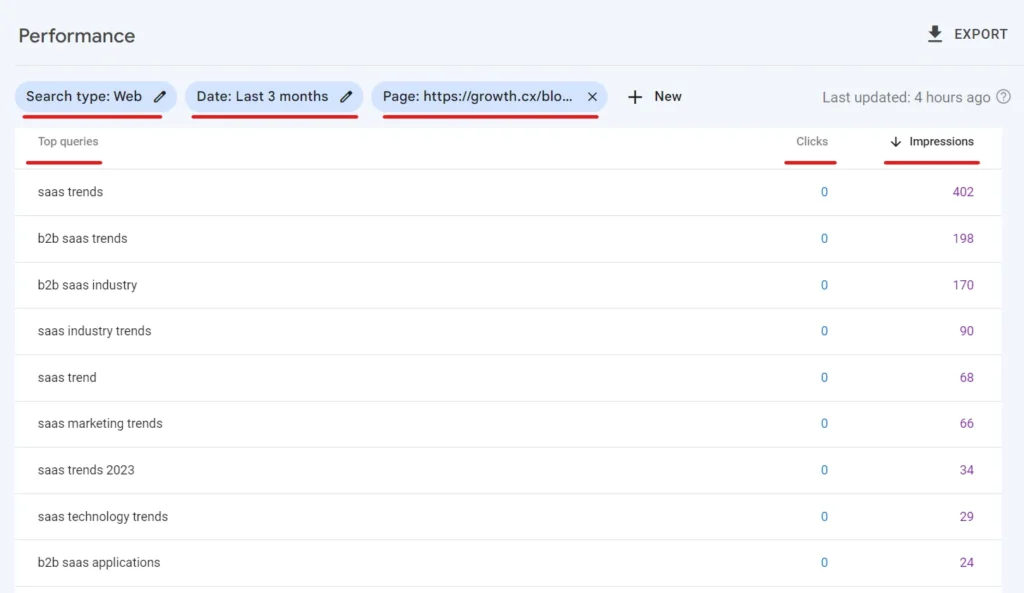 Go to your Google Search Console account, and filter the performance data by the following –
Search type
Time duration
The URL of the page you are updating
Now there are two ways you can go forward with this. Either click on the "CLICKS" to order the queries for which the old content is getting clicks from. In this case, the clicks were 0. Therefore, I considered the second one.
I ordered the list of queries with respect to "IMPRESSIONS" to see which queries or keywords the old content is currently getting more impressions from.
Now you could take the top 10 or top 20. But looming around the top 10 is suggested.
Copy-paste the queries to the document you are going to update for easy access, and, well, start writing.
STEP 6: Write Away
Consider all the things I have discussed. Prepare yourself and make a checklist of what to do, and start writing [updating] your old content piece.
STEP 7: Tech SEO
I may have gone overboard when I told you writing was the last step. But in reality, publishing is. And before we jump to that, ensure the technical health of the web page.
Does URL Slug need to be changed?
Does the blog page have SSL?
Do the images present on the page affect the loading speed?
Create a technical SEO checklist and go through each of them.
And that's it. These are the main things I focus on while optimizing or updating an old content piece.
How Can SuiteJar Help Here?
The steps I mentioned, as you know, can munch time depending upon the experience of the one who is doing it. SuiteJar is an SEO and content marketing tool that can help here – with finding and updating content.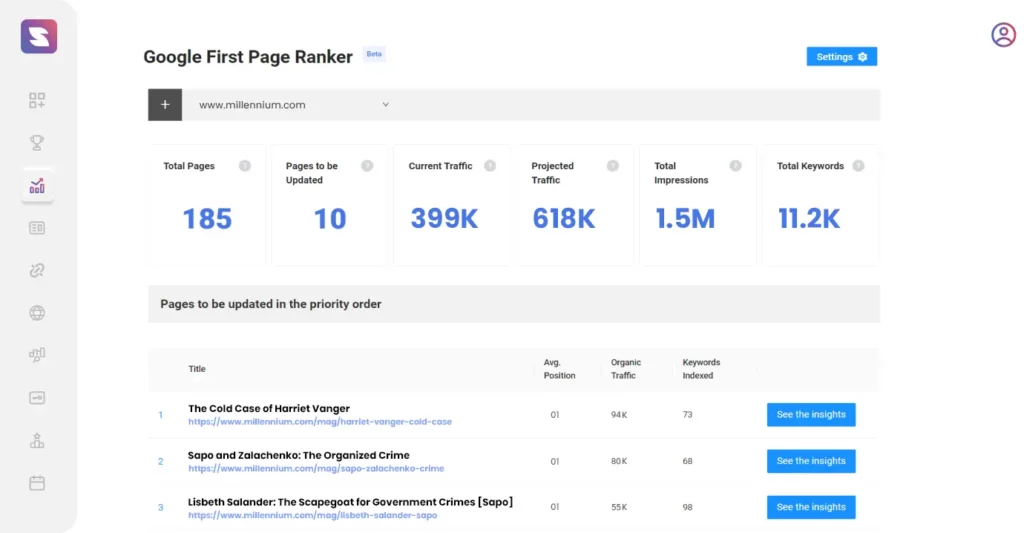 The unique feature of this tool, which is the – First Page Ranker – not only identifies the content that needs to be updated [optimized] but also provides insights into how to do it.
You will have to integrate your GSC account with the tool. Afterward, it will analyze your content and list out a set of web pages that has the potential to rank if it's properly updated.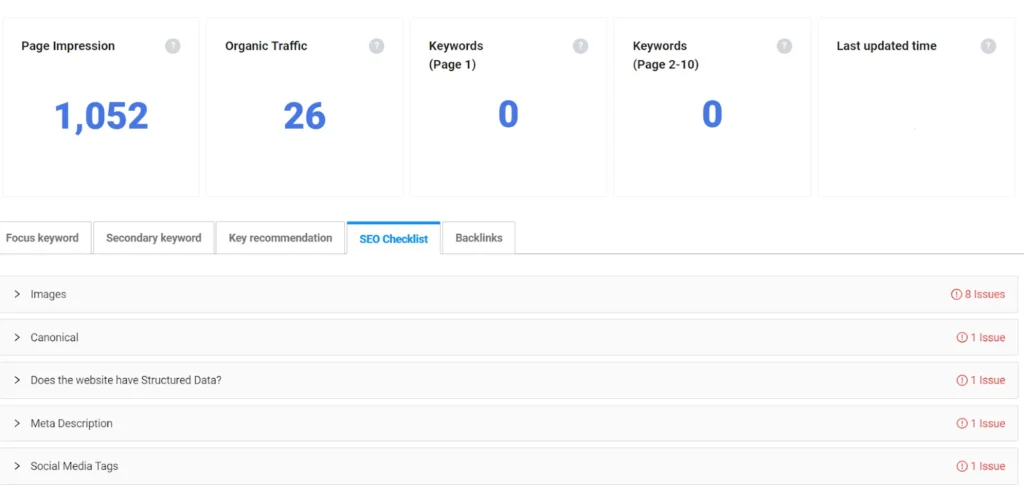 The insights it provides in updating include the keywords to include, broken links to fix, missing alt text to add, and more. The feature could significantly reduce the time we invest in the process I explained and help you with updating all the necessary parts of a web page.
The way I see it, this feature is one-of-a-kind and new in the market. Therefore, there is room for improvement. If you are interested, sign up here and try it out. Or, if you are someone who is interested in knowing more about this feature, you can call the team at SuiteJar – support@suitejar.com