"Content is the atomic particle of every business and SEO its core"
Every business needs SEO to give it the shout-out it deserves on Google SERP. Your existence needs to reach your potential customers' ears.
Even with businesses spewing content left and right with chatgpt4 and AI tools, YOU NEED GOOD SEO!
Many startups are afraid to take that side step, fearing an extra financial burden.
What if we tell you that you can have everything everywhere all at once, you just need the right SEO tool. Don't believe us? Check this out.
In this write-up, we'll give you a detailed account of all the top SEO tools for startups.
(PS: Some are really affordable and deliver mind-blowing results, best for startups and small businesses without funds)
Take a look.
What to look for in SEO tools?
Hold on a minute before you rush to the list. First, you need to know what makes them great.
You need to look for certain factors when you are choosing your SEO tool for your startup. Here is a checklist to help you:
Affordability
Well, obviously, startups need to keep their finances in check. Look for the most affordable option. There are some free tools that have premium options, and there are paid tools that have free versions.
Make use of anything that is available.
Up-to-date
Google has this annoying habit of changing its algorithm right when you get your ducks in order. It gives Zero "ducks" on what you did up until that point, Google changes the rules on its whim.
So you need a tool that can adapt to this change fast and save you the hassle.
Minimal learning curve
You are trying to run a business smoothly and can't employ new personnel to learn new tools or waste human resources while they master that tool.
Positive results are easier to achieve if the tool is easy to maneuver. So choose the tool with the least learning curve.
Flexibility
Those who know SEO marketing know that there are multiple ways to reach your goal. Most of the time, the A/B testing of strategies is done to find the right one.
So tools cannot be fixated on a single strategy centred role. It needs to be flexible to help with the changes in strategy. For a startup, this feature can help them go a long way.
The list below has tools that check all these features. We got you covered on that front now. Find the right one for you.
9 Best SEO tools for startups
1. SuiteJar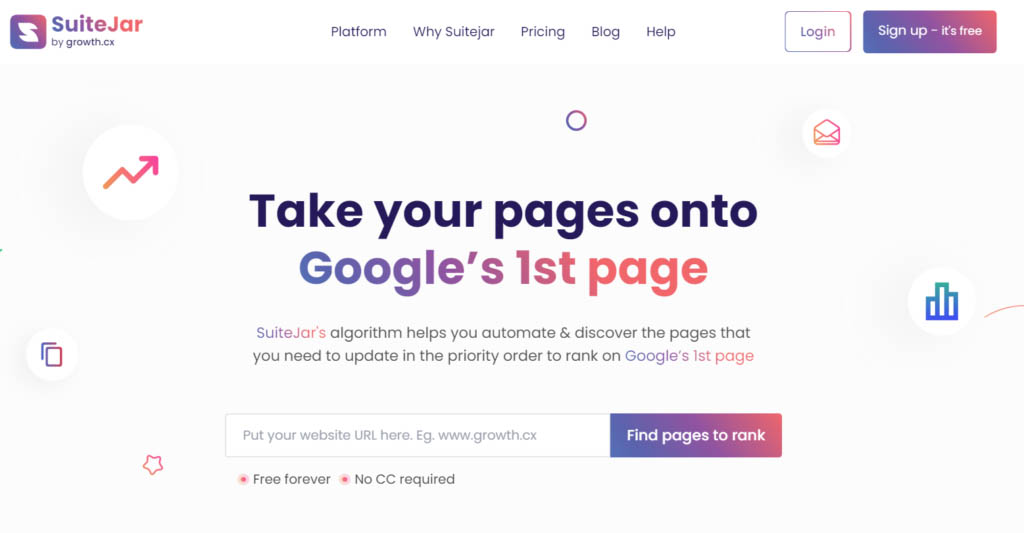 SuiteJar is next-generation SEO and Content Marketing tool that is purpose-built for digital marketers. The tool is relatively new to the market, yet with its features and pricing plans, it is one of the best SEO tools for startups.
It is easy to use and is suitable for businesses of all sizes. Performance marketers can leverage SuiteJar's keyword planner to understand the keywords paid difficulty and CPC and streamline successful ad campaigns.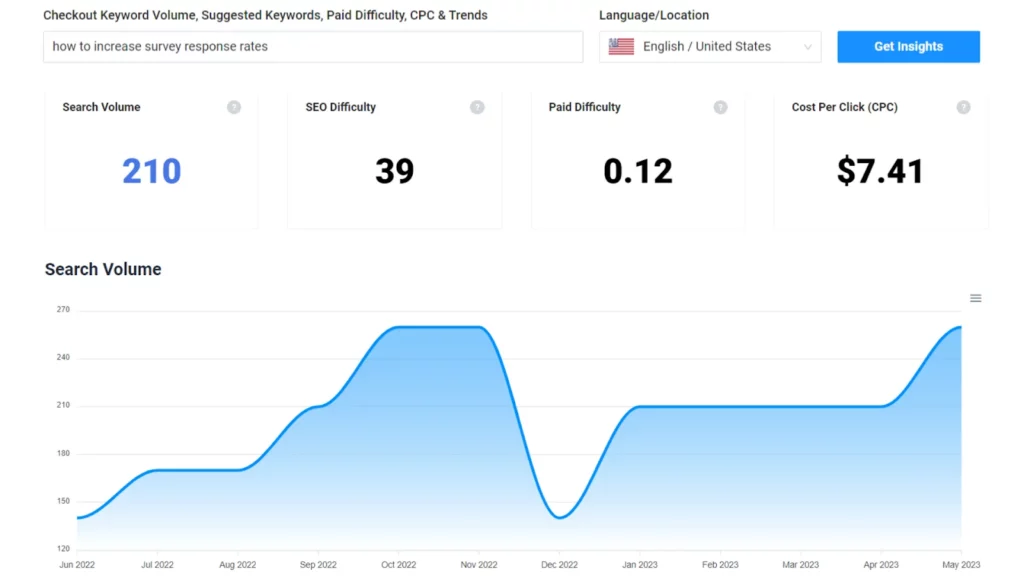 SuiteJar provides a range of features to help both SEO and Content marketing experts ease their job. Some common features the tool shares with other SEO tools are Rank tracking, broken link checker, and website auditor.
Key Features

This is a unique feature that helps you rank your existing blogs on Google's first page. It analyzes the website content and lists the web pages that have the most potential to rank. Furthermore, it provides actionable insights into how to rank them on the first page of the search results.
This is another unique feature that simplifies your analytics problem. GA4 is here, and it is not the easiest one to use. With SuiteJar's Easy Web Analytics, you can integrate your GA4 account into the tool and get all your critical data at one glance.
This is a free and simpler version of SuiteJar's First-Page Ranker. It provides you with the number of indexed pages, the pages that are up-to-date and outdated, and more. Though this feature does not provide insights to update your outdated content, it helps you understand when and what to update on your website.
| Pros | Cons |
| --- | --- |
| Simple and easy-to-use | Fairly new product |
| Affordable pricing | Lacks competitor analysis |
| Notify about the outdated content on your website | Basic UI/UX design |
| Provide insights to optimize your outdated content and rank them on SERP results | |
Pricing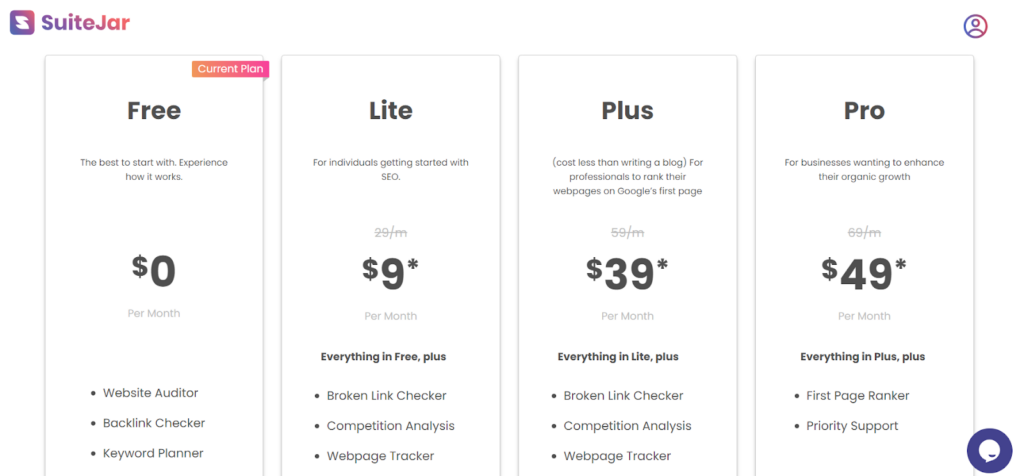 SuiteJar offers a free version and a 14-day trial for its paid plans. The pricing starts at a meager $9 per month if you choose to bill quarterly.

2. Google Search Console (GSC)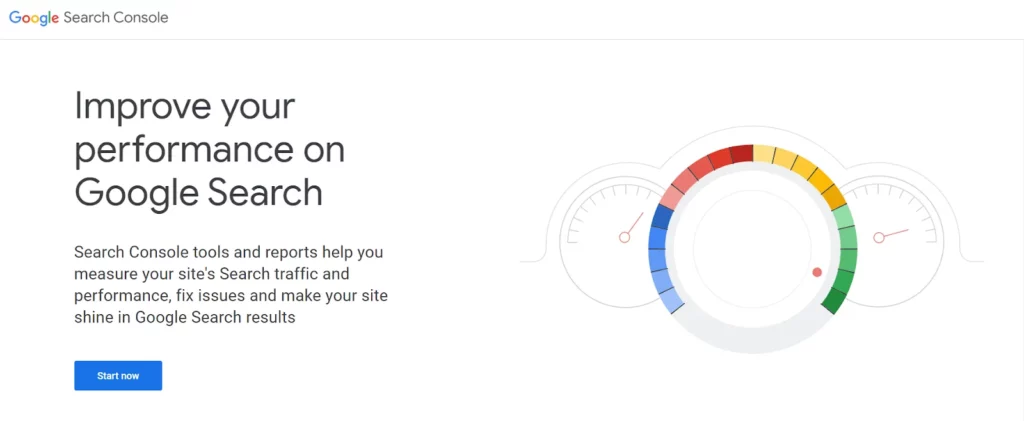 Google Search Console is a free service offered by Google to help monitor and maintain a site's presence in Google Search results. The fact that the tools os offered by Google and is free are two things that make this an ideal SEO tool for startups.
It gives you access to detailed data about your website's performance on Google. It includes search queries used to find it, the number of people clicking on it in results pages, and more.
Key Features
This provides data about your website's visibility on Google. The data includes total clicks, impressions, average CTR, and average position for various queries.
This feature allows you to check and see how Google views a specific URL on your website. It provides indexing status and any detected errors and even allows you to request indexing for a particular page.
It details which pages on your website are successfully indexed, which aren't, and why. This helps in identifying and fixing any indexing issues.
You can check pages on your site to ensure they are mobile-friendly, which is crucial given the increasing importance of mobile search.
| Pros | Cons |
| --- | --- |
| It's completely free to use. | No real-time data |
| GSC provides direct information about any issues or improvements. | It doesn't always provide in-depth recommendations on how to fix them |
| It can be easily integrated with other Google products. | The long-term historical analysis can be limited. |
| It offers an extremely user-friendly interface. |  |
Pricing
The tool is completely FREE.
3. Buzzsumo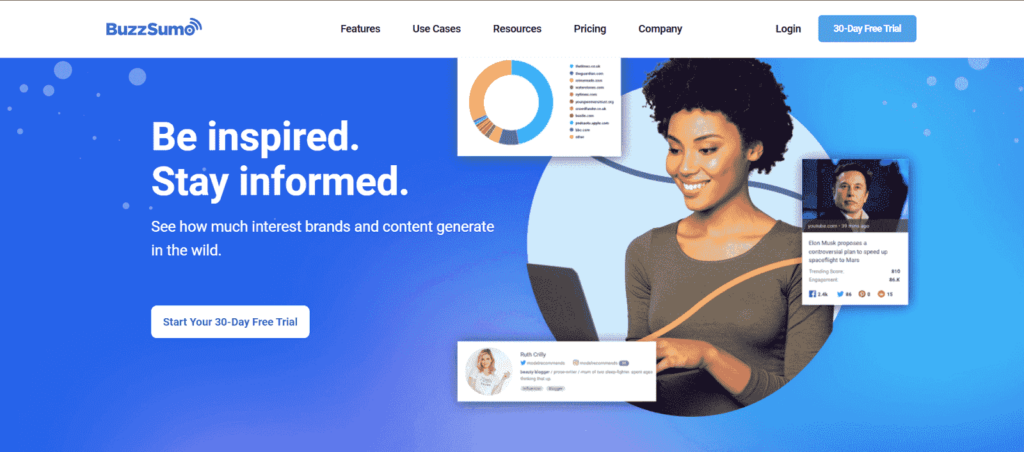 Buzzsumo, the content marketing platform founded in 2013, is loved by marketers around the globe. It has features like content research, performance insights, and competitor analysis needed for a marketer.
A single Buzzsumo subscription can get you large-scale content analysis from Facebook, Twitter, Pinterest, and Reddit based on trending topics. It has over 300 trillion engagements, with over 8 Billion articles updated on a regular basis.
Key Features
You can access the performance of your page as well as your competitors.
AI-powered features can be used to assess the sentiment of social media content based on the words used.
collaborate your content with teams to share feeds and feedback to streamline your process efficiently.
| Pros | Cons |
| --- | --- |
| Has a huge arsenal of marketing tools | Having these many tools makes it complex |
| Its Content Analyzer is top-class | Learning curve is slightly greater |
| Trending content ideas | Not-so accurate topic explorer feature |
| The learning curve is slightly greater | Expensive |
Pricing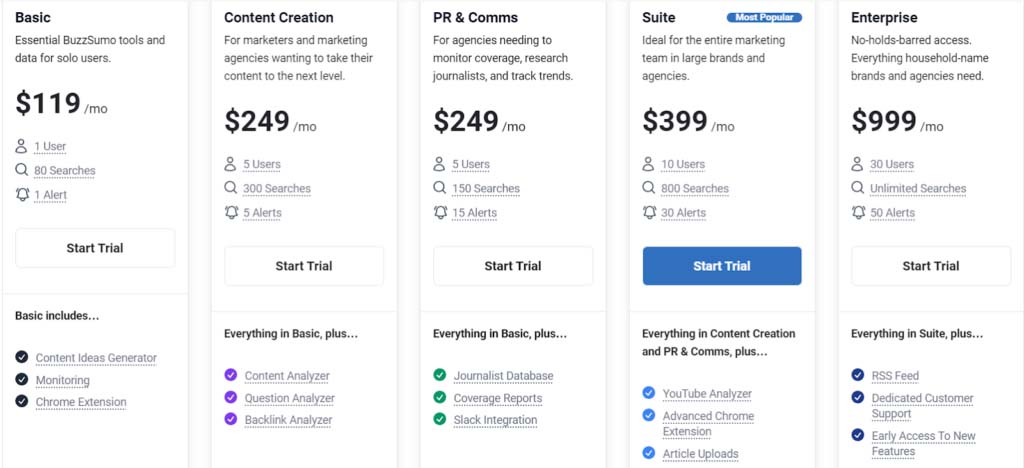 An amazing 30-day free trial period is the most attractive part for startups. After the free trial, Buzzsumo offers 5 pricing plans ranging from $119 -$999.
4. Spyfu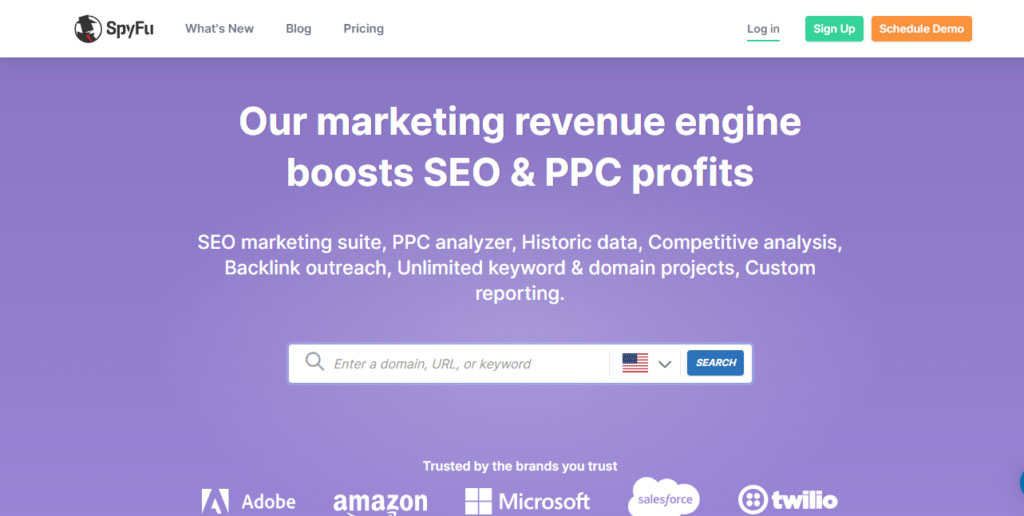 Spyfu is an SEO and PPC research platform that facilitates "spying" competitors.
It uses its behavioral data to do content analysis and backlink poaching. You can refine your keywords by analyzing competitor tactics and grabbing a targeted market. Its ease of use makes it one of the leading platforms for PPC and SEO research tools.
While most tools show discrepancies in mobile devices, Spyfu flexes its adaptability. The site's fast reloading is commendable in both mobile as well as desktop environments.
Key Features
Optimise keywords into groups according to your discretion to gain an edge over your competitors.
Get a detailed overview of all your keywords to know what works for you and what doesn't.
Use Spyfu's search bar as a backlink checker to know websites to target for your backlinking. This is arguably the best feature as it gives you the number of links you need to include in order to rank on the first page.
| Pros | Cons |
| --- | --- |
| User friendly | Criminally limited data in free and basic plans |
| Best tool for keyword research | Beginners have a tough time due to the learning curve for a tool of this magnitude. |
| Deep analysis | pricey |
Pricing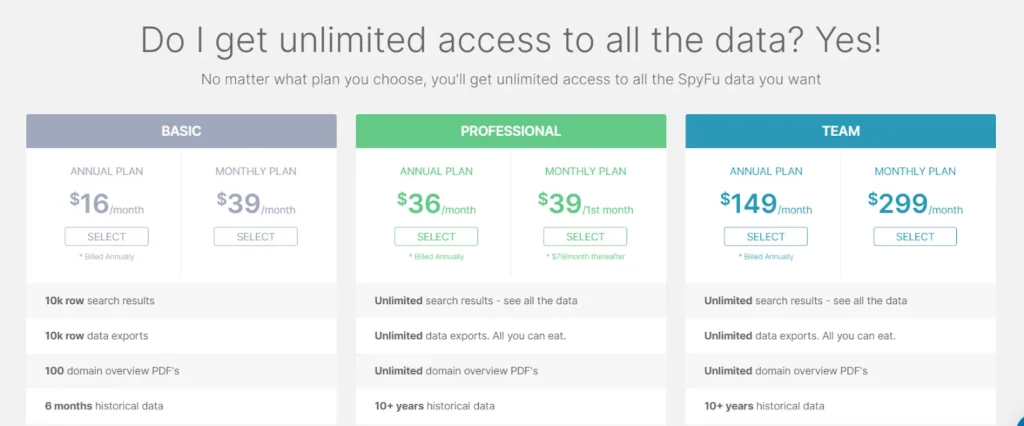 Though they have free trials, it gives you limited data in it.
The basic plan starts from $16 monthly to $39 annually. They clearly want you as an annual customer. Annual prices are a massive steal for startups and small businesses who want to "spy" on their competition.
5. Serpstat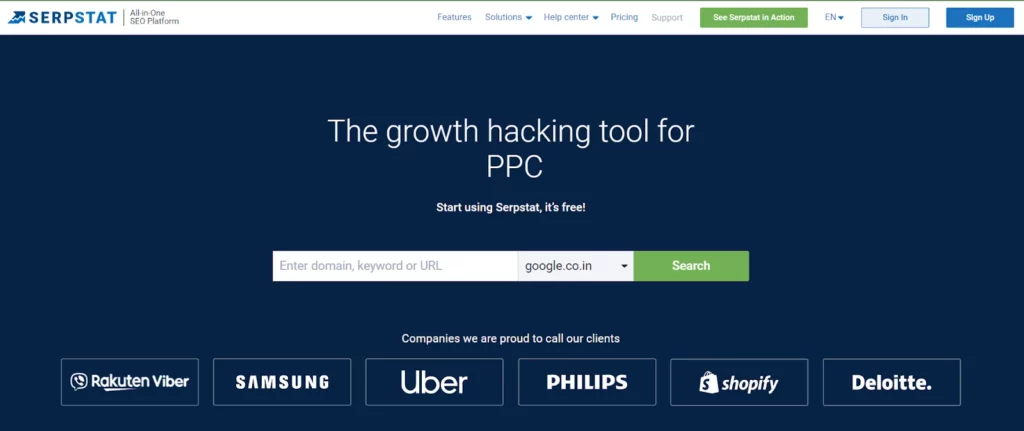 Serpstat is an all-in-one SEO platform that helps marketers optimize their websites for better search engine visibility. They offer a variety of tools and features, including site audit, backlink analysis, rank tracking, and more.
Key Features
This feature identifies keyword trends, search volume, competition, and other essential metrics.
It provides insights into competitors' ad campaigns, keywords, and texts.
This allows you to see your competitors' top-performing pages, traffic sources, and other critical metrics.
The tool analyzes a domain's backlink profile, including the number and quality of backlinks.
| Pros | Cons |
| --- | --- |
| Intuitive interface | Comparatively lower data accuracy |
| Affordable pricing tiers | The backlink database is limited |
| It offers detailed question-based keyword data | |
| It allows users to analyze multiple domains at once. | |
Pricing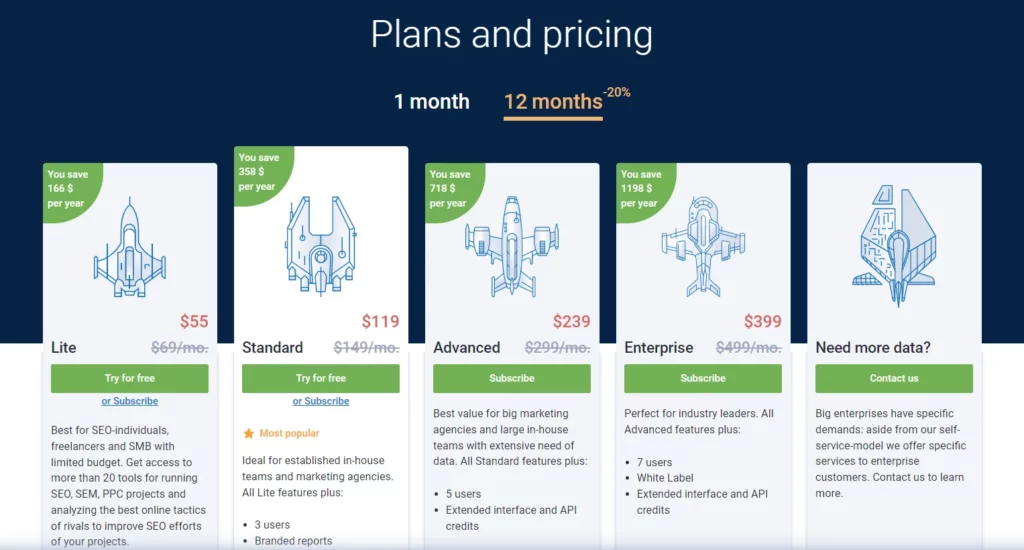 The pricing starts at $55 per month and also offers a custom plan for enterprises.
6. Ubersuggest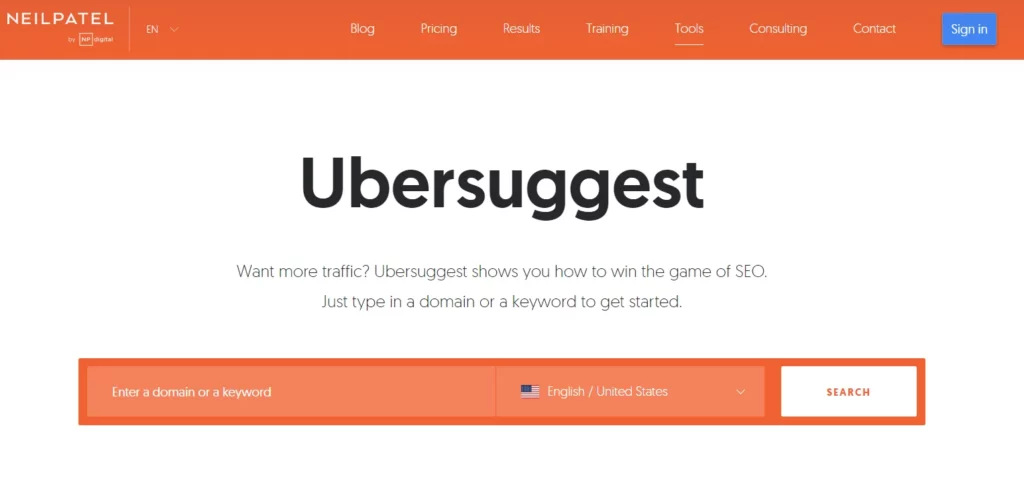 If you have ever searched the term "digital marketing," you will surely see the name Neil Patel pop up. This bald marketing maverick bought Ubersuggest and integrated it into its official website.
Since acquiring the tool, new features have been introduced, making it a go-to place for all marketers who want to create up-to-the-minute content. Content marketing involves data inclusion of the latest news. So for startups who want to utilize the trending bandwagon, Ubersuggest is an amazing choice.
Key Features
Identify the best content ideas for the organic keywords with details like ranking difficulty. If you want to attract new clients, this feature can help you a lot.
Startups can gain details of organic keywords, total traffic, and paid keywords.
Fetch backlinks using different filters and get extensive data on those links.
| Pros | Cons |
| --- | --- |
| Limited free searches | Built for larger screens only |
| Relevant content ideas | Features may be considered as limited |
| Effective and easy-to-use keyword research tool | |
| Minimal learning curve |  |
Pricing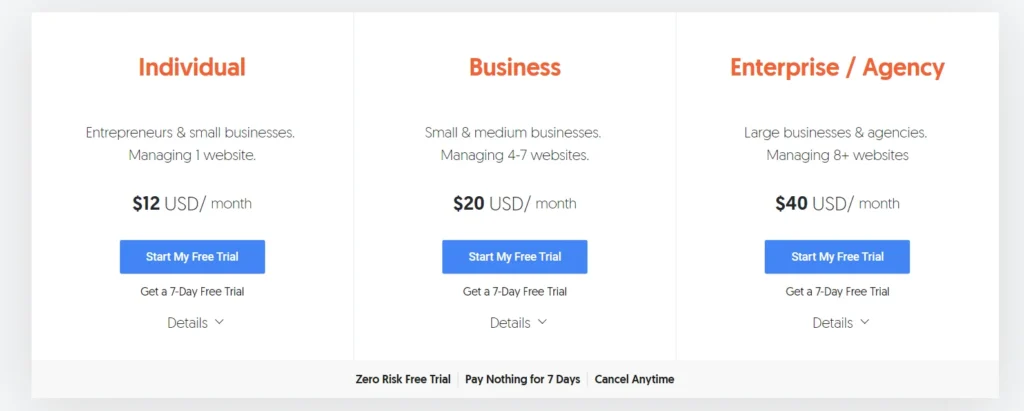 Startups who are low on funds can utilize the free basic version of Ubersuggest, albeit the features are limited. And also, there is a 7-day free trial for all paid plans. Businesses that want something extra can opt for their premium plans. It starts from $12 per month.
7. Ahrefs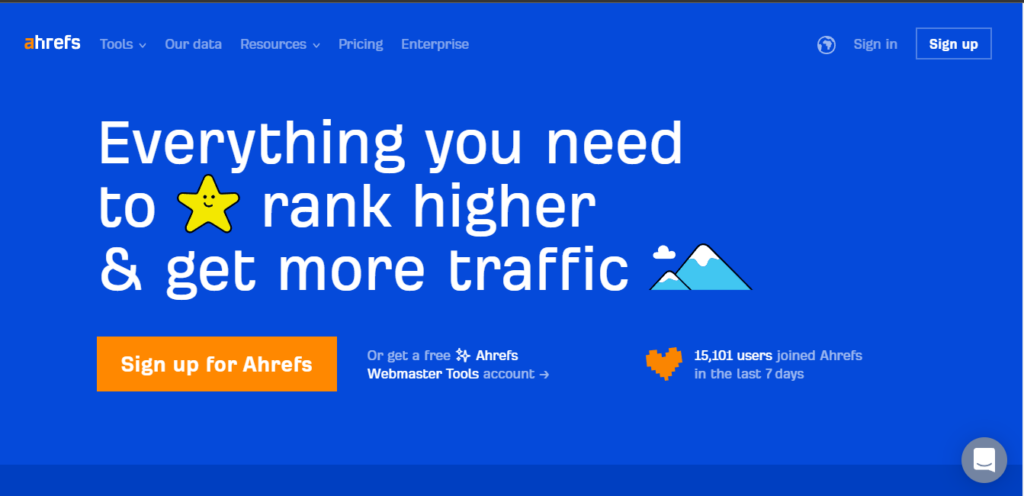 11 billion keywords and more than 400 billion indexed pages give Ahrefs the data accuracy of a trained SEO sniper.
This all-in-one SEO toolkit offers competitor research, link building, keyword research, website audit, content research, rank tracking, and mentions monitoring. It also has a vibrant community of SEO enthusiasts which is astounding.
Key Features
This tool supports 10 search engine rankings and gives a detailed analysis of all the clicked and unclicked data. The centralized review and analysis feature compares backlinks and links with competitor websites to drive your SEO goals.
You can create custom dashboards to curate and highlight competitor data. You can benchmark and monitor growth as a comparison with custom feeds.
Startups can use this feature to know the keywords they need to take advantage of. There is no geographical barrier to this, you can search for any country you want.
| Pros | Cons |
| --- | --- |
| Local SEO features need to improve | Local SEO features needs to improve |
| Complete competitor analysis | Lacks checks for bulk keywords |
| Has data for 171 countries | Pricey for startups |
| | Data for low-volume keywords are sometimes inaccurate |
Pricing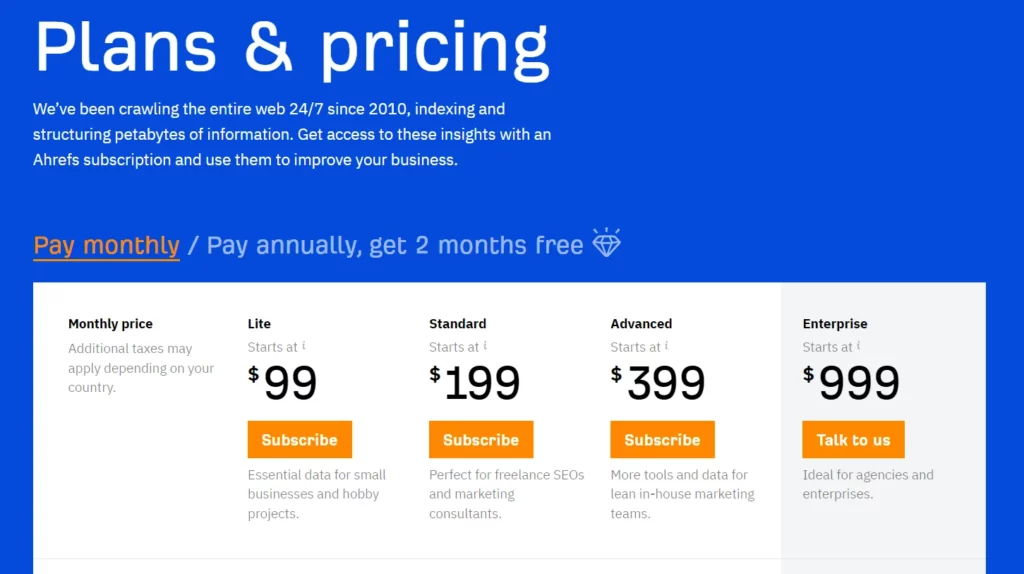 When moving to the subscription plans, they have a 'Lite" plan, which supports 5 projects costing you $99/month (yes, it's costly). Therefore, you can look into some Ahrefs alternatives as well.
8. SEMrush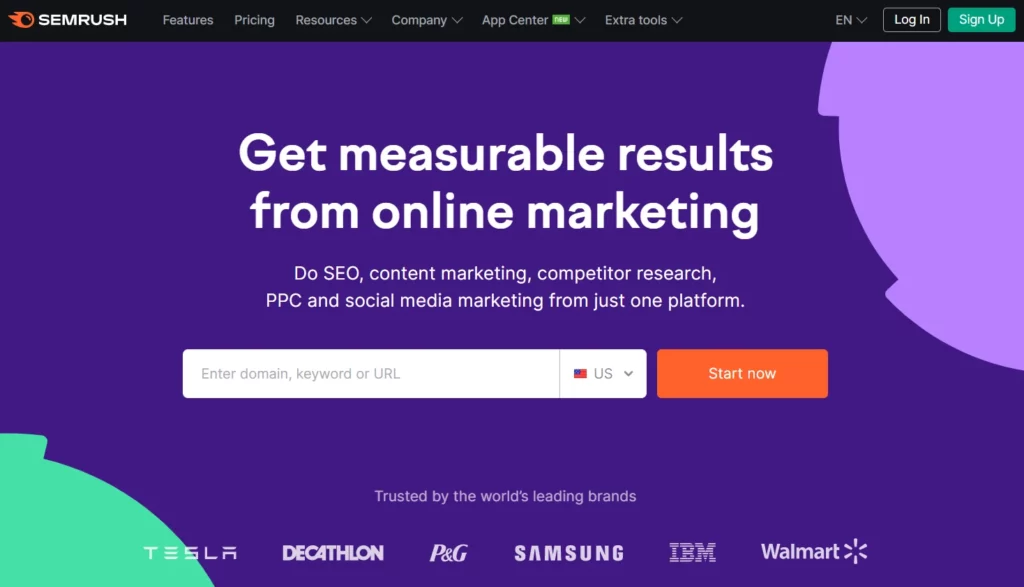 SEMrush leads the market as one of the most popular SEO tools in the market. You can run online marketing campaigns, do SEO, PPC, competitive research, and more. Though many prominently use it for content marketing and to manage online visibility, that's just the tip of the iceberg.
SEMrush can be used to fix broken links and determine the keyword search volume and keyword tracking. Although they have such an extensive set of toolsets, their pricing is expensive. Here are some SEMrush alternatives you can look into. 
Key Features
Reports performance of social media posts and campaigns and allows the creation, management, and scheduling of content to be shared across all channels.
Whatever you want for your content marketing strategy SEMrush can help you. SEO writing assistance, post tracking, content audit, and a lot more.
SEMrush offers comprehensive keyword research tools to find all genres of keywords.
| Pros | Cons |
| --- | --- |
| Comprehensive keyword research | Huge learning curve |
| Keyword variations are plenty | Very expensive |
| Huge SEO tool database with 800M terms | |
| Competitor analysis is easier | |
Pricing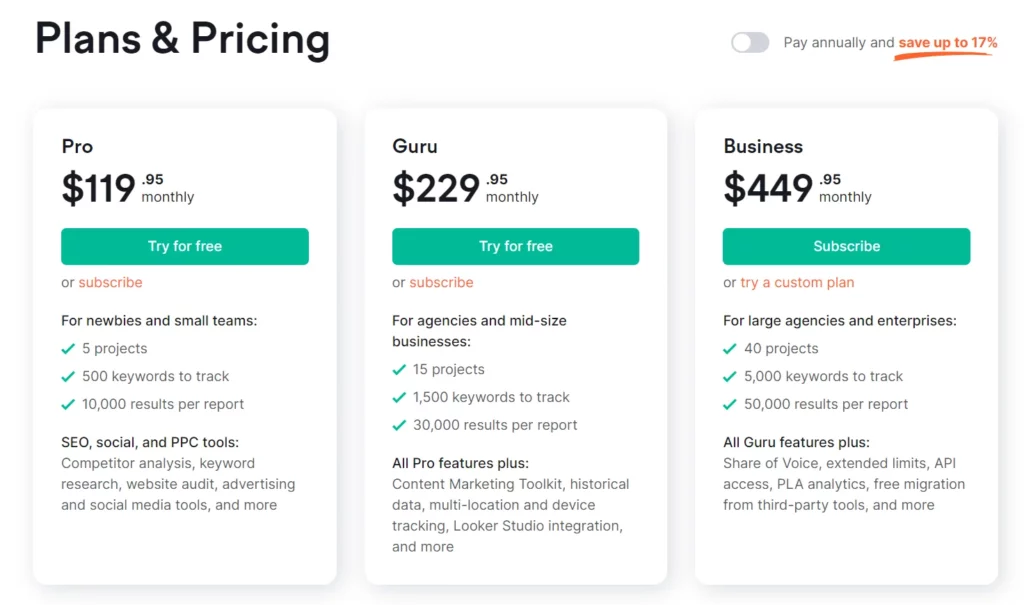 Standard functions are free but limited and for advanced features, the price starts at $119.95/month.
9. MOZ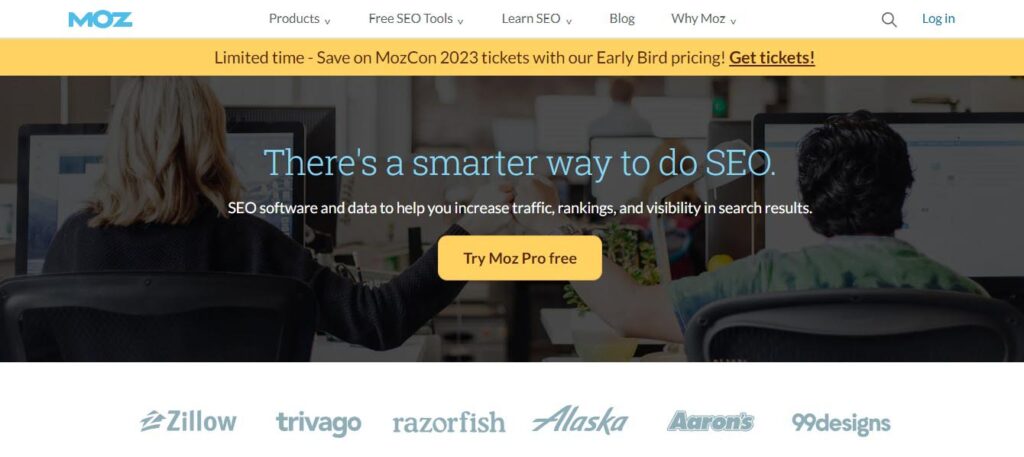 Launched in 2004, Moz has taken a big bite from the SEO market. They were the pioneers in determining the authority and span of a website. Their Domain Authority (DA) and Spam score are widely utilized to weigh the quality of a website.
Want to know how MOZ helps your SEO marketing campaigns?
It includes keyword research, link building, site audits, page optimization, rank tracking, reporting, and more.
Track your site health, link building, and keyword performance to learn how they impact your SEO performance.
Analyse your competitors' efforts, optimize your keyword research, and find new opportunities for link-building.
Key Features
The one-stop for all your SEO needs. From technical SEO to competitor analysis, you name it they have it.
Using Keyword Explorer, businesses can find a variety of keyword suggestions for their products. This tool offers 500 million suggestions.
| Pros | Cons |
| --- | --- |
| Yours and competitors' detailed analysis | UI interface is made for a knowledgeable audience |
| Huge Moz community that helps you understand the tool. They are live 24/7. | Site audit feature really needs an upgrade. There are tools that do better audits at a lower price tag. |
| Metrics are accurate | |
Pricing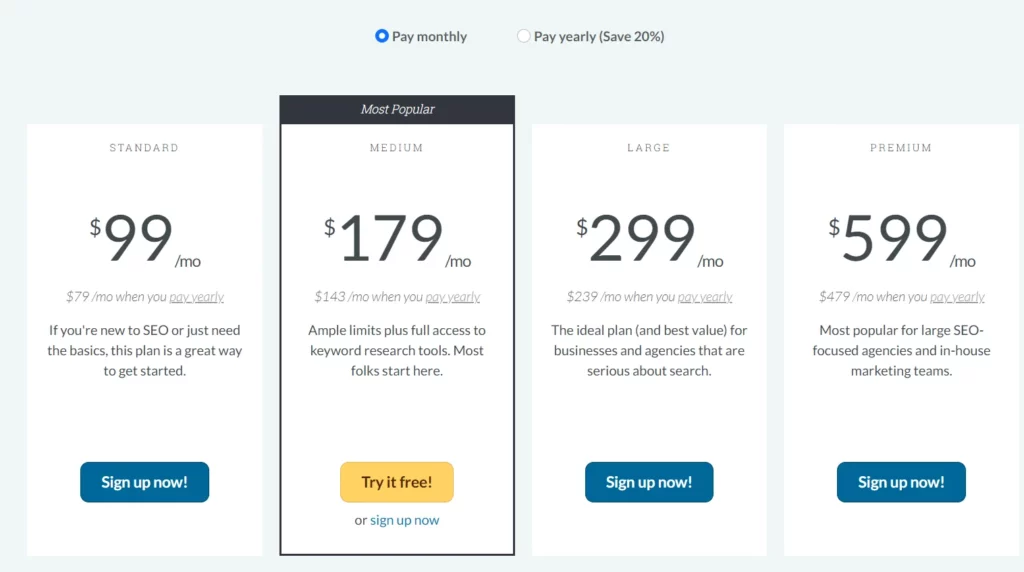 There are many Moz features that are free to use, such as Link Explorer, Domain Analysis, MozBar, etc. However, Moz Pro costs $99 per month.
You can use a 30-day free trial option to try out Moz PRO.
Suggested Read: 7 Best Moz Alternatives and Competitors [2023-24]
Takeaway
The SEO tools on this list are amazing.
Using these tools will save you tons of time and research to produce SEO-optimised content and reinvent your SEO tactics for the better.
It's up to you to use them to their full potential to spice up your ranking in SERPs.
Plus, many of the tools have free features or trials if you're looking for something cost-effective! And if you want a completely cost-effective solution, give Suitejar a go.
Take the next step and see what they have to offer – it may be just what you need to take off!