It's time to do it right.
You're trusted by your clients to make their businesses boom by hitting KPIs.
Working with Google Analytics tools only takes you so far. It's a calling card for Your competition to jump ahead.
There are many tools that give supplemental information in a more digestible way.
We will show the 9 most advanced SEO reporting tools and one extra tool that everybody knows but is oblivious to the layman's eyes.
Read on to strike gold with the right SEO tools.
SEO reporting features you need
"SEO reporting is the arc reactor that's going to power your SEO strategy suit"
Do you know what are the most important features you need for an SEO reporting tool?
If you are thinking of 'ease-of-use', you are not wrong, but you are not right either. It's just vague. Let's move the fog on that.
Feature #1 – Up-to-the-minute data
Data processing is vital for a marketer. So getting live info can have a HUGE impact on your strategy. You can always be on your feet with your SEO goals and know what your competitors are up to.
Make sure you receive regular updates and relevant data before you purchase any SEO tool.
Make use of the free trial plans to analyze the data quality.
Feature #2 – Access to third-party integration and resources
A sniper rifle on its own is less effective than one with a scope and gyro.
For your SEO strategies to hit the mark, you need tools that can integrate third-party software. This feature allows you to speed up your process, help your clients know your progress, and clear their doubts.
Integrating AI tools and extensions can improve efficiency exponentially. It would be like your SEO marketing on coke.
There are various resources with which you can customize the type of data you wish to receive and iterate your strategy accordingly.
Feature #3 – Cost to value ratio
Ensure that the pricing of your SEO reporting tool falls well within your budget. Always make sure you get what you paid for. Look for tools that offer the required features and have the potential to create the ROI.
Every tool nowadays has bits and pieces of features just to keep up with the competition. Make sure you get what you want and always have an idea of what you actually want from the tool.
10 Best SEO Reporting tool
1. Suitejar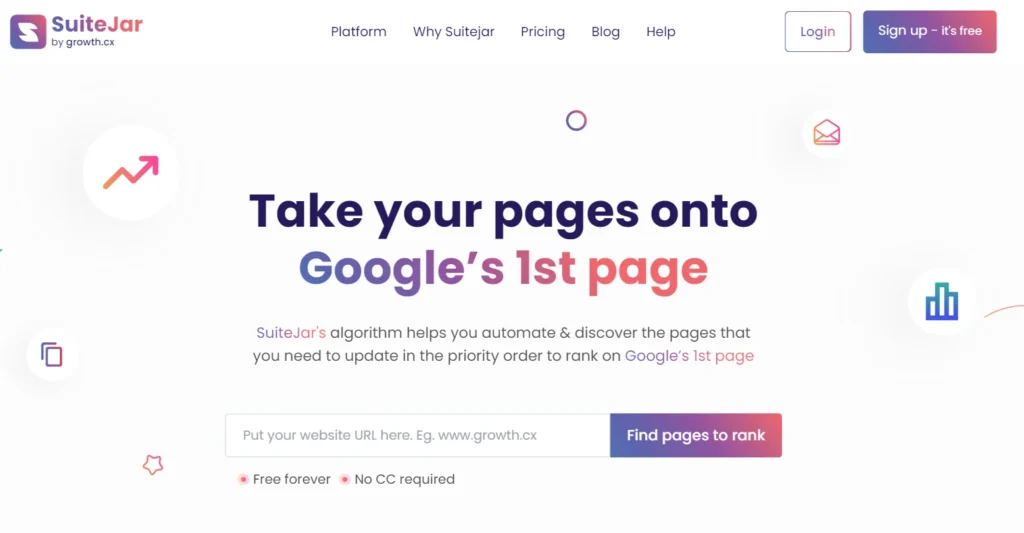 SuiteJar is one of the best SEO reporting tools and can be used for businesses of all sizes. It is a next-generation SEO and content marketing tool built specifically for digital marketers. The user interface is simple, allowing easy navigation and usability.
The SEO data is updated weekly, giving you the latest trends in keyword volume, CPC, competitor backlinks, and more. In addition, the data can be exported to your device as a CVS or an Excel file. Thus the tool enables you to articulate your SEO strategy offline.
SuiteJar also enables integration with Google Search Console and Google Analytics, helping you get actionable insights into your SEO and Content performance.
Features
This is a one of a kind feature that helps you Identify, optimize and help you rank your old website content in the SERP results. Once integrated with GSC, the feature will analyze each content in your website and see which has the potential to rank.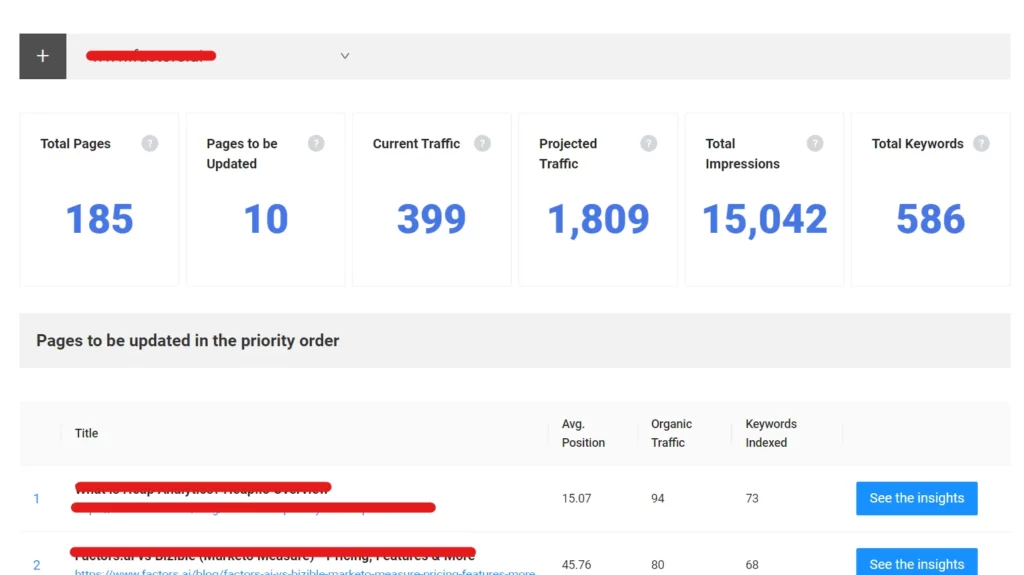 Afterwards it will list out these web pages in priority order of optimization, along with insights into how to optimize. This could include, the keywords to add, backlinks to get, alt tags and meta tags to add, and more.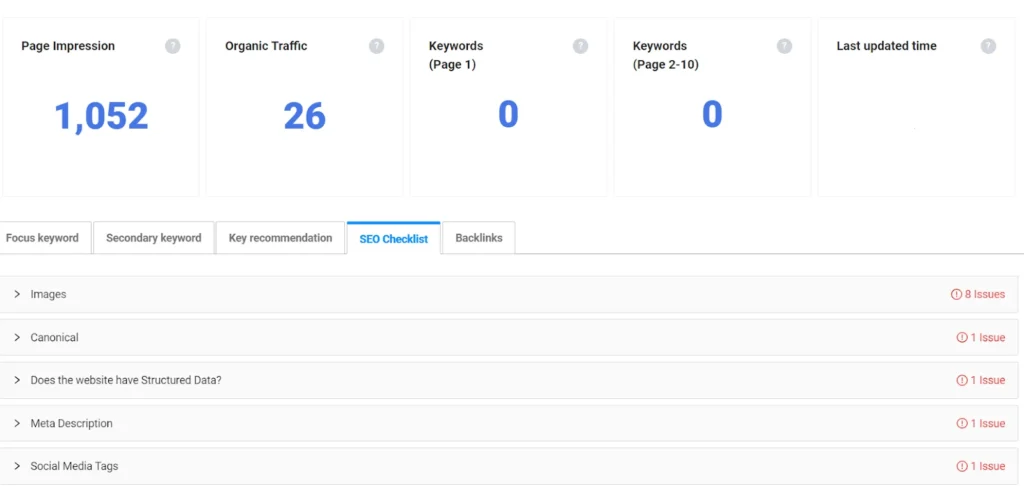 This again is a unique feature of SuiteJar helping the users simplify their Google Analytics data and make sense of it. The feature, when integrated with GA, will collate all crucial data and converge them into one place. This allows users easily access and analyze their performance, and strategize their future plans accordingly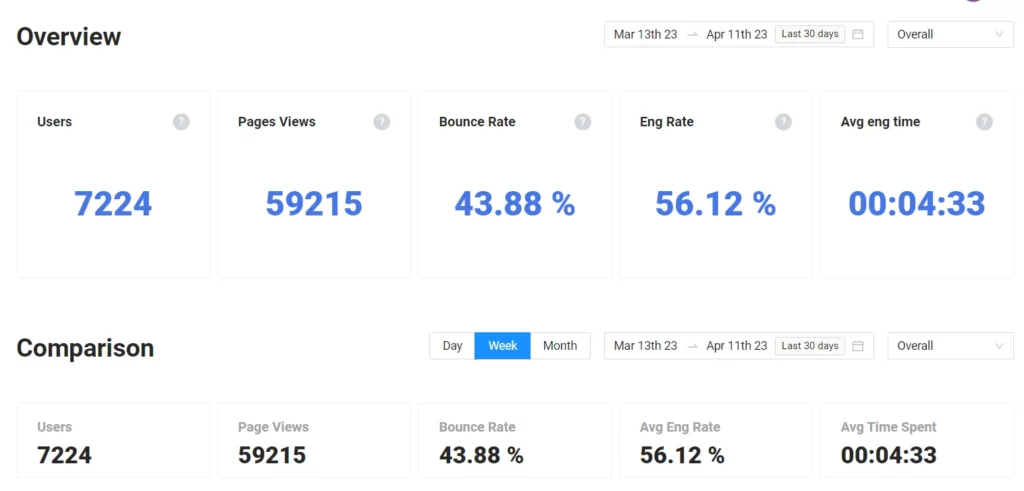 This is a simpler version of First Page Ranker. Although it helps you identify which web content are outdated and is in dire need of updation, it doesn't offer insight into how you can update it.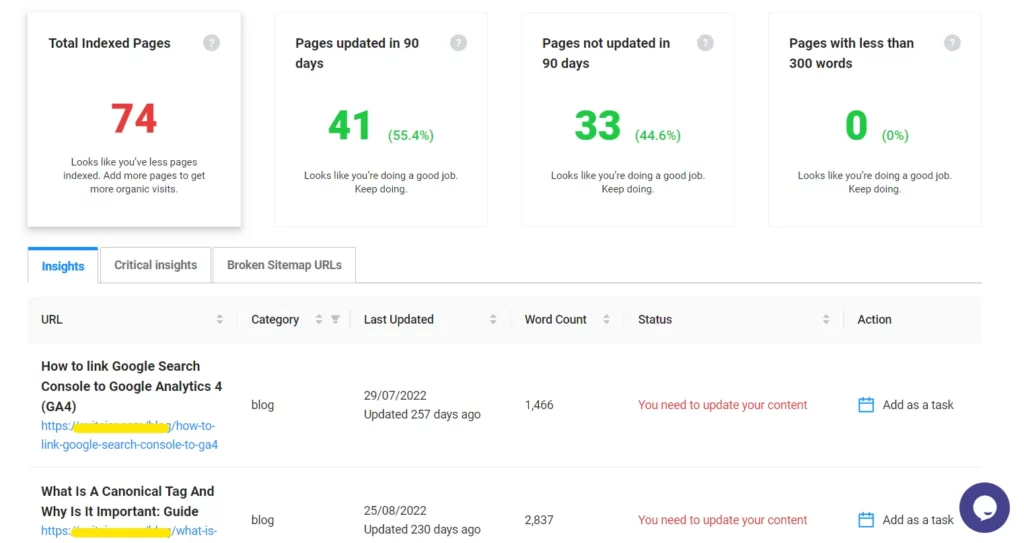 Pricing
The tool is all set to reiterate its old pricing plan which was nil. The new plan will offer a Free trial for its three paid plans. They are
Lite – $9 per month
Plus – $39 per month
Pro – $49 per month

2. SurferSEO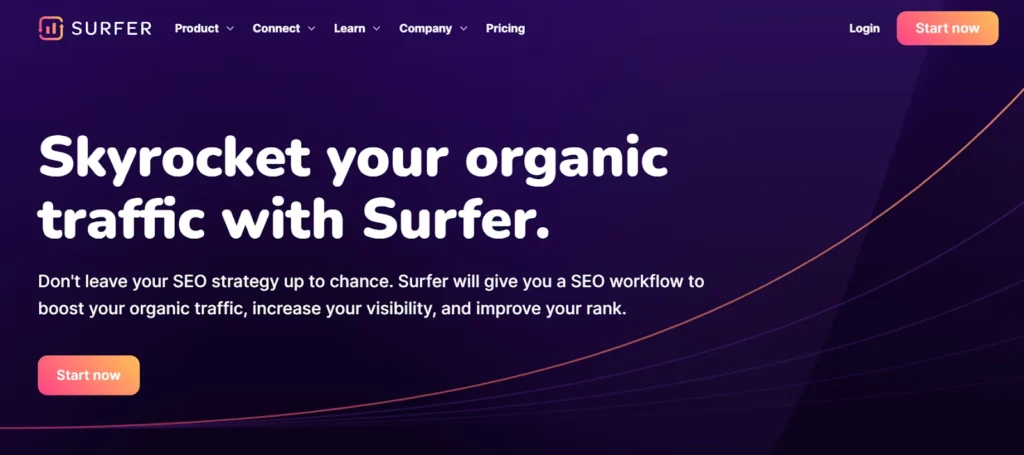 This is an AI-based SEO tool for all your content marketing goals. It creates seo briefing based on the keywords you give and helps you create optimized content.
SurferSEO is ideal for improving landing pages, websites, and blogs. You choose the target keyword you want to rank for, and Surfer will give you an SEO briefing:
How long should your content take to rank well?
Density and frequency of keywords: How often should specific words be used?
Keywords to use alongside your main keywords: Semantic terms
Features
Type in the keyword and get unlimited suggestions on what, how, and who to target. The in-depth suggestions help you optimize your content strategy as well as know what helps your competitors rank.
Compare yourself with the first 48 Serp leaders by default and choose from over 500 factors like page speed metrics, titles, etc.
Surfer gives you questions to answer for keywords you enter. These are pulled from Google's search engine.
Pricing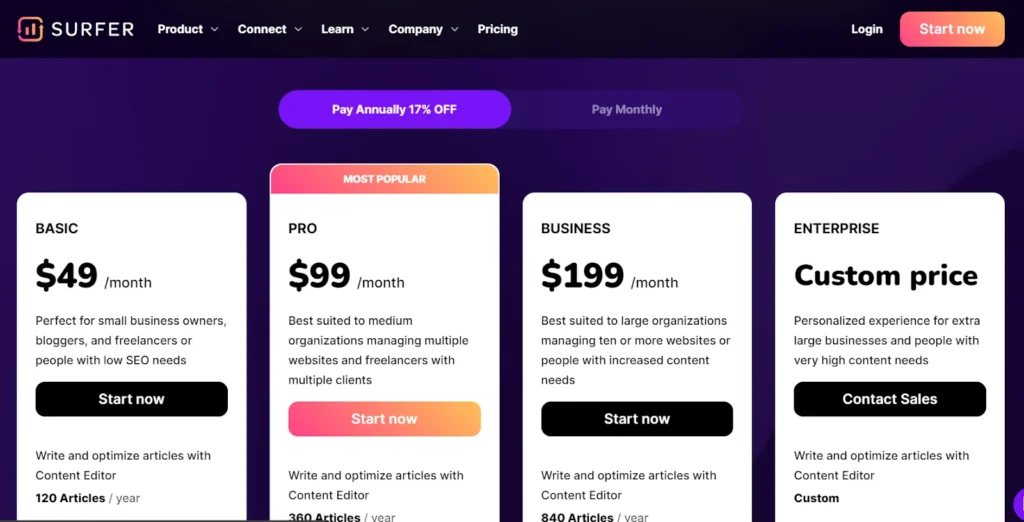 The pricing plans start from $49 to $199. The tool also offers a custom pricing option for features you want and pay for nothing extra.
3. SE Ranking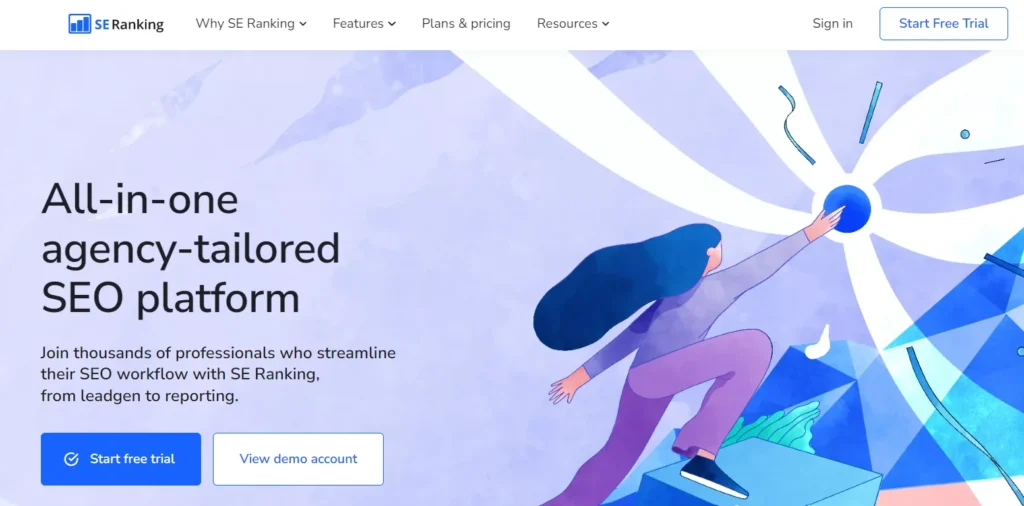 SE Rankings platform allows you to pull data from different environments.
You can track your competitors with SE Ranking as well as keyword rankings and suggestions. Plus, you can use a backlink explorer to find opportunities to outrank similar sites. The website crawler built into SE Ranking checks your site for signs of SEO issues
Features
Know what backlinks work for you and which ones are duds on a single screen. The details provided by SE ranking are second to none.
Do a complete SEO audit of your website and your competitors to build your strategy.
Get the complete details on your targeted keywords, like density, volume, traffic generated, etc., on a single dashboard.
Pricing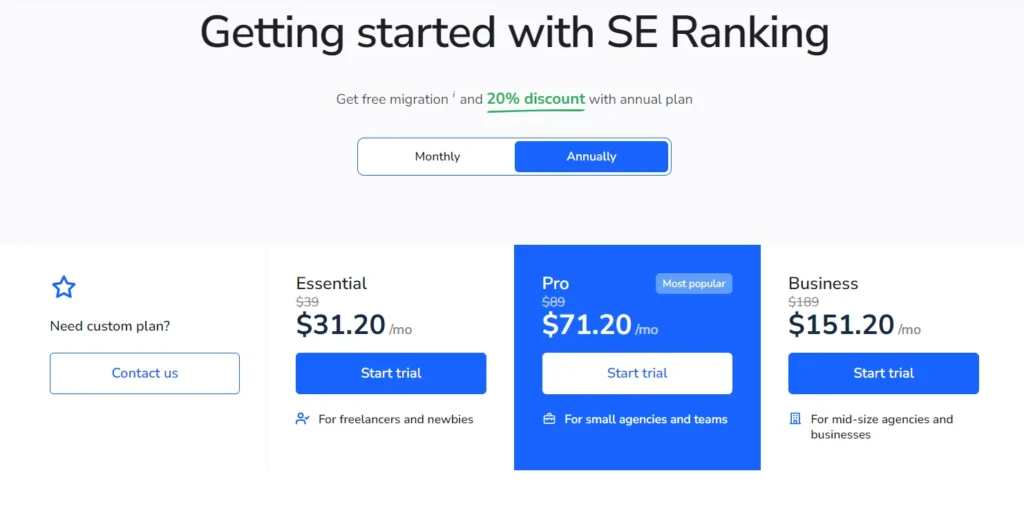 They don't offer a free version of the tool but offer free trials for their paid plans. Plans range from $31.20 dollars to $151.20.
4. Databox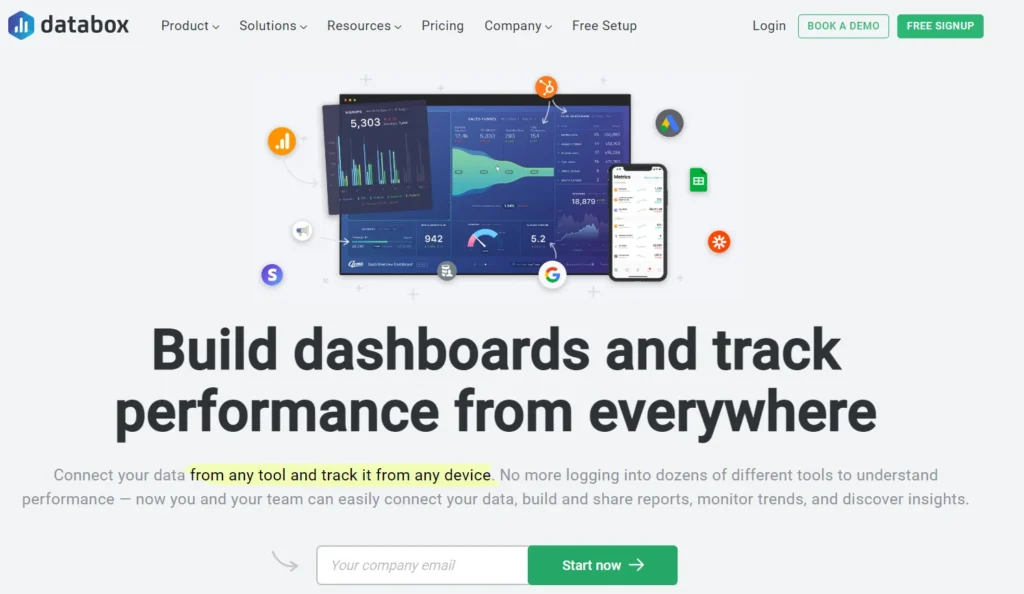 There would be no SEO reports without great dashboards, but if you want more insight, you probably want to bring information from multiple tools together.
Databox is an SEO reporting tool that combines data into a visual format that can be shared easily. It has an easy-to-use interface and can be customized. With Databox, you can pull data from different environments and update your reports in near-real time.
Features
Databox has one of the most efficient user interfaces in the business. You can build custom interfaces to show seo reports of elements you prefer.
Databox has a vast historical database that shows reports of all the keywords and strategies.
Each team member can have a customized weekly summary or daily scorecard, as well as a tailor-made alert system.
Pricing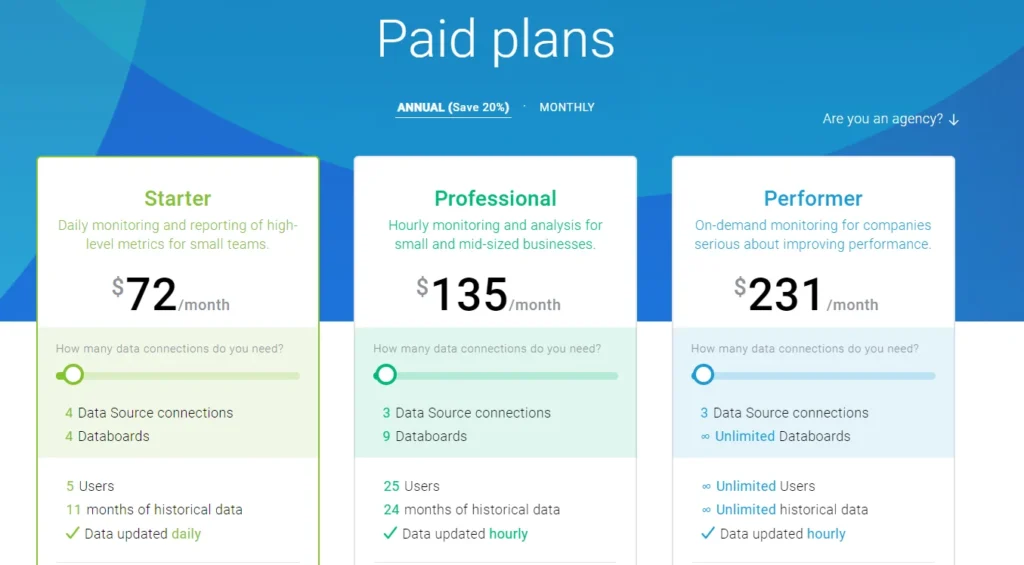 Databox provides a free forever plan and free trials. Databox premium plans start from $72 to $231 per month.
5. SEMrush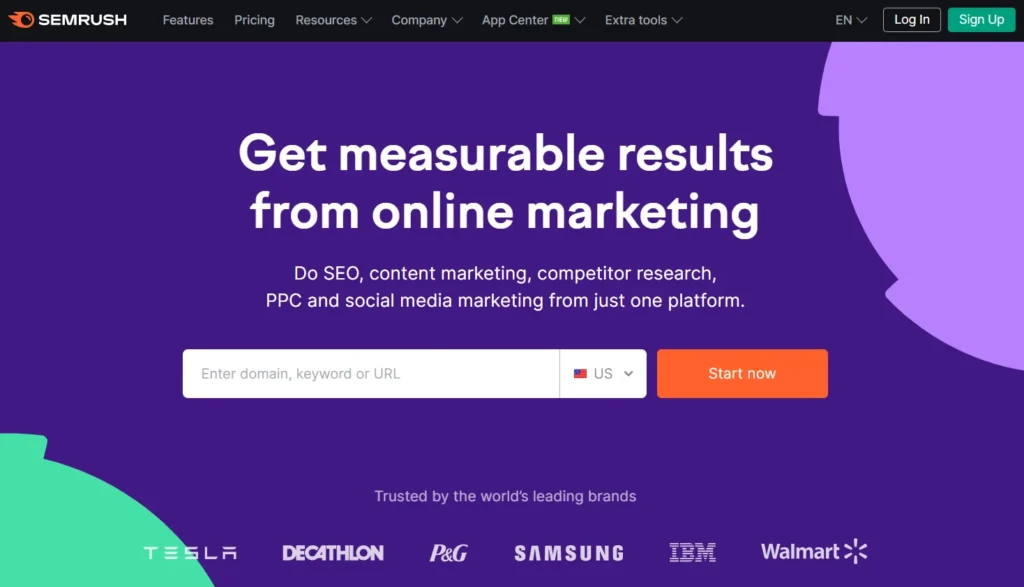 SEMRush is one of the most popular website analytics tools. Its dashboard visualizes your site analytics, so you can learn about things like search intent and how to improve your domain authority.
With SEMRush, you can optimize your article based on your Google rivals. The writing assistant is particularly interesting. You can connect with a pretty big marketing community via SEMRush.
Features
SEMrush provides a comprehensive suite of keyword research tools to help you identify the best keywords for your website or content. This includes keyword difficulty analysis, keyword suggestions, and competitor research.
SEMrush can help you identify and fix any technical SEO issues on your website, including broken links, duplicate content, and other issues that can negatively impact your search rankings.
By using SEMrush's traffic analytics tool, you can find out how many visitors you have had for a specified period of time. Aside from viewing average stats, you can also see how many pages a user viewed each time, how long a user spent on the site, and how many bounced away.
Pricing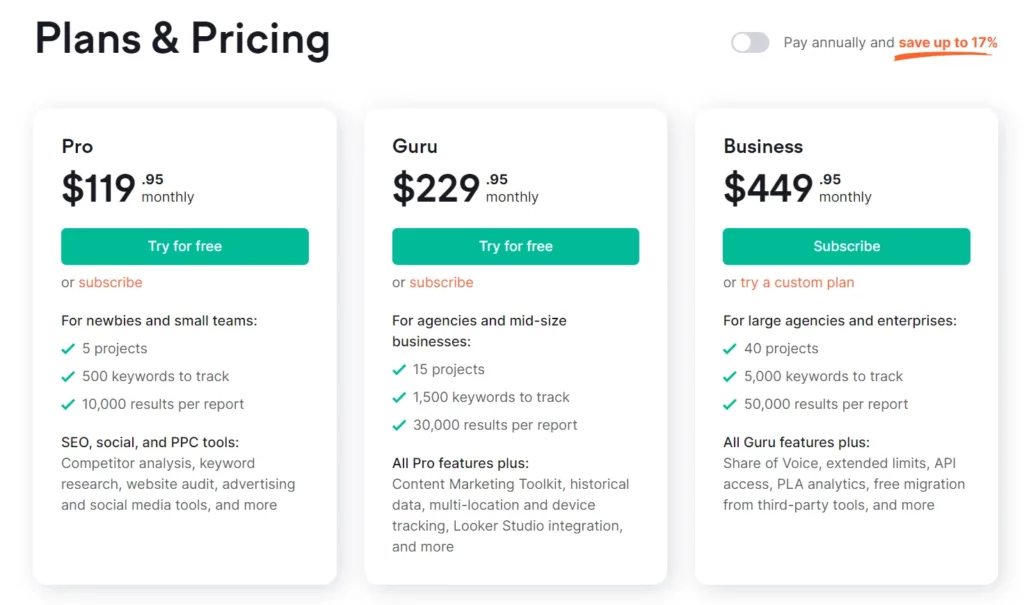 SEMrush has expensive pricing plans starting from $119.95 per month to $449.95 per month.
SEMrush also offers a 7-day free trial for new users, as well as custom enterprise plans for larger organizations with unique needs.
Related read: 7 Best SEMrush Alternatives to Look For in 2023
6. Raven Tools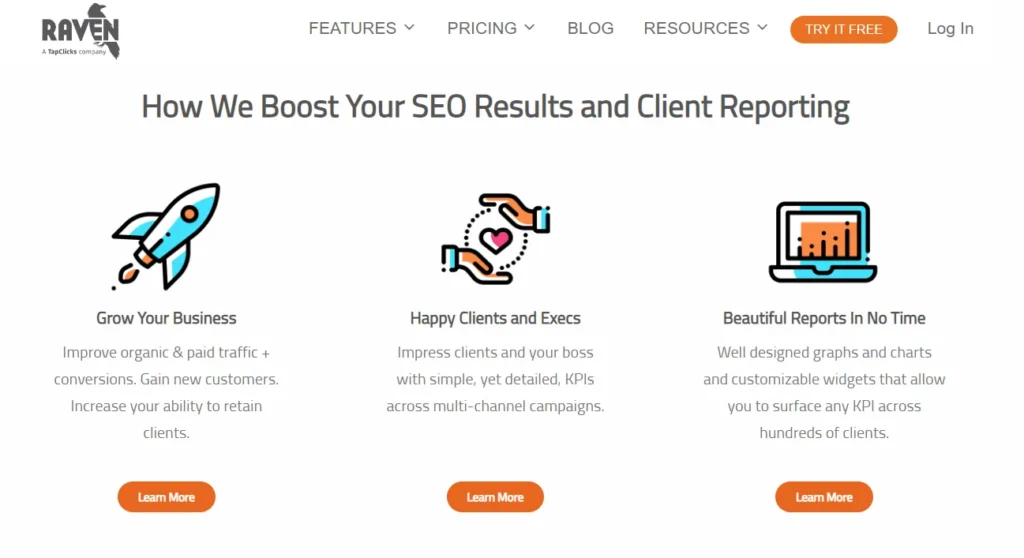 In addition to its powerful SEO features, Raven Tools offers a number of other valuable tools for digital marketers. A competitor domain research tool provides insights into what your competitors are doing online, while Google Data Studio lets users create custom reports from their data easily.
An intuitive drag-and-drop editor allows you to create website analytics reports, social media reports, and PPC campaign reports with Raven Tools reporting tools.
Features
Raven Tools provides detailed information on your website's backlinks, including the quality and quantity of backlinks, as well as the anchor text and referring domains.
Raven Tools provides a range of reporting and analytics tools to help you track your website's performance, including website performance reports, social media reports, and more.
This tool compares site quality with information pulled from Moz and Majestic. On any pricing plan, users can include an unlimited number of competitors.
Pricing
Ranging from $39-$399 per month, raven tools has comprehensive plans for freelancers to enterprises. It also offers free trials for all their plans which is an added benefit.
7. Ahrefs

The Ahrefs reporting tools are among the most comprehensive and user-friendly in the SEO industry. You can easily get an overview of a website's organic search traffic and backlink profile, as well as discover thousands of keywords and evaluate their rankings and traffic potential with Ahrefs.
Features
Ahrefs offers a range of tools to help you analyze and optimize your content, including a content explorer, content gap analysis, and more.
Ahrefs allows you to analyze your competitors' websites and identify their strengths and weaknesses in terms of SEO.
The problem is that there are so many keywords, to begin with, that it is difficult to see the most popular topics under a broad term. Targeting a more general topic instead of your target keyword determines if you can rank for your target keyword.
Pricing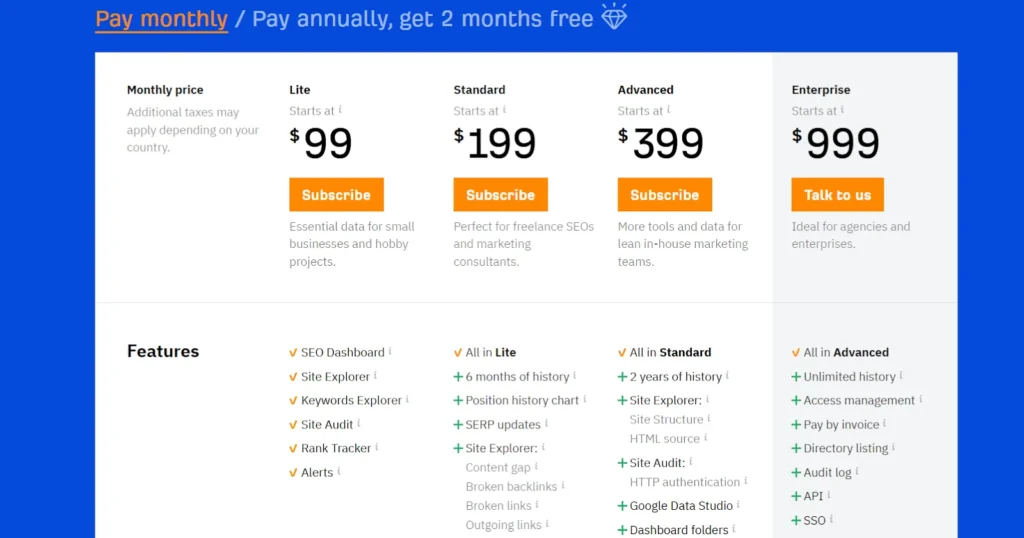 Ahrefs offers a free version, but the features are very limited. It provides a free trial for its paid plans and starts from $99 per month.
Suggested read: Top 7 Free and Paid Ahrefs Alternatives
8. Google Data Studio & Google Analytics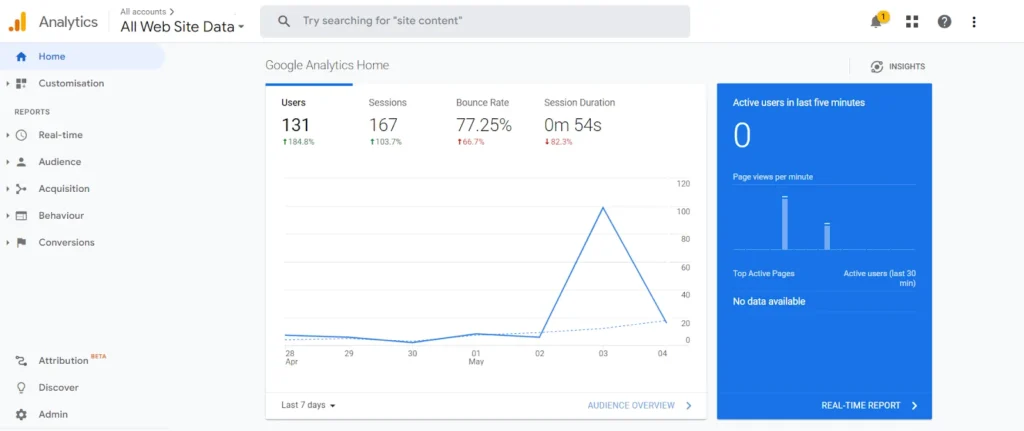 Google Data Studio is a free-to-use tool that helps companies convert analytics data from various platforms into Google Analytics 360 data, allowing them to rank higher on Google searches.
In GDS, you can customize fonts, labels, colors, borders, and sizes, as well as drag and fit chart metrics, and you can add your logo to your documents. The reports are easy to understand and customizable.
You can integrate your dashboard with HTML embed code to make it easier for your audiences. Audiences do not need to log in to Data Studio this way.
Features
Google Data Studio allows you to create and share custom dashboards and reports based on your Google Analytics data.
Google Analytics provides detailed information on your website's performance, including traffic sources, user behavior, and more.
The SEO reports are updated in real-time based on audience, acquisition, behavior, and conversion. Since it's from Google, the historical data foundation and comparison will be more reliable than other tools.
Pricing
These are free tools offered by Google. So you can always use them for your SEO goals, but the reporting and analysis have a slight learning curve.
9. Moz Pro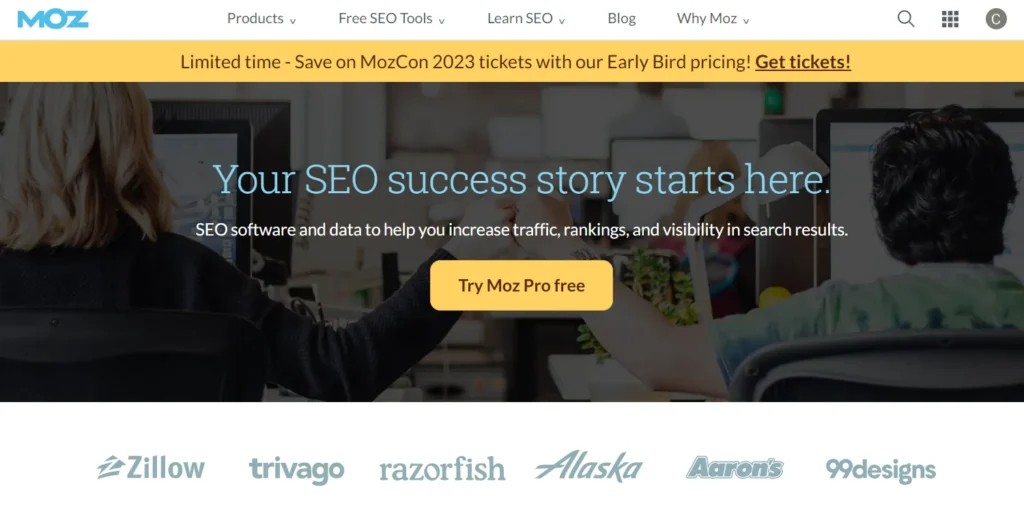 Another SEO reporting tool is Moz Pro, which offers ranking tracking, keyword research, and performance reports. You can identify broken links, do backlink analysis, and track competitors.
You can access 500,000+ keywords for content marketing and organic traffic. Each keyword comes with a priority score based on search engine and competitor information.
With over 40 trillion links in its index, Moz's Link Explorer is the best SEO tool for link management. The Moz site crawl tool can also be used to examine technical SEO issues on your website.
Features
Moz Pro allows you to track your website's search engine rankings over time, including for specific keywords and search engines.
Moz Pro provides recommendations and tools for optimizing your website's content, including title tags, meta descriptions, and more.
Site audits with Moz Pro is the most reliable and efficient information source for an SEO marketer. The user-centric approach to its UI/UX interface helps you gather the results easily.
Pricing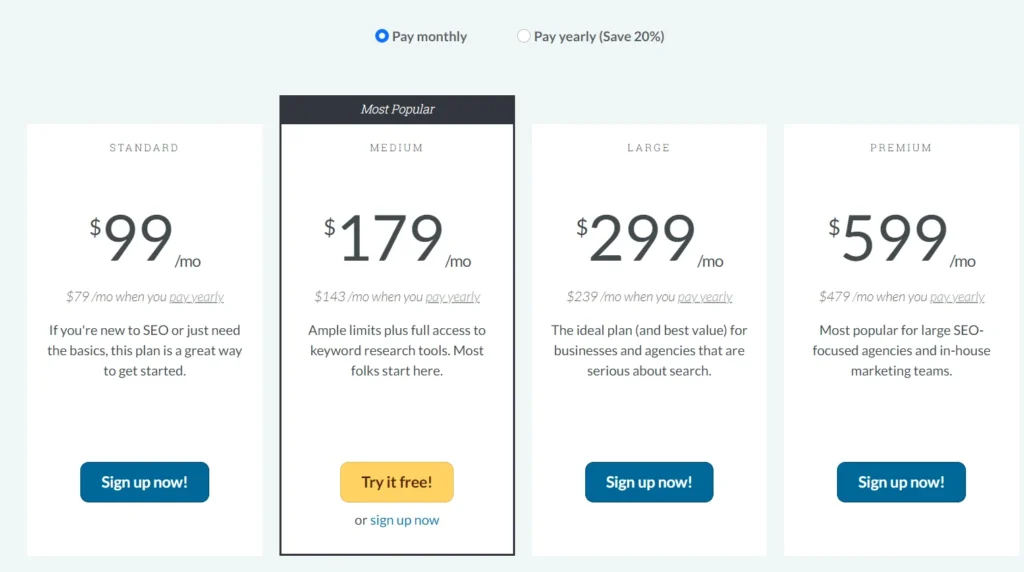 Even though Moz Pro is an expensive tool, it offers a 30-day free trial which you can use for maximum output. The pricing starts from $99 per month.
10. GrowthBar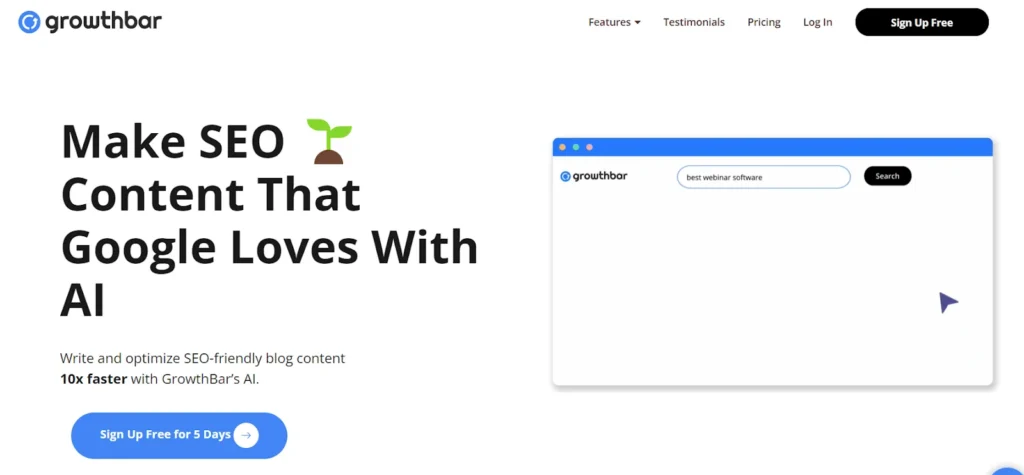 In addition to providing a range of features for your SEO campaigns, GrowthBar provides a handy SEO platform that improves conversions and domain authority.
With GrowthBar's keyword research tool, you can examine keyword quality based on search volume, CPC value, and search engine rank. It mainly helps you outline your content and suggests keywords based on artificial intelligence.
Features
GrowthBar can help you identify and fix any technical SEO issues on your website, including broken links, duplicate content, and other issues that can negatively impact your search rankings.
GrowthBar provides detailed information on your website's backlinks, including the quality and quantity of backlinks, as well as the anchor text and referring domains.
Gpt3 integrated features help you in your content management strategies, acting as a blogging tool or content creation tool.
Pricing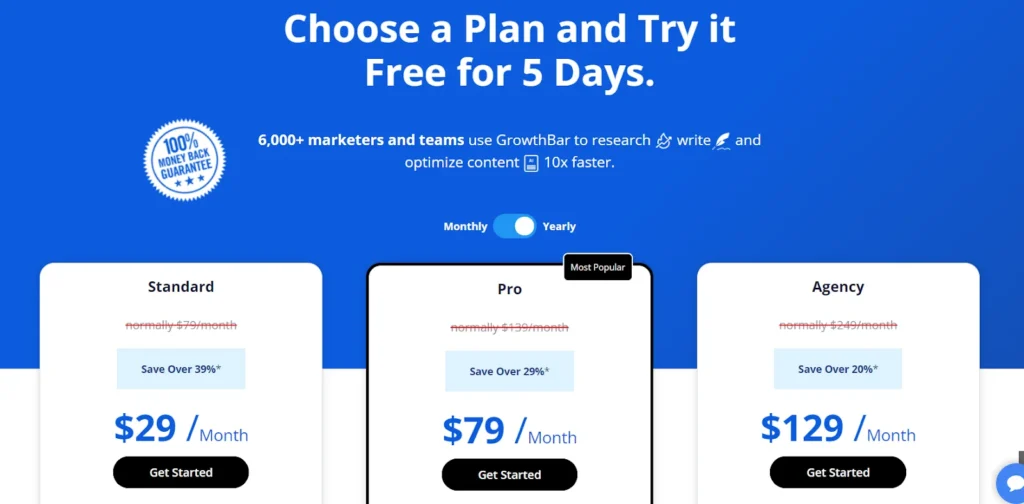 Its pricing plan starts from a meager $29 to $129 per month.
Bottomline
Investing in a reliable SEO reporting tool is crucial for improving your website's search engine visibility and driving more organic traffic.
With features such as keyword research, site audit, competitor analysis, backlink analysis, and more, these tools can provide valuable insights and help you make data-driven decisions to improve your SEO and content marketing strategies.
Consider using tools like SuiteJar to take your website's SEO performance to the next level.