"SEO is not about gaming the system anymore; it's about learning how to play by the rules," said Jordan Teicher, a former SEO editor at Contently"
According to recent statistics, over 53% of website traffic comes from organic search. With such a significant percentage, it's essential for businesses to invest in SEO to improve their online presence and attract more traffic. And what better way to achieve this than using a reliable SEO audit tool?
While Moz has been a popular choice for many marketers over the years, it's not the only option out there. In fact, many marketers are now looking for alternatives to Moz to help them address certain pain points that Moz may not be able to. For example, some may be looking for more comprehensive competitor analysis or more in-depth backlink data.
But with so many options available, it can be challenging to determine which tool is right for your business. That's where we come in. We've done the research and compiled a list of the top 7 alternatives to Moz that businesses can consider to improve their SEO game.
So, if you're curious to know what these alternatives are and how they can help you, keep reading.
Why should you consider MOZ alternatives?
Steep learning curve

Moz's extensive set of features and functionalities can be overwhelming for newcomers. Navigating through the platform and understanding its complex metrics may require a significant learning curve. Marketers who are looking for a more user-friendly and intuitive interface often seek alternatives that are easier to grasp and utilize effectively.
No new tools or features

Some review feedback from marketers shows the lack of significant updates and new tools from Moz in recent times. While Moz has long been a staple in the SEO industry, the absence of innovative features can leave marketers wanting more. As SEO practices continue to evolve, marketers are seeking alternatives that offer cutting-edge tools and features to stay ahead of the competition.
Link analysis is less powerful

While Moz offers link analysis capabilities, some marketers find that it falls short in providing comprehensive and accurate insights into backlinks. In today's competitive SEO landscape, having a robust and reliable link analysis tool is crucial for developing effective link-building strategies. Marketers are looking for alternatives that offer more advanced and in-depth link analysis features.
Expensive

Moz's pricing plans can be quite costly for businesses, especially smaller ones with limited budgets. The premium features and access to Moz's complete suite of tools come with a higher price tag, making it less accessible for some businesses.
In conclusion, there are several reasons why SEO marketers may be seeking Moz alternatives. If you're among the marketers looking for an alternative, don't worry – there are plenty of great tools out there that can help you achieve your SEO goals.
So we have curated the list of top 10 alternatives. By considering these alternatives, marketers can find platforms that better align with their specific requirements, helping them optimize their SEO strategies and achieve better results.
Top Moz Alternatives to Look For
1. SuiteJar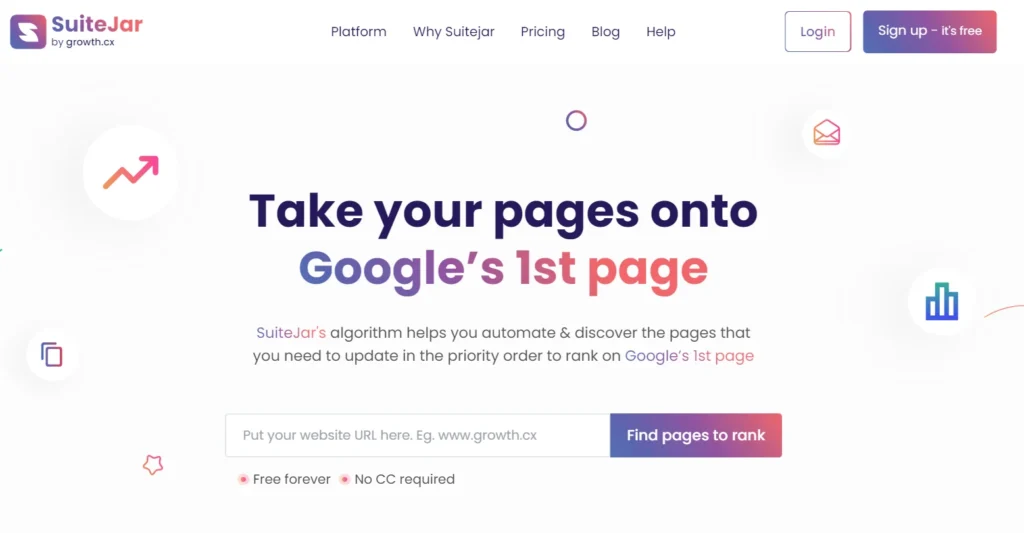 SuiteJar is a complete SEO tool that helps marketers with every aspect of their SEO and content marketing. From keyword research to technical audit and more, the tool offers a range of features and some unique ones as well.
The tool offers an intuitive user interface, making it easy to use, and is suitable for businesses of all sizes. Its backlink checker tool enables you to get a complete idea of your backlink profile.

Get to know the link broken within your website and take quick action to improve your website health.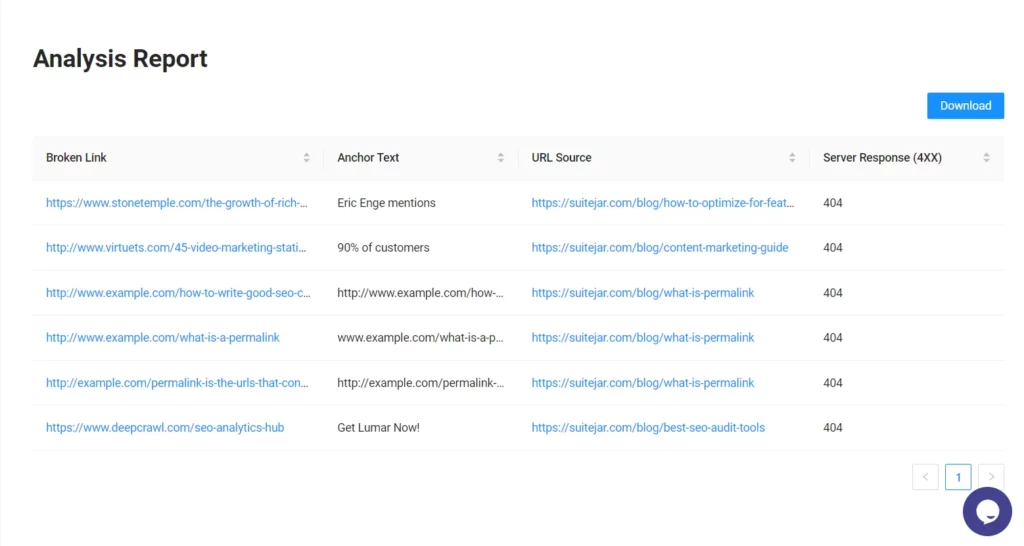 But the main reason why SuiteJar is the ideal MOZ alternative is because of the unique features provided by the tools. Let's discuss them.
Key Features

This unique feature analyzes your website to find outdated content and provide actionable insight to optimize them. The web pages will be listed out such that the first is the most likely to rank, with the last being the least. It provides insights like the keywords to add, the backlinks to get, the alt text to add, and more.
Though this feature helps you identify all the outdated content on your website, it doesn't help you with how to optimize it. In a way, this is a simpler version of the "First-Page Ranker" feature.
This feature is specifically designed to help marketers make sense of the GA4 metrics. Marketers can visualize all crucial data in one place, enabling them to analyze data and strategize accordingly.
| Pros | Cons |
| --- | --- |
| Affordable pricing | Competitor analysis absent |
| Easy to use with a user-friendly interface  | |
| Help identify and provide actionable insights to help optimize outdated content | |
| Best at finding broken links | |
Pricing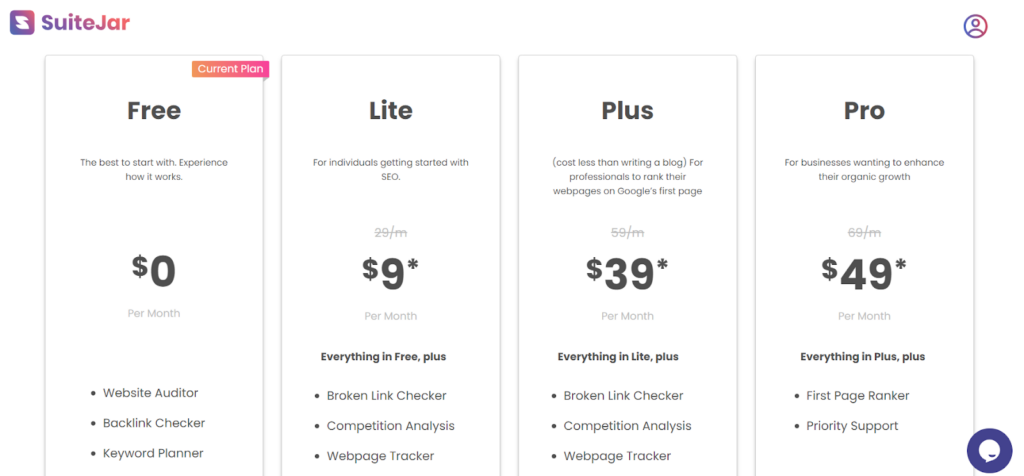 Suitejar offers a free version and trial for you to try out its features. Their paid plans are as follows –
Lite – $9 per month
Plus – $39 per month
Pro – $49 per month

2. SEMrush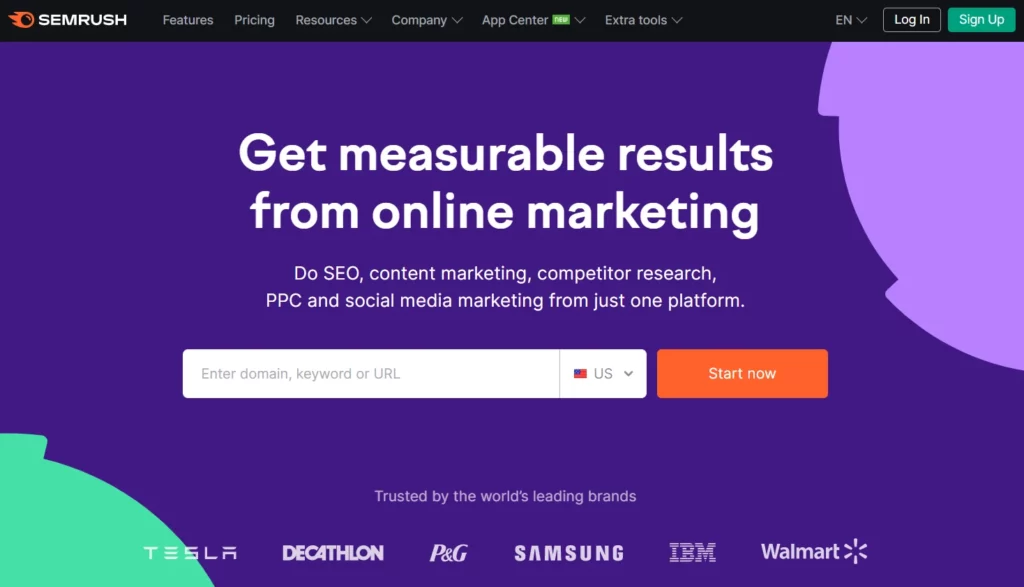 SEMrush is an all-in-one marketing tool that offers features like SEO, PPC, content, and social media marketing. With more than 7 million users, SEMrush is a widely popular choice among SEO professionals. But their pricing models make it hard for everyone to make the most of the tool.
Key Features
SEMrush's keyword research tool is one of its most powerful features. It provides insights into keyword volume, trends, and difficulty levels, which can help you identify new opportunities and optimize your content for better rankings.
With SEMrush, you can track your search engine rankings for specific keywords and monitor your progress over time. This feature can help you identify areas where you need to improve and track the impact of your SEO efforts.
SEMrush provides comprehensive technical SEO audits that can help you identify and fix issues that could be impacting your website's performance. This includes analyzing site speed, mobile-friendliness, and other important technical factors.
| Pros | Cons |
| --- | --- |
| Comprehensive keyword research tool | Steep learning curve for beginners |
| CRM style features | Expensive compared to some other SEO tools |
| Comprehensive PPC data | Provides data only from Google, not from Youtube, etc. |
| Accurate rank tracking | Link analysis is less powerful compared to some other SEO tools |
Pricing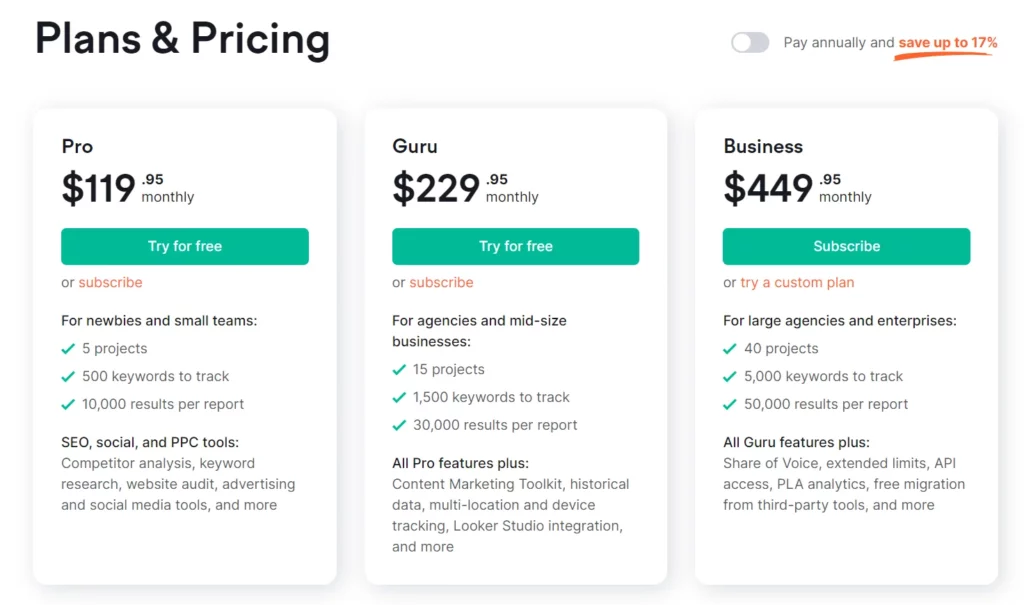 SEMrush offers a range of pricing plans, starting at $119.95 per month for the Pro plan and going up to $449.95 per month for the Business plan. Custom plans are also available for larger enterprises.
Also, take a look at the 7 SEMrush alternatives you can choose from.
3. Ahrefs

Ahrefs is a well-known SEO tool that offers a range of features to help businesses improve their online visibility. With a focus on backlinks and link building, Ahrefs is a popular choice for digital marketers looking to improve their website's search engine ranking.
Key features
Ahrefs provides a comprehensive site auditing feature that allows users to identify and fix technical SEO issues on their websites. This includes things like broken links, duplicate content, and missing meta tags.
Ahrefs offers a range of tools to help businesses identify opportunities for link-building, including competitor analysis and content research. The tool also provides a comprehensive backlink analysis feature to track and monitor the quality and quantity of backlinks pointing to your website.
Ahrefs offers a powerful keyword research tool that helps businesses identify high-traffic, low-competition keywords to target. The tool provides valuable insights into keyword difficulty, search volume, and related keywords to help businesses develop a winning SEO strategy.
| Pros | Cons |
| --- | --- |
| Comprehensive backlink analysis and link-building tools | Expensive pricing plans compared to some competitors |
| Powerful keyword research and tracking features | No free trial |
| All in one comprehensive SEO tool | Reports are limited |
| Can perform keyword research from Youtube, Amazon, and more | Limited social media and content marketing tools |
Pricing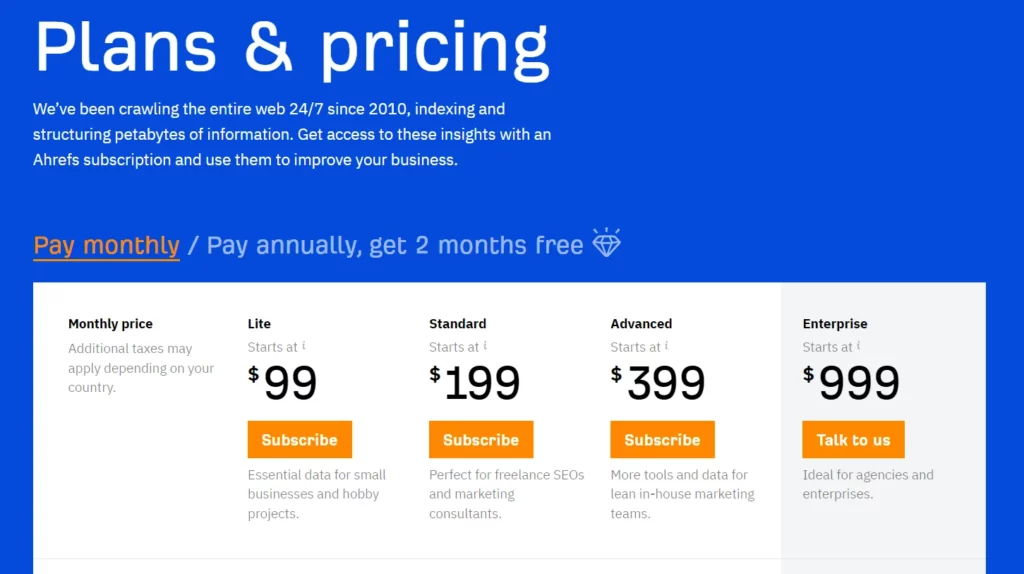 Ahrefs offers four pricing plans, ranging from $99 per month to $999 per month. Each plan offers different features and limits on data, making it easy for businesses of all sizes to find a plan that fits their needs.
Suggested Read: Top 7 Free and Paid Ahrefs Alternatives
4. Serpstat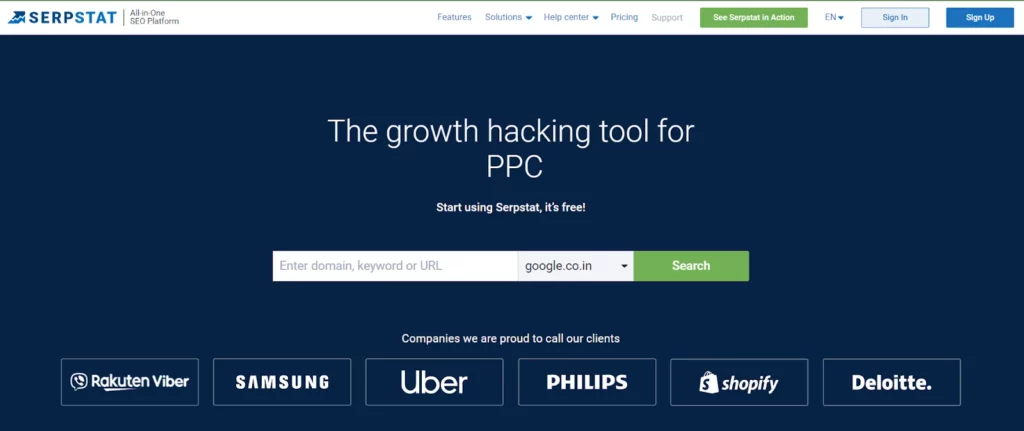 Serpstat is another MOZ alternative to try out. It's an all-in-one SEO tool that offers comprehensive features for businesses of all sizes. It has become increasingly popular due to its user-friendly interface and accurate data.
Key features
Serpstat provides a detailed analysis of your website's overall health, including keyword research, backlink analysis, and technical SEO audits. PPC researcher: It has a unique feature that helps you analyze your competitors' PPC campaigns and keywords.
Serpstat's competitor research feature provides detailed insights into your competitors' SEO strategies, including their backlinks, keywords, and traffic sources.
Serpstat's rank tracking feature helps you monitor your website's search engine rankings and provides detailed reports on your website's performance.
| Pros | Cons |
| --- | --- |
| Better chat support | Restricted keyword research |
| Constant database updates | Confusing UX for beginners |
| Multi-user supports | Limited features in the lower-priced plans |
| | The backlink database is smaller compared to some of its competitor's |
Pricing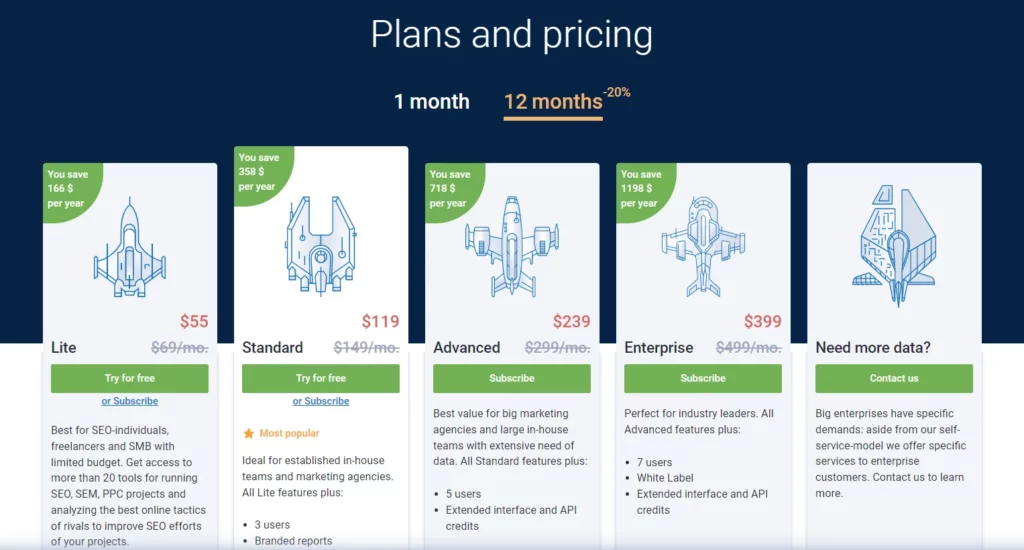 Serpstat offers four pricing plans: Lite, Standard, Advanced, and Enterprise, with prices ranging from $55/month to $399/month, depending on the features and the number of keywords tracked.
5. SE Ranking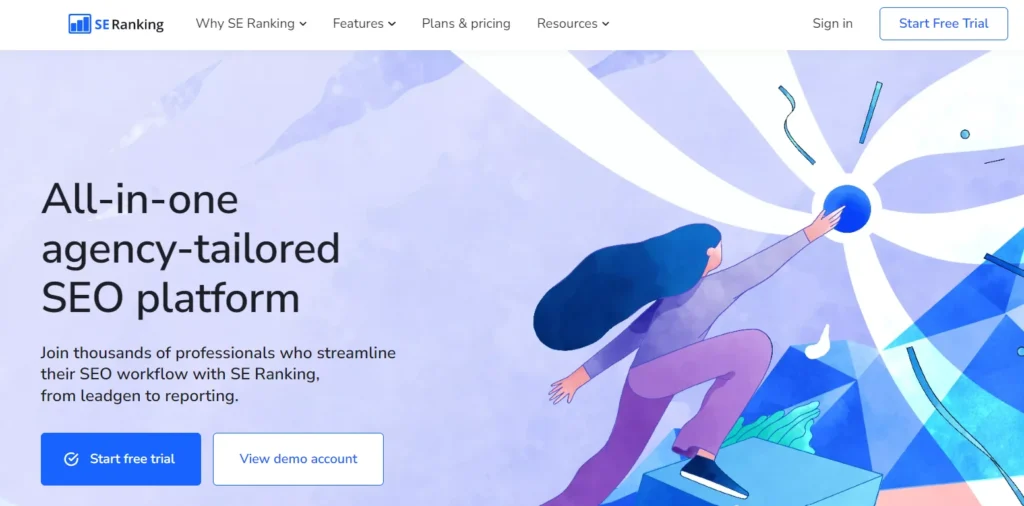 SE Ranking is a comprehensive SEO analysis tool that provides businesses with all the necessary features to improve their online visibility. It offers a wide range of features and tools, including website analysis, keyword research, and competitor analysis.
Key features
This feature enables users to analyze their website's technical and SEO health, identify any issues, and optimize the website for search engines.
This tool helps users to optimize their website's content, images, and tags for better search engine rankings.
SE Ranking offers practical suggestions on how to optimize the technical aspects of the website, such as page speed, mobile-friendliness, and URL structure.
| Pros | Cons |
| --- | --- |
| Offer white-labeling options for agencies | Limited keyword research |
| Cloud base SEO software | Limited social media data |
| Advanced competitor research | Expensive |
| Easy setup | Limited tools for PPC |
Pricing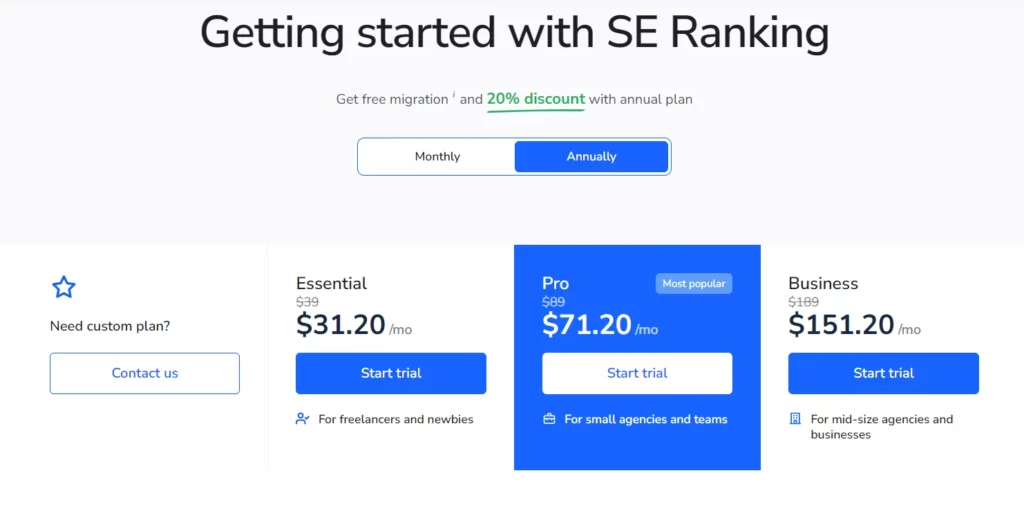 The pricing plans are based on the number of keywords and websites, and it starts at $31.20 per month.
6. Ubersuggest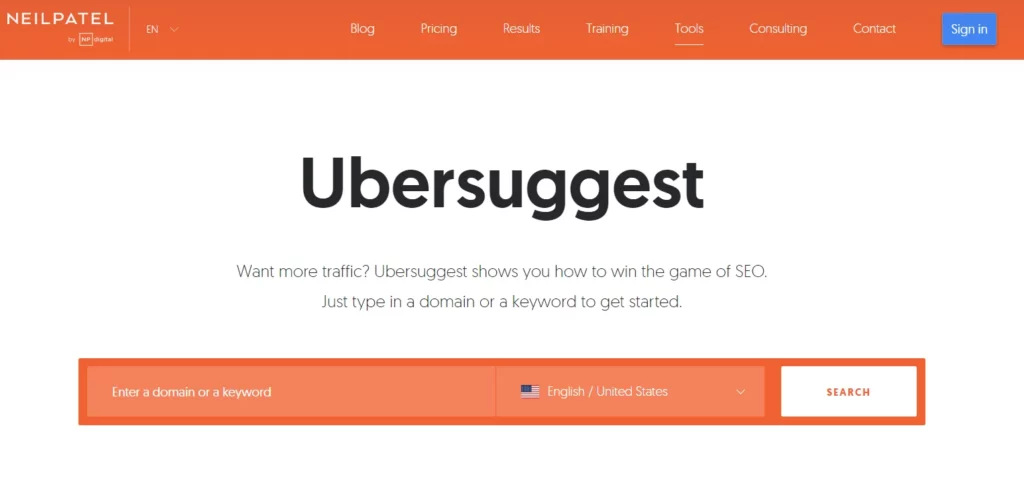 Ubersuggest is an all-in-one SEO tool developed by Neil Patel, a well-known digital marketer. It helps users to optimize their websites for search engines and generate more organic traffic. Ubersuggest has been growing in popularity and has become a formidable competitor to Moz.
Key Features
Ubersuggest helps you keep track of your backlinks and also helps to analyze your competitor's backlinks.
With Ubersuggest, you can analyze your website traffic and your competitors' traffic. This can help you improve your marketing strategy and make informed decisions.
Ubersuggest provides content ideas by generating long-tail keyword suggestions based on the topic.
| Pros | Cons |
| --- | --- |
| Detailed keyword suggestions | Lags while performing keyword research for a specific niche |
| User-friendly interface | The tool can be slow at times |
| Affordable for all types of business | Lags while performing keyword research for specific niche |
| Social media reporting | |
Pricing
Ubersuggest offers a free version with limited features. Their pricing starts at $12/month. They also provide custom pricing.
7. Spyfu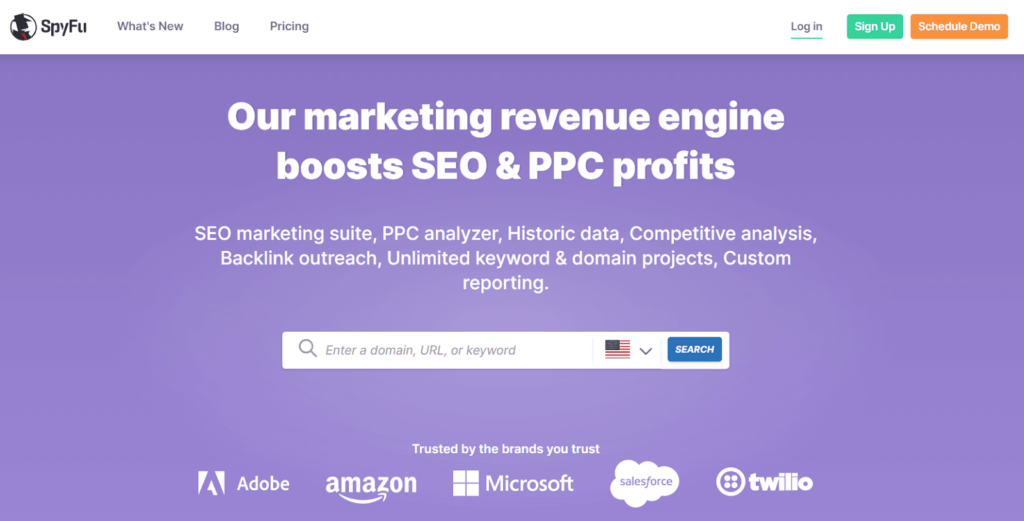 The last on the list of MOZ alternatives is Spyfu. It is an SEO tool that provides competitive insights and keyword research data to help businesses improve their online marketing strategies. It offers valuable insights into competitor analysis, keyword rankings, and domain overview.
Key features
Spyfu allows you to spy on your competitors' online activities, including their organic and paid search strategies. You can uncover their top keywords and ad copy and even see their ad history. This valuable data helps you identify new opportunities and refine your own marketing campaigns.
With Spyfu, you can track your keyword rankings on search engines and monitor your competitor's rankings as well. This feature enables you to evaluate the effectiveness of your SEO efforts and adjust your strategies accordingly.
Spyfu provides a comprehensive overview of a domain's SEO performance. You can analyze the organic search traffic, backlinks, top organic keywords, and ad performance of any website. This information helps you understand your competitors' strengths and weaknesses and make data-driven decisions for your own SEO campaigns.
| Pros | Cons |
| --- | --- |
| Inaccurate PPC reports | Some features may take longer to load, and process data |
| Smart recommendations for SEO activities | Limited customization options for reporting and dashboard |
| Helps in finding hidden competitors | In accurate PPC reports |
| Good tutorials and better customer support | |
Pricing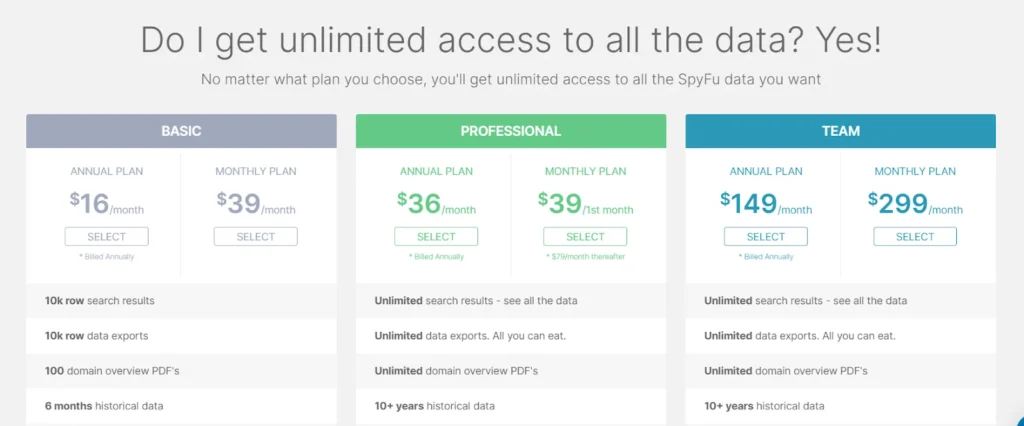 Spyfu offers four pricing plans, starting from $39 per month to $299 per month.
Takeaway
Though MOZ is a good tool, there are alternatives in the market that are cheaper and better than MOZ. The discussed 7 are some of the best MOZ alternatives you can choose from, and choose wisely.
And it is crucial that you choose the right SEO tool for your business. Why? Because the right tool will help you with all your needs and requirements and make the most out of your investment. Therefore, make use of the free trials and versions offered by the discussed tools and choose the tool that best fits your business.
If you're looking for a powerful SEO audit tool that can help you improve your search engine rankings, try out Suitejar. Avail the free version of Suitejar and check whether it's the right tool for your business or not.