SEO plays a crucial role in helping your website rank in the SERP results. You need to have proper usage of keywords, backlinks, and other related SEO elements set in place to achieve this. And one of the most important among them is Meta Tags.
This beginner's guide will introduce you to the world of meta tags, their importance in SEO, and how to effectively use them to improve your website's performance.
Are you ready to embark on this SEO journey? Let's dive in!
What are Meta Tags?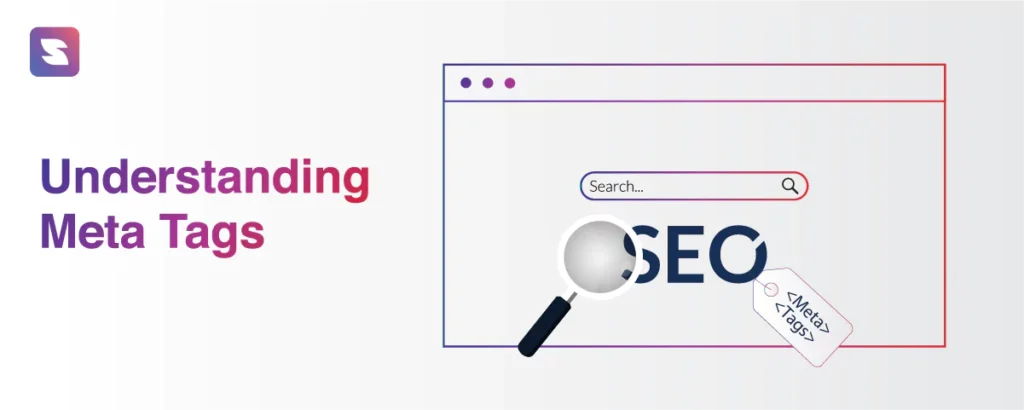 Meta Tags are short snippets of code that tell search engines what the page is about, how they should read it, and who should see it.
It provides information on how the search engines have to display the text to the user. They won't appear on the page but are only visible to search engines as HTML codes. You can check the website's source code to view meta tags.
Meta tags can be useful to search engines like Google and Bing in many ways. They can influence the way your page appears on different devices (Laptops and mobile phones). A well-optimized meta tag can benefit your user by providing a better user experience.
The Essential Meta Tags for SEO
Mata tags are one of the most crucial elements of a site, as they make the work easier for search engines. It serves as a guide to reveal the important section to be overlooked.
There are many types of meta tags, and we have handpicked five essential ones that must be optimized for SEO.
Title Tag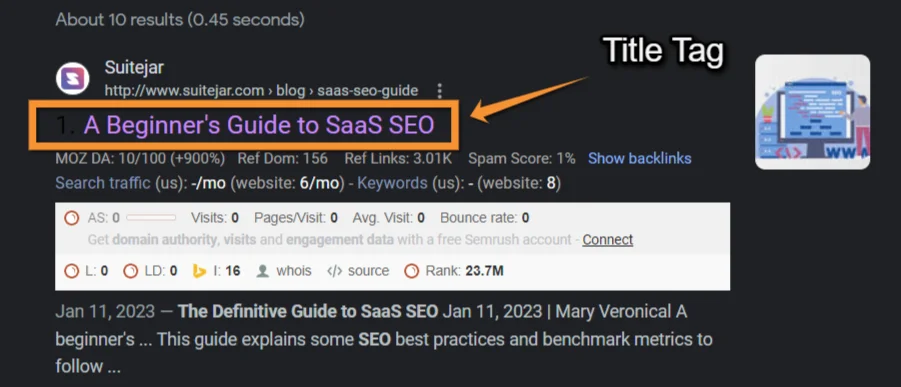 Title tags are clickable texts that appear on SERPs. A keyword-rich title tag with high-intent keywords can yield the best result by boosting your page's traffic. They are the main SEO hot areas, as they play a significant role in your site's organic ranking.
The importance of a high-quality title tag cannot be compromised as they are the primary piece of information to the users.
While writing your meta tags, ensure the character count is below 60 characters. Always use unique title tags and avoid using generic and duplicate title tags. Keep them descriptive and concise and make them click-worthy.
Meta Description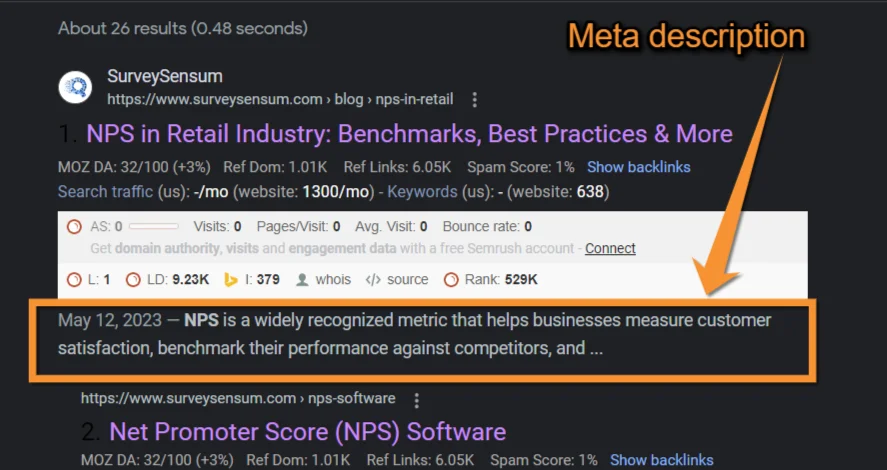 Meta Description is the most important element in your SEO that provides a summary of the page. On the SERPs, a meta description appears below the title of the page to inform users about the content of the page. Like the title tag, meta description also plays a crucial role in driving the user to your site.
A Meta description should convey a clear message to the reader since it is more like a pitch to convince the user that the page is exactly what they are looking for.
Canonical Tag

Canonical tags (rel=canonical) are used in SEO to inform Google which version of the page you want to show up in search results and to pass link equity from duplicate pages.
For instance, there is a chance of getting multiple URLs for your product pages depending on the parameters. In such cases, you have to define which page is important and to be considered for indexing.
This small piece of HTML code can help Google differentiate the original or main version of the page from the rest that is similar or identical to the main page.
Robot Meta Tag

Robot meta tags are used to control how crawlers should index or crawl a particular page. This tag can be added to a web page's <head></head> section and tells the crawler if it should crawl or not.
There may be chances when your webpage carries unnecessary or unimportant content, which shouldn't be included for indexing. In this place, you can use a robot meta tag and request not to include those sections. It could be snippets, images, cached results, or follow links.
Social Media Meta Tags
So far, we have seen tags that influence how the web page appears on the SERPs. Social media tags are another special type of HTML code that is used to make web pages more appealing when shared on social media platforms.
These tags are primarily used to increase your page's organic traffic by getting clicks on social media. Using social media tags, you can control the title, description, and image showing on social media platforms when the web page or blog is shared.
Open Graph and Twitter card tags are the two main types of social media metatags to be optimized. Implementing these tags can have a positive impact on your social media discoverability and conversions.
Open Graph Tags

Open Graph tags are used by Meta (Facebook) and LinkedIn to understand which description of a particular page is ready to be shared.
og:title – It is to denote the title of the page.
og:type – Used to mention the type of the object. For example, a movie, video, or blog.
og:url – To provide the canonical URL without any UTM parameters.
og:image – It is to provide the full URL of the image that is related to the page.
The above-mentioned are some essential open graph tags to use in your HTML code.
Twitter Card Tags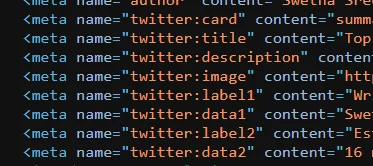 Twitter algorithms are developed to read the Twitter Card tags, which provides you with more options to control the shared post on the page. If Twitter Card tags aren't available by default, Twitter uses Open Graph tags.
Twitter Cards are more similar to Open Graph, but they are exclusive only to the Twitter platform. Here is a list of essential Twitter Cards for your SEO optimization.
Summary Card: It simplifies your web content into a snapshot image with a title, description, and thumbnail to give readers a sneak peek of the content before they click.
Summary Card with Large Image: These cards can be used if you want to grab the attention of the user. It is the same as that of a summary card, and the only difference lies in the size of the image.
App Card: It is specifically used to sell in a mobile app. It entails your app icon along with a short description. And sometimes, it comes with the content and pricing details of the app.
Player Card: The player card is specifically designed for video and audio material to embed into a tweet. You can use it if you want to share podcasts, webinars, and other multimedia content.
Whenever you are sharing your YouTube video, by default, the video will be embedded to tweet because its source code encloses Twitter Cards for their website.
Best Practices for Writing Effective Meta Tags
Understanding the purpose of different meta tags and their types alone will not be sufficient to make the best out of it. You need to follow some best practices for writing these meta tags to stay ahead of your competitors.
Keep It Clear and Concise
Though meta tags are not visible on the page, it is essential to write them in a descriptive way. Because sometimes, Google shall use meta descriptions to generate snippets that directly impact your ranking.
'Google will sometimes use the <meta name= "description"> tag from a page to generate a snippet in search results if we think it gives users a more accurate description than would be possible purely from the on-page content.'
Also, any meta tags that add value will intrigue the reader to visit your page.
Use Targeted Keywords
It is advised to use the keywords that your target audiences actually search for in your meta tags. Though Google doesn't consider meta descriptions for ranking purposes, readers tend to click on a particular result if it satisfies the user's intention.
If you are overwhelmed with keywords and confused about where to start, do a competitor analysis and find what keywords they have focused on. This will give you an idea about the keywords that are very specific to your target audience.
Take a look at the top keyword research tool to get find the right keywords for you.
Stay Within Character Limits
No matter how long meta descriptions are. If your character limit exceeds, it appears as truncated in the search results. It may omit some information that is more important for the reader, resulting in a loss of web traffic.
Don't exceed more than 160 characters while writing your meta descriptions since it is the permissible limit. And for mobile phones, it is only 120 characters. Writing beyond this permissible limit may fail to produce the necessary results in terms of SEO.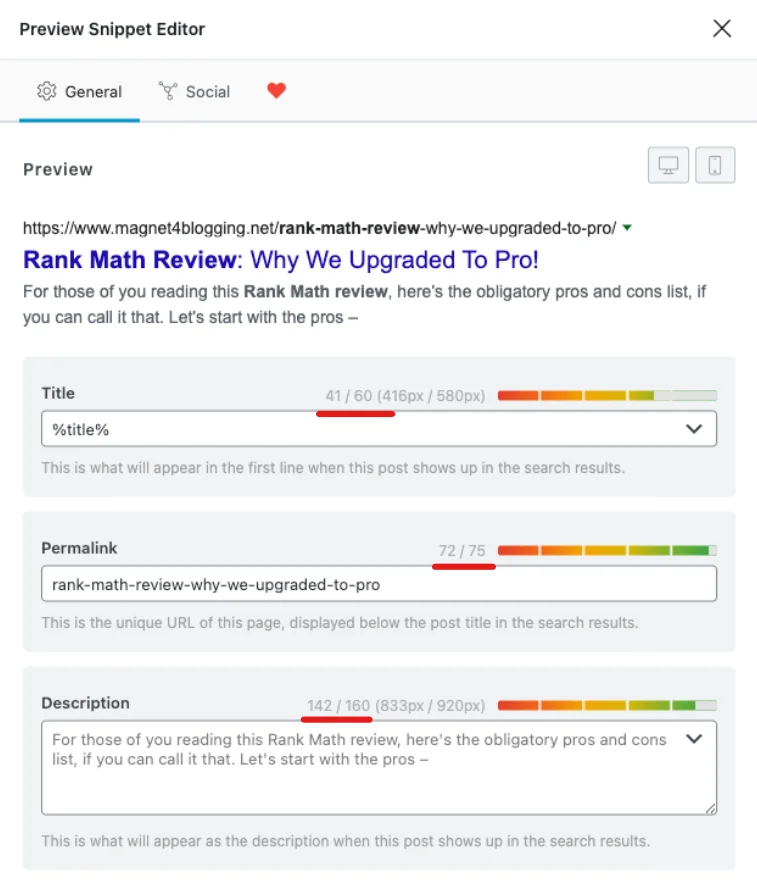 Ensure Unique Tags for Each Page
While establishing your brand, writing unique meta tags with a consistent style is important. Generic and duplicate meta tags will add no value to your site as they don't describe what the user can find on the page.
Sometimes duplicate meta tags can lead search engines to confusion which may end up in the poor ranking of your site.
Implementing Meta Tags on Your Website
After writing a keyword-rich user-focused meta tag, it is important to insert it in your source code to witness results.
Adding Meta Tags to HTML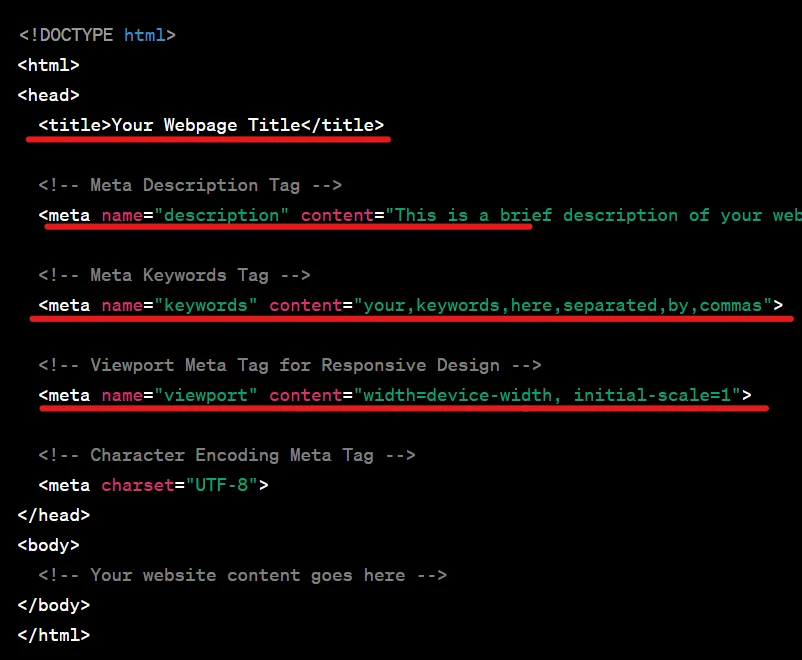 Meta tags are meant to be added in the header section, which lies between <head>/<head> tags in the HTML file.
For editing the HTML codes, you can download them in the FTP client of your system and then modify them in your preferred text editor. You can also make use of the cPanel File Manager for editing or adding HTML codes.
Utilizing Content Management Systems (CMS)
Each CMS system has its own methods to edit or add necessary meta tags. You have to follow the instructions that are available for the particular Content Management System you use.
If you are using HubSpot or Wix, you do not need any additional plugins. WordPress users may require plugins like Yost SEO, All In One SEO Pack, or The SEO Framework.
Monitoring Performance Over Time And Revising Meta Tags
It is essential to monitor the performance of your page and periodically revamp your meta title and description with fresh keywords. In the process of optimizing your meta tags, refreshing them will give you better traction in search engines, which results in significantly boosting your organic traffic.
Also, Google frequently releases new updates, which may make your meta descriptions obsolete, and you may encounter an unprecedented plummet in rankings or traffic. In order to avoid this, you have to always keep an eye on the performance of meta tags.
Analyzing and Testing Your Meta Tags
Once you have uploaded your meta tags, you need to track their performance. It is essential to analyze the results meta tags have brought in for better optimization.
Testing your meta tags using analyzers will give a better picture of how the meta tags have impacted the rankings and traffic of your site. It will help you determine what works best for you and what takes you to the right audience.
Today we have many browser extensions that can be used to analyze the meta tags of your site in less time. You can use SmallsSEOTools, Check SERP, or Rank Math.
You can pick up any from the top SEO tools to analyze your meta tags. You can also use Chrome extensions like SuiteJar, SEOquake, and MOZBAR to analyze the SEO metrics.
Conclusion
By understanding and implementing meta tags effectively, you can greatly improve your website's SEO performance and online visibility. This beginner's guide serves as a stepping stone to mastering the art of meta tags for SEO, enabling you to attract more visitors and drive better results for your online presence.