Website owners strive to provide their users with a seamless browsing experience. Still, sometimes, links on a website can break.
Broken links, as they're known, are like unwelcome guests on your website's information highway, disrupting the user experience and tarnishing your site's reputation.
According to a 2020 study, around 5% of website links are broken. This figure is expected to double by 2024, illustrating the growing importance of maintaining a website regularly and the growing issue of broken links. 
To ensure a healthy website, you'll need effective techniques and the right tools to eliminate broken links.
In this blog, we'll discuss how to identify and fix broken links on your website and why it's essential to check it regularly. You will also be introduced to some top-notch tools to help you maintain a smooth, user-friendly website.
What are Broken Links?
A broken link or dead link is a link that no longer works on a website. This can occur for several reasons, such as a change in the URL of the linked page, the linked page being removed, or the website being shut down. Clicking on a broken link negatively impacts your website's reputation.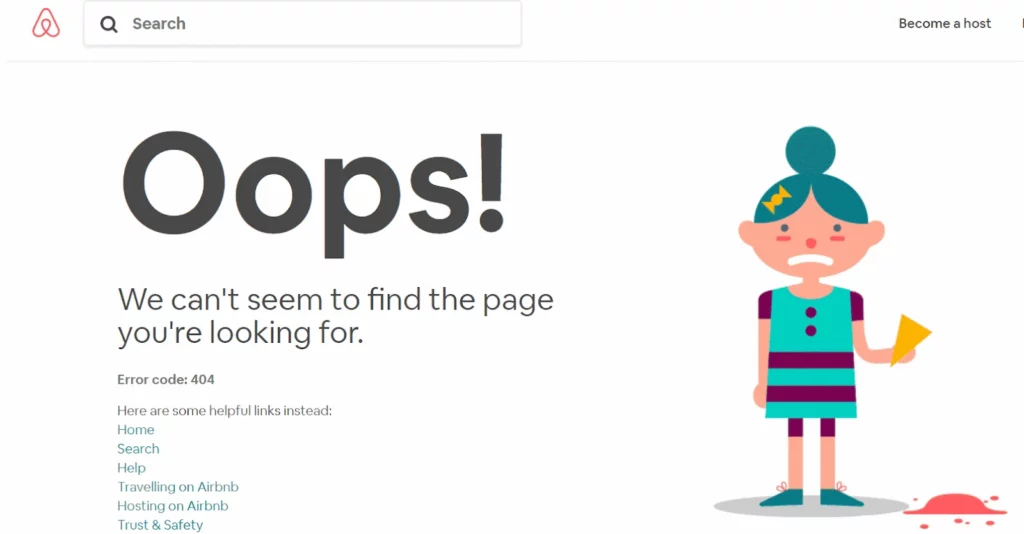 Why Regular Link Checks Matter
Routine link health checks are critical to maintaining a user-friendly website. Having broken links can disrupt the customer journey, hinder navigation, frustrate visitors, and potentially result in lost sales.
Moreover, search engines view broken links negatively, harming your website's SEO rankings. You can guarantee a seamless user experience, enhance your credibility, and maintain a positive online reputation by checking and fixing broken links.
User Experience
Regular link checks are conducted to preserve and enhance the user experience. When visitors encounter a broken link, they may end up on an error page, leaving them disappointed. By routinely checking and fixing broken links, you can ensure a seamless and enjoyable browsing experience for your visitors.
Search Engine Optimization (SEO)
Websites with many broken links may experience SEO penalties, leading to search rankings dropping. To maintain or improve your website's SEO performance, it's essential to identify and fix broken links regularly. This can increase your website's visibility in search results and drive more organic traffic.
Credibility and Trust
A website with broken links appears unprofessional and untrustworthy. If there are broken links on your site, this can make your audience lose trust in your site. To have an excellent online reputation, promptly fix broken links, and show commitment to reliability.
Conversions
Every link on your website represents an opportunity for user engagement and conversion. Users who intend to access specific content may need help to do so. This can lead to missed chances for interaction, conversions, and revenue generation. By regularly checking and repairing broken links, you ensure a good conversion.
Content Management
Regularly checking links is crucial for efficiently managing websites with much content. They help identify and update links when content is restructured, moved, or renamed. This is especially relevant for websites that frequently update or expand their content.
Tools to Find Broken Links
1. SuiteJar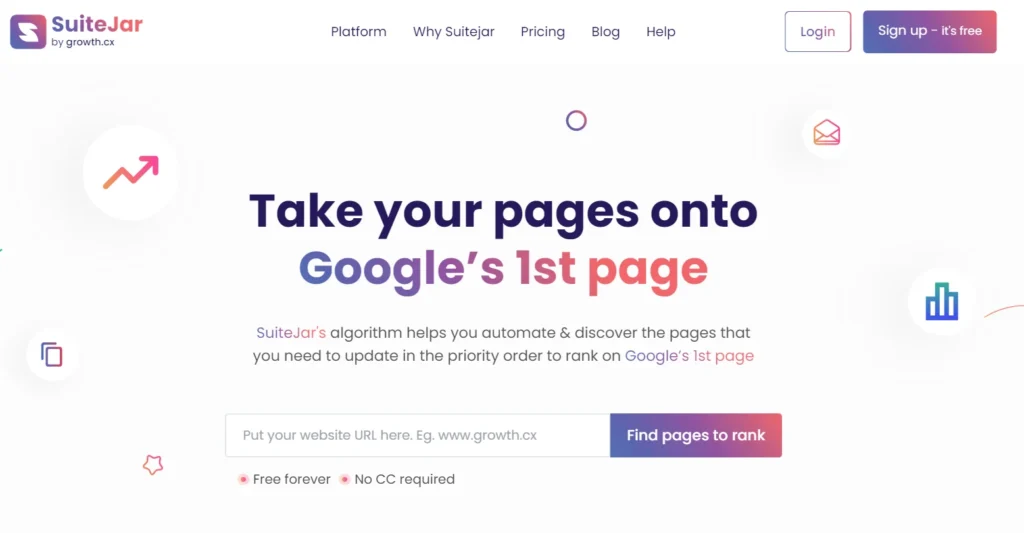 Suitejar is one of the best broken link checker tools available in the market. The tool crawls your website and finds all the broken links with proper status. 
Once signed up, you can add your website and navigate to the 'Broken Link Checker' feature within the tool. SuiteJar will give you vital statistics about your website, such as the total number of links and the total count of broken links.
Not only that, you will get the state of your website by accessing a comprehensive analysis report. This report includes crucial information such as the anchor text associated with the broken links, the source URLs of these links, and, importantly, any 4xx errors contributing to the problem.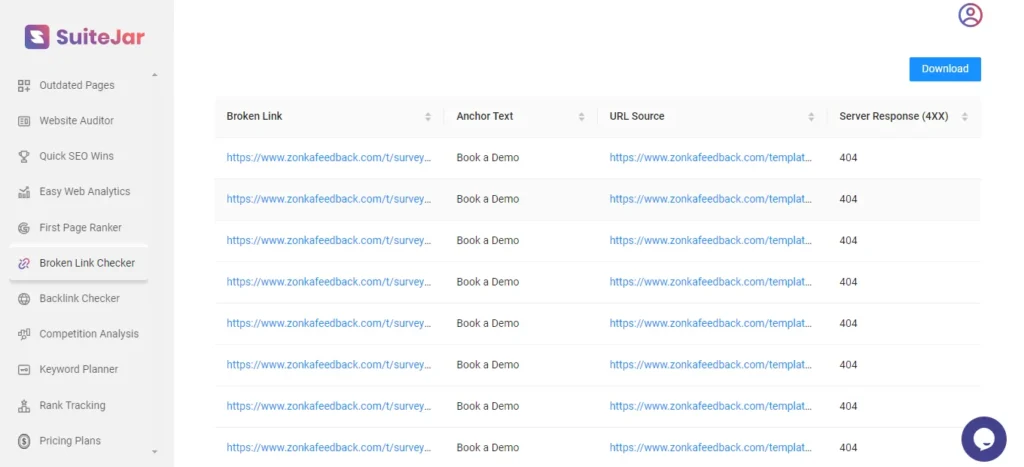 With this valuable data, you can assess and address the broken links within your website. Edit or remove them as necessary to enhance your website's overall performance.
Pricing
The main feature of Suitejar is its competitive pricing, starting at just $9, with the bonus of a 7-day free trial.
2. SEMrush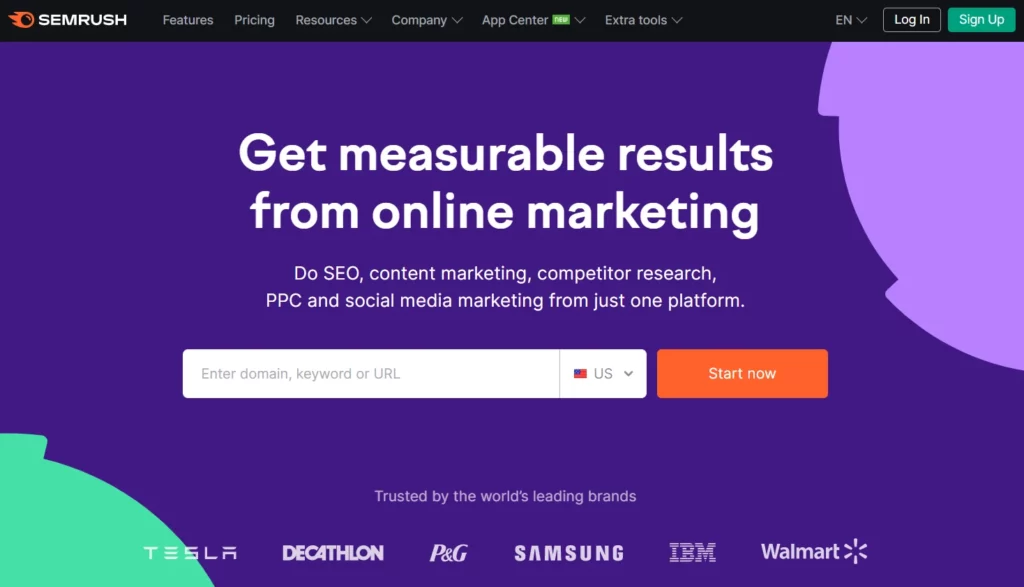 SEMrush functions as a broken link checker for your website, identifying issues like broken links and providing a detailed report. This software helps you improve your website analysis to get a better understanding.
With a starting price of $129, SEMrush is not considered for budget-conscious consumers. If you're looking for SEMrush alternatives, explore this guide for additional recommendations.
3. Ahrefs

Ahrefs is another SEO tool that excels at finding and reporting broken links. Ahrefs crawl your entire site, detect broken links, both internal and external, and provide detailed reports. It's an excellent tool for maintaining the integrity of your site and improving SEO.
Ahrefs has high pricing and specialization in backlink analysis and keyword research. When selecting a perfect SEO audit tool, choose one that suits all your requirements.
How to Fix Broken Links
Fixing broken links is essential for website maintenance and SEO optimization. Links can make users unhappy, hurt search engine rankings, and lead to missed opportunities. These processes will ensure that your website remains user-friendly and SEO-optimized and provides a seamless browsing experience for your visitors.
These are methods for fixing broken links and tips for maintaining a healthy website:
Review the Broken Links List
Examine the list of broken links to determine the reason for their inactivity. Is the page missing, or has it been moved to another location.
Update or Remove Broken Links
For links that point to move pages, update the link to its updated URL. If the content no longer exists, remove the link or replace it with a relevant one.
Backend Editing
Access your website's backend, often by editing the HTML. In content management systems like WordPress, this is quickly done by editing the post or page and adjusting the hyperlink.
Regular Maintenance
To prevent broken links, maintain your website regularly. When you create updated content or make changes, double-check the links to ensure they remain active.
Use Tools
Various online tools can help you analyze your website for broken links. These tools can assist you in finding and fixing any link-related issues on your site, which can improve the user experience, boost your website's SEO performance, and ensure a more reliable online presence.
Learn more on how you can fix broken links.  
Conclusion
Keeping a website free of broken links makes it easy for users and helps with SEO. Regular link checks are the foundation for website integrity and seamless browsing. Tools like SuiteJar, SEMrush, and Ahrefs help you identify and address broken links on your website.
When you resolve broken links, you're not just upkeeping your website; you're also providing your audience with a reliable and user-friendly resource.
Use these broken link checker tools and techniques to maintain a trustworthy online presence.