All eyes are on you.
When you are an enterprise, the stakes are higher.
Competition gets tougher, high-value clients need to know what you are capable of, and they need to see your presence before they even know they need you.
The basic requirement to ace all these levels is to rank high on SERP. Now SEO enters the chat. With the right SEO tactics and the right tools, it is just another day at the office.
But some choose to go with mediocre tools factoring just its cost. Poor tools slow down your SEO goals and are counterproductive.
To help you choose right, here are some of the best enterprise SEO tools that are live right now.
Check out this write-up on these phenomenal tools and choose which one is right for you.
A Quick Overview of the SEO Tools for Enterprises
Keyword Research Tools
Key Features
Pricing [*Starts from]
SuiteJar
Keyword Planner, Website Auditor, Google First Page Ranker, Outdated Pages, Broken Link Checker, Rank Tracker
$9 per month
SEMrush
Site Audit, Competitive Analysis
Full SEO Suite
Content Marketing Toolkit
$119 per month
Ahrefs
Keyword Analysis, Site Explorer, Content Explorer, Rank Tracker, Site Audit
$99 per month
MOZ
Site Audit, Rank Tracking, Backlink Analysis, On-Page Optimization
$99 per month
Serpstat
Content Marketing Ideation, PPC Research, Keyword Research, Competitor Analysis, Rank Tracking
$55 per month
SE Ranking
Keyword Suggestion Tool, Cluster Research, Competitor SEO/PPC Research
$31 per month
Ubersuggest
Site Health Monitoring, Local SEO, Content Optimization, Reporting and Insights
$12 per month
Screaming Frog
Custom Extraction, Hreflang Analysis, Bulk Export and Data Filtering
Custom Extraction, Hreflang Analysis, Bulk Export, and Data Filtering
Lumar
On-Page SEO Checker, White Label Reporting, API Integration
Details available upon request
Tops SEO Tools for Enterprises
1. SuiteJar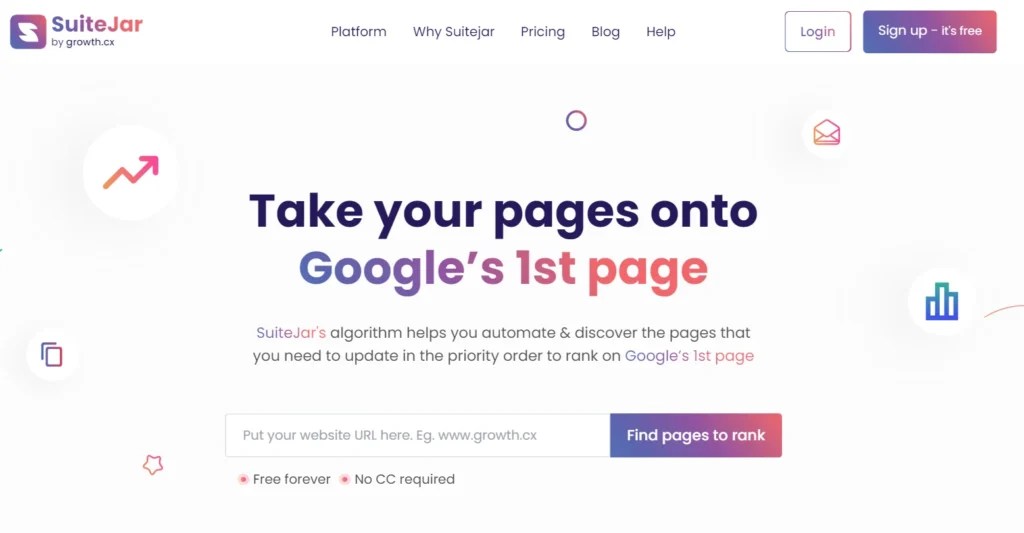 SuiteJar is a comprehensive SEO and content analysis tool that offers a range of features, including keyword research, site audit, backlink analysis, and more. With its user-friendly interface and SEO reports, it is an ideal choice for enterprises looking to improve their SEO performance.
In spite of being a new tool in the market, it is a worthy enterprise SEO tool because of its unique feature – First-Page Ranker.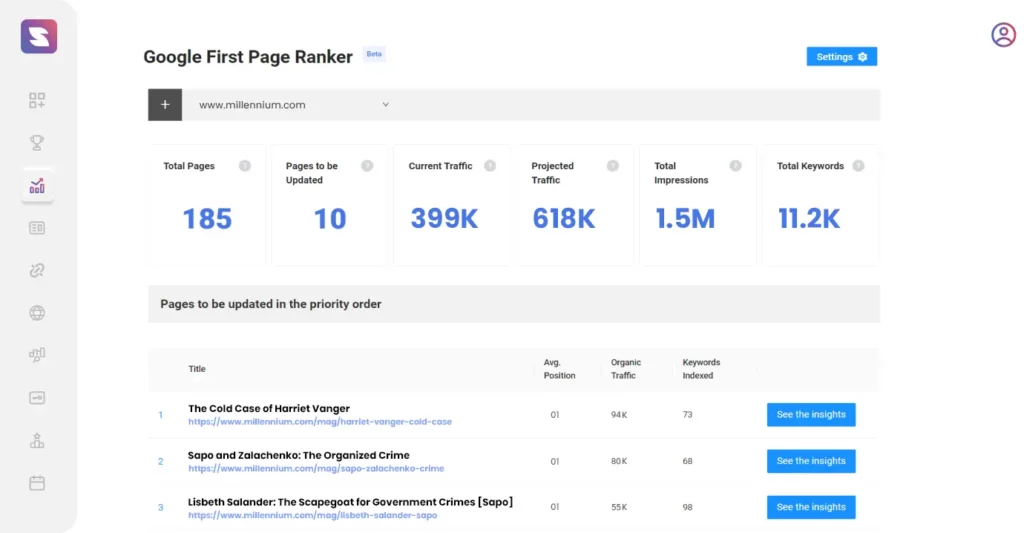 This unique feature of SuiteJar will help you identify and optimize outdated content and increase the likelihood of ranking your web page in SERP results. Once integrated with GSC and GA, these features analyze your web page content and list out all pages in the priority order that has the most chance to rank if optimized. 
Moreover, the feature offers valuable insights like the keywords you are ranking for, the supporting keywords you can use, the interlinks you have, the outbound links to the page, and more. Using these insights, you can optimize your web page content and sling-shot the page to the SERP results.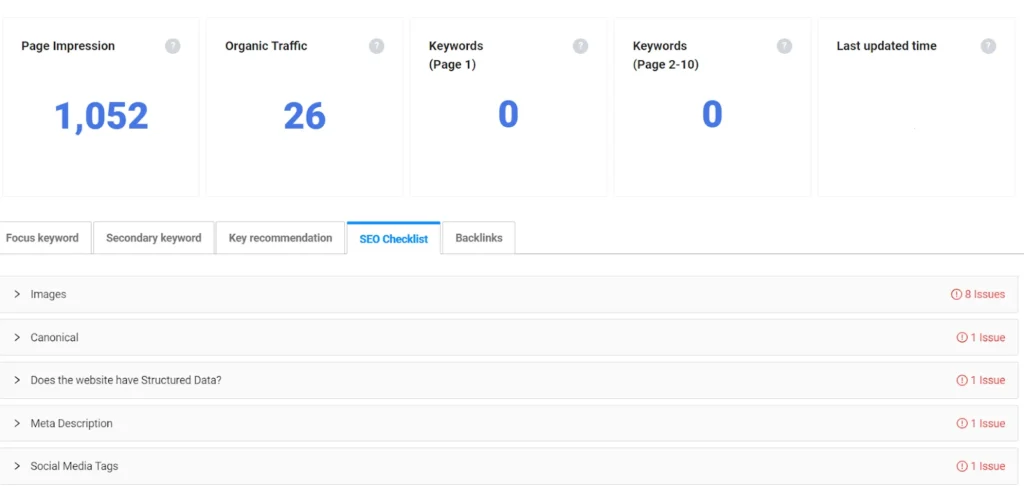 Features

The feature collates and visualizes all critical GA4 metrics in one place. This will help you easily and quickly analyze the website data and strategize accordingly to improve the performance.
This robust keyword research feature shows more accurate results. Apart from the keyword volume and SEO difficulty, the feature shows both CPC and paid difficulty. Thus it helps performance marketers to choose the right keyword and run more effective campaigns.
This feature helps you identify all the outdated pages within your website. You can either update or remove them depending on their relevance to your marketing efforts. This way, you can ensure that the content pieces stay relevant and up-to-date.
Pricing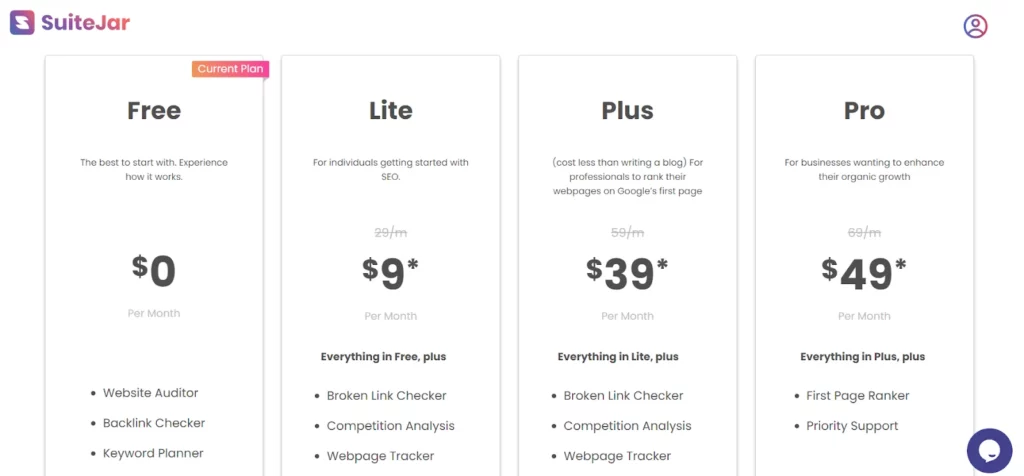 The tool currently offers a free version. The paid plans of SuiteJar are as follows.
Lite – $9 per month
Plus – $39 per month
Pro – $49 per month
Try the tool to check whether it fits your business or not.

2. SEMrush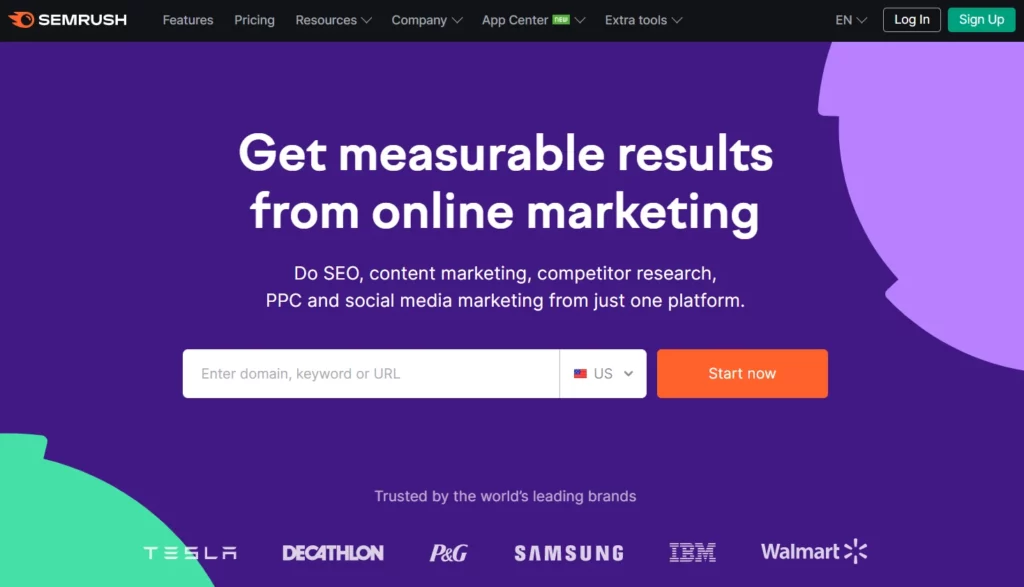 SEMrush is a powerful all-in-one digital marketing platform that offers a wide range of tools and features to optimize online visibility, conduct competitor research, track rankings, and drive strategic marketing decisions.
Features
Analyze competitors' advertising strategies, organic search rankings, backlinks, and top-performing content to gain a competitive edge.
Conduct comprehensive website audits to identify technical SEO issues, improve site health, and enhance overall performance.
Evaluate backlink profiles, identify toxic links, and discover new link-building opportunities to improve the domain authority.
Monitor keyword rankings in search engines and track progress over time to measure SEO performance.
Pricing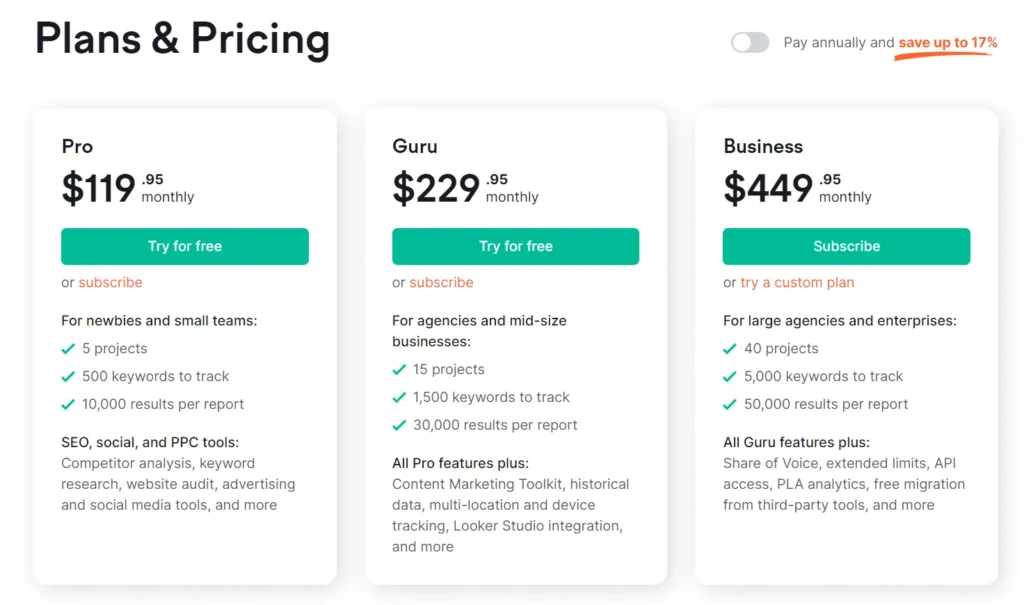 SEMrush offers three pricing plans, starting at $119.95/month for the Pro plan, $229.95/month for the Guru plan, and $449.95/month for the Business plan.
If you are finding their pricing quite expensive, here are some affordable SEMrush alternatives you can look into.
3. Ahrefs

Ahrefs is a comprehensive SEO toolset that offers powerful features to analyze website performance, conduct competitive research, and optimize online visibility.
Ahrefs enables businesses to improve organic search rankings and drive targeted traffic with a robust set of tools.
Features
Gain insights into competitors' organic search rankings, backlink profiles, top-performing content, and advertising strategies.
Generate comprehensive reports with customizable data and visualizations to measure SEO performance, track progress, and communicate results to stakeholders.
Track keyword rankings and visibility in search engine results pages (SERPs) and receive notifications about changes and fluctuations.
Access and integrate Ahrefs' data into other applications and platforms for seamless workflow and enhanced analysis.
Pricing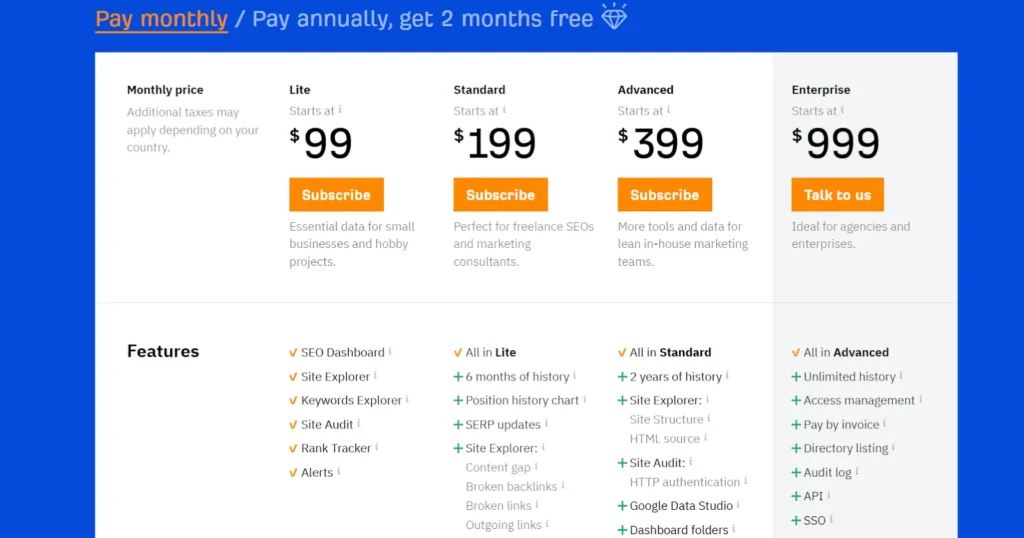 Ahrefs offers four pricing plans, starting at $99/month for the Lite plan, $179/month for the Standard plan, $399/month for the Advanced plan, and $999/month for the Agency plan.
Here are some ahrefs alternatives you can try out.
4. MOZ Pro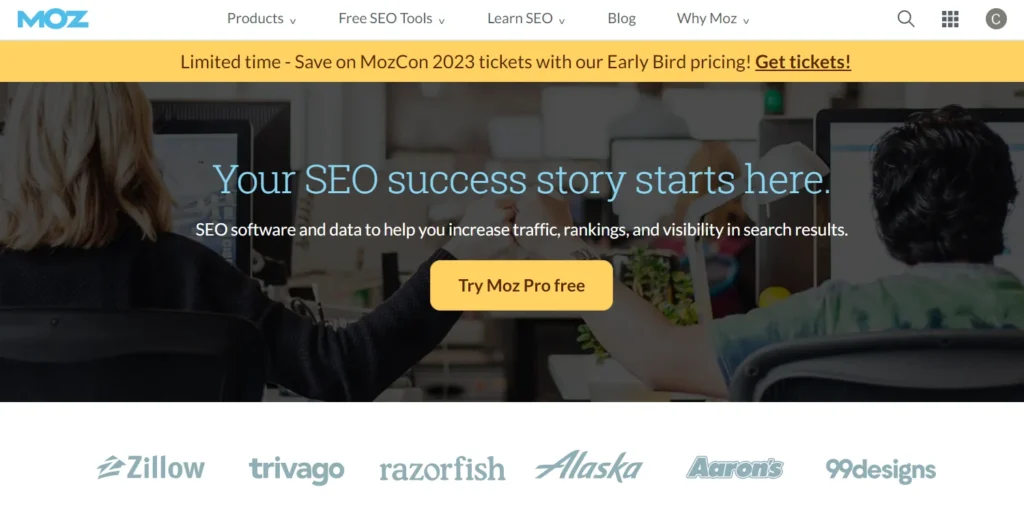 Moz Pro is an exceptional SEO software suite that stands out in the industry, offering a diverse range of tools and features to help businesses optimize their website performance, conduct thorough keyword research, track rankings, and monitor backlinks.
With its unparalleled capabilities, Moz Pro empowers businesses to improve their search engine visibility, attract targeted organic traffic, and achieve remarkable SEO success.
Features
Gain invaluable insights into your website's performance and user behavior with Moz Pro's Site Analytics. Understand your website traffic, visitor engagement, and conversion metrics to make data-driven decisions.
Don't let critical SEO issues go unnoticed. Moz Pro's Site Health Monitoring feature keeps a watchful eye on your website's health and sends you alerts and notifications whenever issues arise.
Gain a competitive edge with Moz Pro's competitor analysis tools. Uncover your competitors' organic search rankings, explore their backlink profiles, and dissect their top-performing content.
Pricing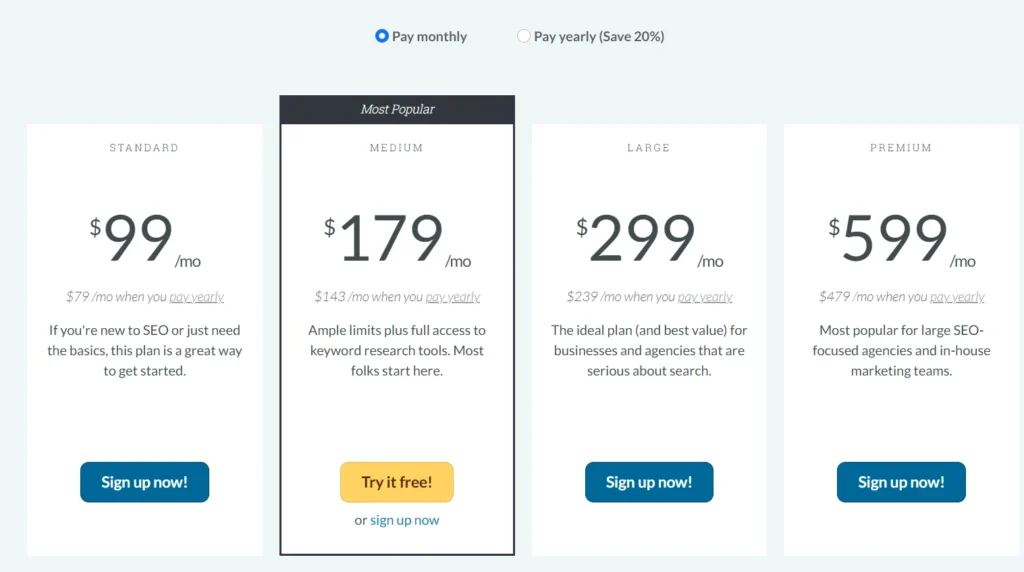 MOZ Pro offers four pricing plans, starting at $99/month for the Standard plan, $179/month for the Medium plan, $249/month for the Large plan, and custom pricing for the Premium plan.
Suggested Read: 7 Best Moz Alternative and Competitors
5. Serpstat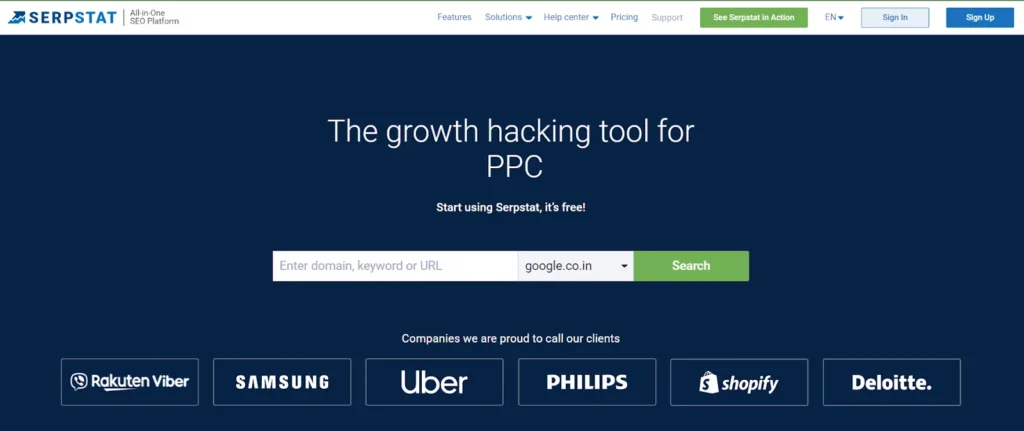 Serpstat is a dynamic SEO platform that offers a wide array of tools and features to help businesses enhance their online visibility, conduct in-depth keyword research, analyze competitors, track rankings, and optimize their digital marketing strategies.
Serpstats comprehensive capabilities, Serpstat empower businesses to stay ahead in the competitive digital landscape and achieve remarkable SEO results.
Features
Content Marketing Ideation
Discover trending topics, analyze content performance, and generate ideas for engaging and shareable content.
Conduct comprehensive research on competitors' paid advertising strategies, keywords, ad copies, and budgets to optimize your own paid campaigns.
Access valuable data and insights on market trends, industry benchmarks, and consumer behavior to make informed marketing decisions.
Pricing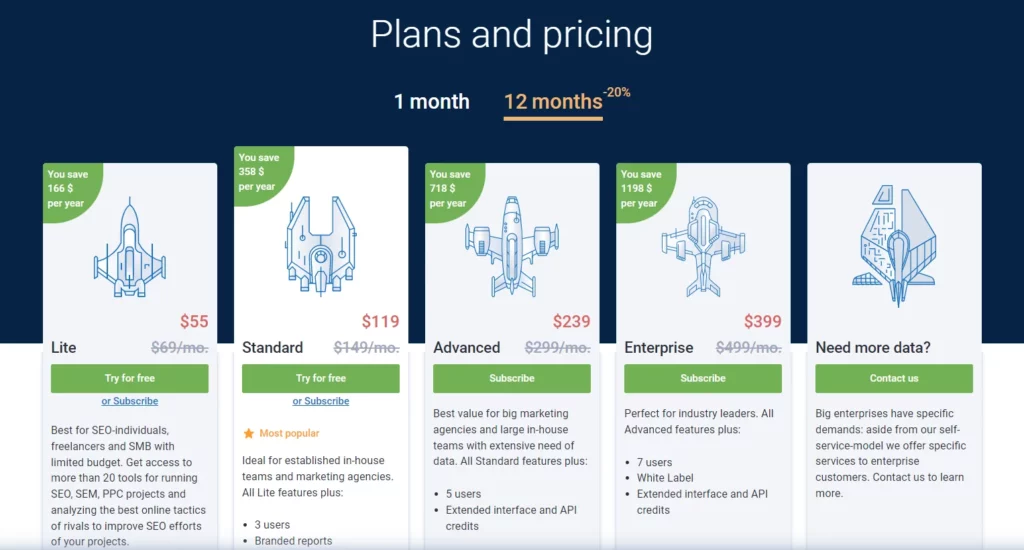 Serpstat offers four pricing plans, starting at $55/month for the Lite plan, $119/month for the Standard plan, $239/month for the Advanced plan, and $399/month for the Enterprise plan.
6. SE Ranking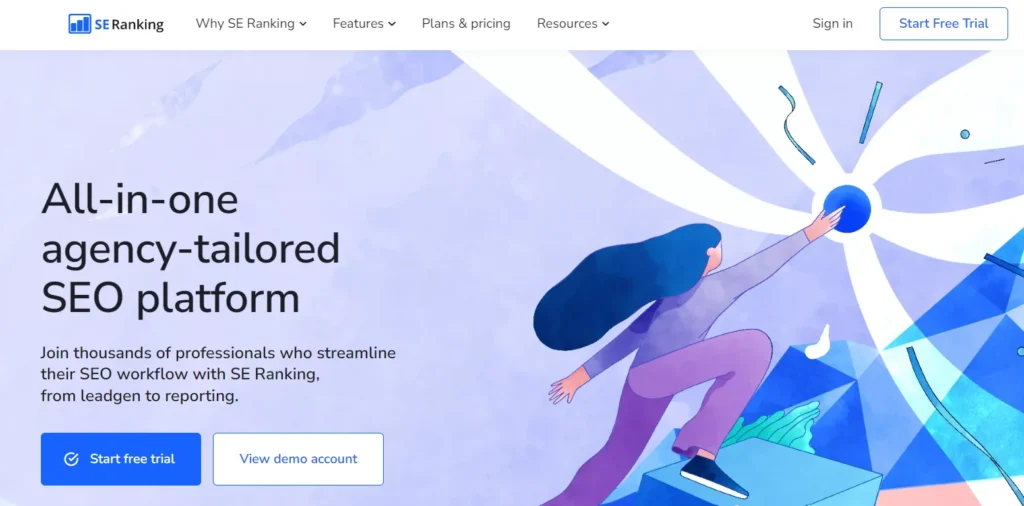 SE Ranking stands out as a versatile and effective solution for businesses of all sizes.
SE Ranking is a cutting-edge SEO software that offers a comprehensive suite of tools and features to help businesses optimize their online presence, track rankings, conduct competitor analysis, and enhance their overall digital marketing performance. 
Features
SE Ranking's keyword suggestion tool offers an extensive database of related keywords and phrases, helping businesses discover untapped opportunities for content optimization and expansion.
SE Ranking's cluster research feature allows you to explore keyword clusters, uncover semantic connections, and optimize your content strategy accordingly.
Competitor SEO/PPC Research
SE Ranking provides comprehensive competitor analysis tools, allowing you to analyze both organic SEO and paid PPC campaigns of your competitors, gaining a holistic view of their strategies.
SE Ranking's unique SEO potential feature assesses the SEO potential of specific pages, providing actionable insights to improve their rankings and performance.
Pricing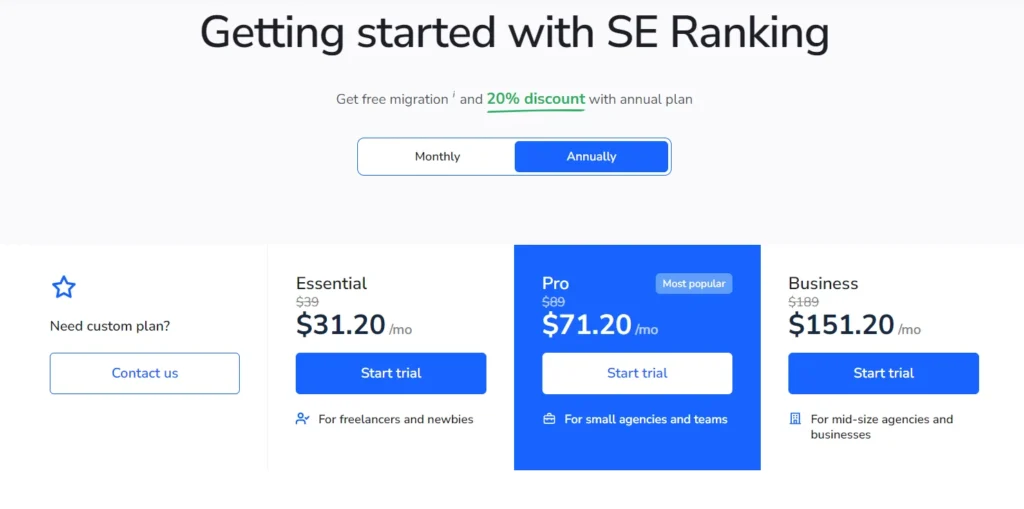 SE Ranking offers four pricing plans, starting at $31/month for the Optimum plan, $71/month for the Plus plan, $151/month for the Enterprise plan, and custom pricing for the Enterprise Plus plan.
7. Ubersuggest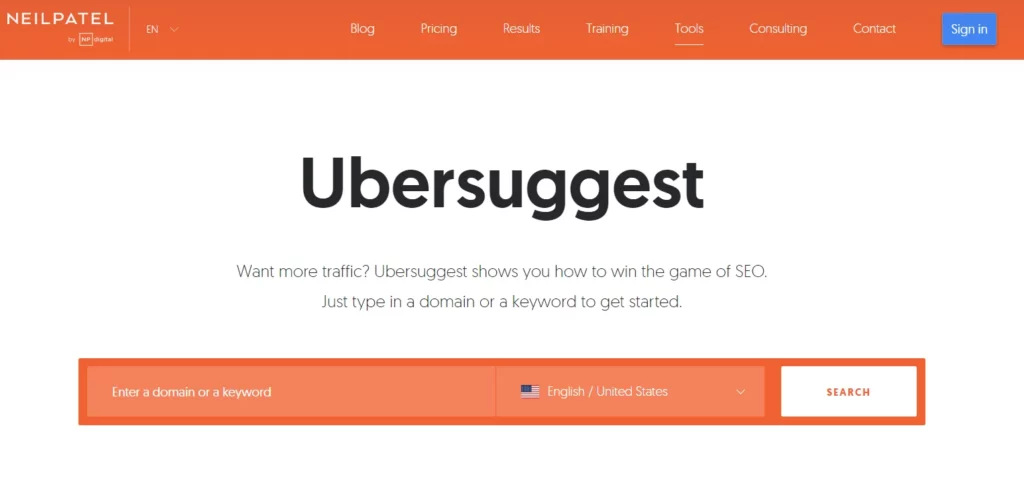 UberSuggest is a comprehensive SEO tool that provides valuable insights and data-driven recommendations to help businesses optimize their online presence and increase organic traffic. 
Features
Receive alerts and notifications about critical SEO issues that may affect website visibility.
Optimize business listings for local searches, improve online visibility in specific geographical areas, and manage customer reviews.
Analyze content for on-page SEO elements, such as meta tags, headings, and keyword density, to enhance visibility.
Generate detailed reports and gain actionable insights to measure SEO performance and make data-driven decisions.
Pricing 
Despite its free features, you have options to move to premium plans, which start from $12 per month. You can choose from the 3 premium plans that align with your SEO strategy and build away
8. Screaming Frog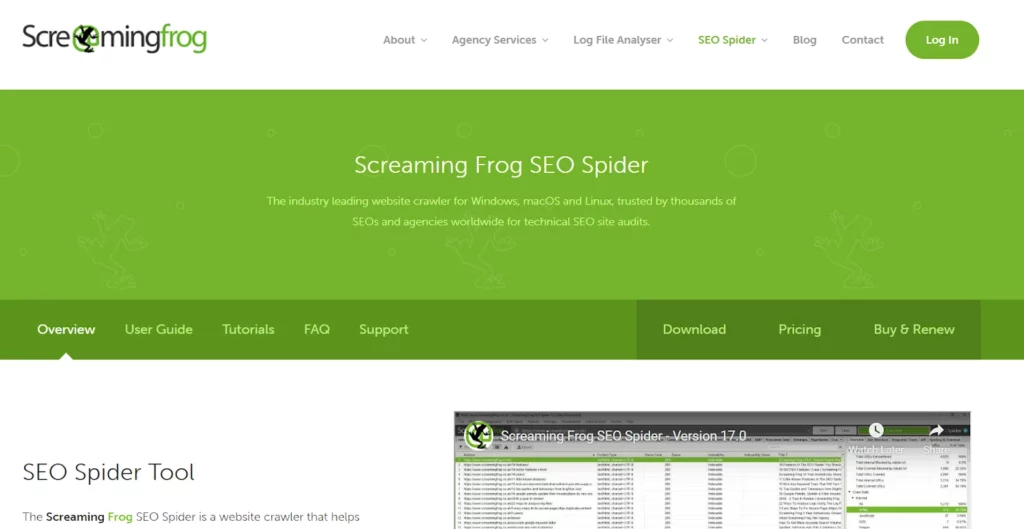 Screaming Frog is a SEO audit tool that provides a range of features, including site audit, link analysis, and SEO analysis. It is an ideal choice for technical SEO professionals and agencies.
Features
Screaming Frog offers custom extraction options, allowing businesses to extract specific data from websites, such as product information, prices, or contact details. This feature can be valuable for market research, competitor analysis, or data collection purposes.
For international websites, Screaming Frog helps analyze and validate hreflang tags, ensuring accurate language and regional targeting. This feature is crucial for businesses operating in multiple countries or targeting specific regions.
Bulk Export and Data Filtering
Screaming Frog allows businesses to export data in bulk, facilitating further analysis and manipulation in other tools or spreadsheets. It also provides filtering options, enabling businesses to focus on specific aspects of their website for targeted optimization.
Pricing
Screaming Frog offers a free version with limited features. The paid version starts at $259 per year for the paid license.
9. Lumar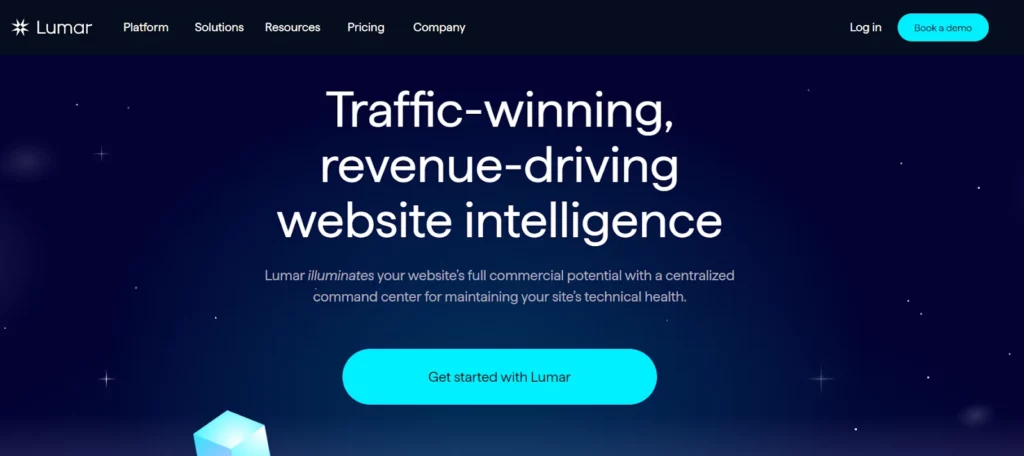 In terms of website intelligence, Lumar is your 'command center'. A high-performing, revenue-driving website requires teams, data, and insights that help you scale your digital operations.
Using Lumar's ultra-fast, world-class crawler, we expose technical and structural issues in your website and help you prioritize and fix them. Boost your website's commercial potential with Lumar, and control its health.
Features
Optimize on-page elements, such as meta tags, headings, and content, to improve relevance, enhance user experience, and boost search engine visibility.
Customize and brand SEO reports with your logo and color scheme, providing professional-grade reports to clients and stakeholders.
Seamlessly integrate SE Ranking with other tools and platforms through API integration for enhanced workflow and data synchronization.
Pricing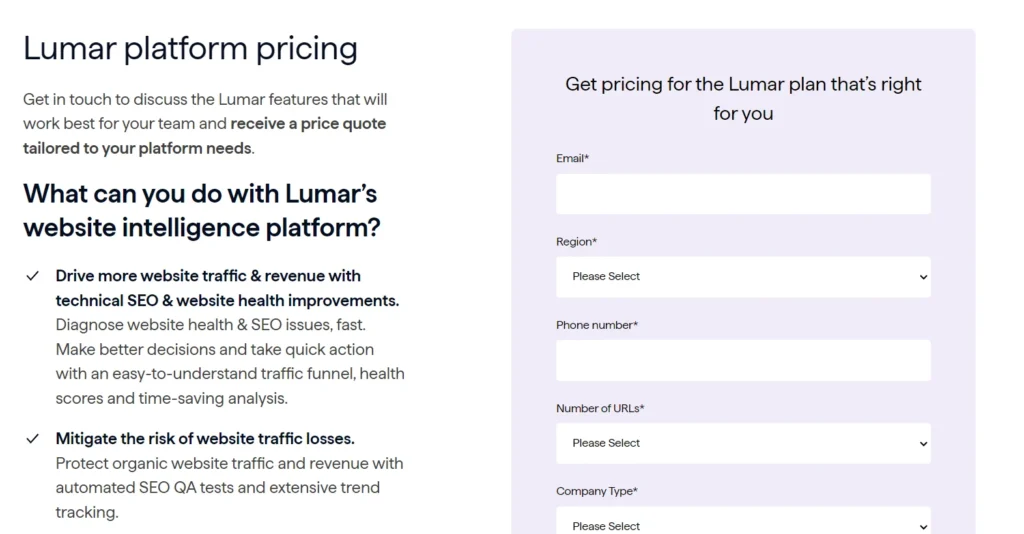 Lumar doesn't provide their pricing plans, contact them for custom prices.
In a nutshell,
Investing in an SEO reporting tool can provide valuable insights to improve your website's search engine visibility and drive more organic traffic. 
Each of the tools mentioned above has its unique features, pros, and cons, making them suitable for different types of businesses and marketers.
Consider your business's needs and budget to choose the right SEO tool that can help you achieve your SEO and content marketing goals. Make use of the free version and trials to weigh the effectiveness of the SEO tool for your enterprises and see if it is a good fit. 
Log in to SuiteJar for free and see if it's the right fit for you.