There are 1.98 billion websites and 83% of them are INACTIVE!
Remember the link you inserted in your blog post 2 years back? Are you sure that those links are still working? If not then we have some news (bad) for you!
Those inactive links are hampering your organic search results and are therefore called broken links.
What are broken links?
A broken link may be a web page that can't be found or accessed by a user. Web servers often return miscalculating messages when a user tries to access a broken link.
Broken links can't fulfil the aim of bringing the user to a brand-new location. Instead, they're usually coloured differently and underlined to point to a clickable element.
Once clicked, they will take a reader to a replacement location, whether a brand new page on your site or a related website like an eCommerce store or an external website.
But when a webpage can't be accessed or found by a user, the link is officially broken and can often take a reader to a slip message rather than the page they're trying to access. Sometimes a broken link is said as a dead link or a link rot.
According to a stdy conducted by Ahrefs 66.5% of links to sites have rotted in the last nine years.
In this blog we will do a deep analysis on broken links and how you can find and fix them?
Types of broken links
1. Broken Internal Links
A broken internal link is supposed to require users to a particular page on your website. However, if you've changed your website URL, removed the page from your website, or had pages dropped during a page migration, you would possibly have broken internal links on your site.
These broken links make it hard for Google and other search engines to crawl your pages, and when links are broken, Google can't travel to other pages within the crawl. As a result, Google might think that your website isn't optimized or unfinished, damaging your rankings.
2. Broken External Links
An external link takes a reader to an internet site that's outside your control, usually another site that supports the content you have on your pages.
When these links are broken, it could indicate that the external site now does not exist, has moved locations, or doesn't have the proper redirects implemented.
These broken links hurt the user experience and may hurt your authority on search engines like Google, as links to dead sites make your website look less authoritative and trustworthy.
3. Broken Backlinks
Backlinks are links on other websites that link to your content. Essentially they're external links for your content from other companies.
When you change your content or have any of the opposite errors like changed URLs or deleted pages, your backlinks won't be able to support your website and build authority, once more damaging your standing with Google and other search engines.
How to find broken links using Suite jar?
Broken Link Checker examines your page or the complete website and shows you if there are any broken links.
Move to Dashboard > Select Broken Link Checker on Suite jar.
A broken link checker is extremely easy to figure out after selecting the Broken Link Checker within the left tab.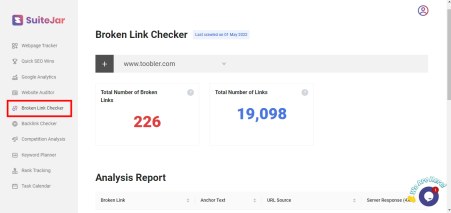 SuiteJar displays the precise number of broken links on the website. It is often not a messy task to the slightest degree.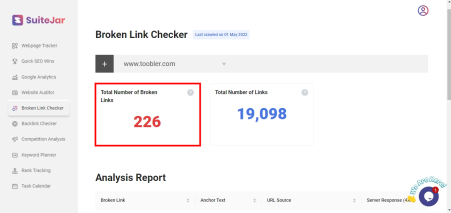 How to find Outdated links using Suitejar?
On this page, you may get a basic idea about your website. SuiteJar shows you how many sites have been updated within the last 90 days, how many broken sitemap URLs are there, and everything during a single click. Additionally, there are several additional features like a word count checker:
● Proceed to Dashboard
● Then Select Webpage Tracker.
● Click on the "+" icon. Type your website's URL within the dropdown.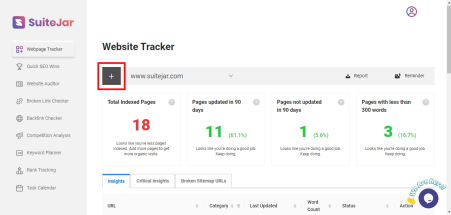 ● Wait for some seconds or minutes. SuiteJar will then deliver you all of the relevant information about links. 
The report's first section provides a summary of your website's health.
For example:
1. Insights
Insight helps you to know which web content has to be updated. It also shows when this web content was last updated with its word count.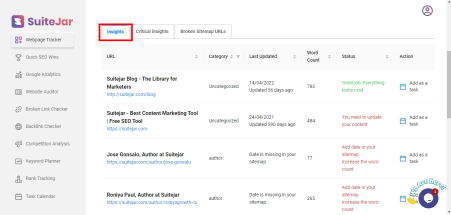 2. Critical Insights
Critical Insights lets you know which websites must be updated immediately supported by the SuiteJar algorithm. It shows what percentage of error pages there are on the website.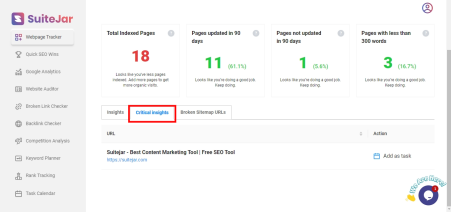 3. Broken Sitemap URLs
It will assist you in locating and fixing a broken sitemap URL and, therefore, the broken URLs in a very sitemap.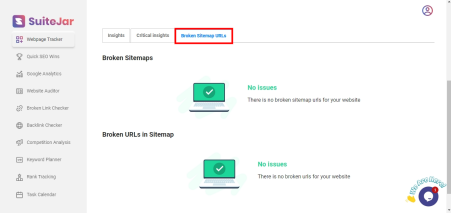 Reasons for broken links
There are various reasons that broken links can occur, for instance:
● The website proprietor entered the incorrect URL, which can be misspelled, mistyped, etc.
● The URL structure of your site recently changed (permalinks) without a redirect, causing a 404 error.
● The external site is no longer available, offline, or permanently moved.
● Links to content PDF, Google Doc that has been moved or deleted.
● Broken elements within the page (HTML, CSS, Javascript, or CMS plugin interference).
● A firewall or geolocation restriction doesn't allow outside access.
Check Crawl Errors:
● Four hundred four errors search console makes this easy by prioritizing crawl errors for you.
● Avoid adding major links on the website unless it is highly recommended or required.
● If the link is external, reach dead, set the linking website, and request a fix: If the URL source or website does not exist, you'll try replacing it with a distinct source or removing it completely.
● Use redirection mechanisms, which can redirect users to a replacement location of knowledge just in case of broken links.
Tips about a way to redirect links on your site's
● Make the content again on the webpage and also replace the content at the connected broken URL.
● Redirect (301) the broken page to a different relevant page on your website. Find an analogous piece of content on your site and redirect the broken page to its page.
● Leave as a 404: this can be a possible option.
Conclusion
Finding and replacing broken links is an incredibly important part of maintaining along with your SEO and doing everything you'll be able to optimise your site. Plenty of broken links can damage your program results page rankings and build a poor user experience that upsets your customers and loses business.
You can improve your SEO strategies by addressing broken links and finding solutions. Broken links are just a part of the tasks you must complete when acting on daily SEO tasks and your bigger SEO strategy.
However, it can sometimes be hard to grasp where to travel next. Take our SEO Maturity Assessment quiz to find out where your strategy currently stands on the maturity scale and find real, actionable ideas on where you'll go next! Seo audit tools like Suitejar can help you in finding and fixing the broken links.