In the race to win the search engine algorithm, one must constantly check on new updates released. In this dynamic landscape, it is essential to perform SEO analysis to be ahead of the competition. SEO analysis is a practice to help your web pages rank higher on search engine's SERPs (Search Engine Result Pages).
A number of factors are included to make your site rank higher on SERPs. They are the number of quality backlinks, high-quality content, a good user interface, low loading speed, domain authority, and many others. Every now and then, Google releases new updates, which can cause fluctuations in your ranking.
You need to understand your website's ranking keywords and other factors to align your strategies with companies goals. So, always choose the best SEO analysis tools available in the market.
SuiteJar is our top pick amongst the website analysis tools for SEO, as it offers free solutions. It provides insights into competitors and can help you track fluctuations in ranking.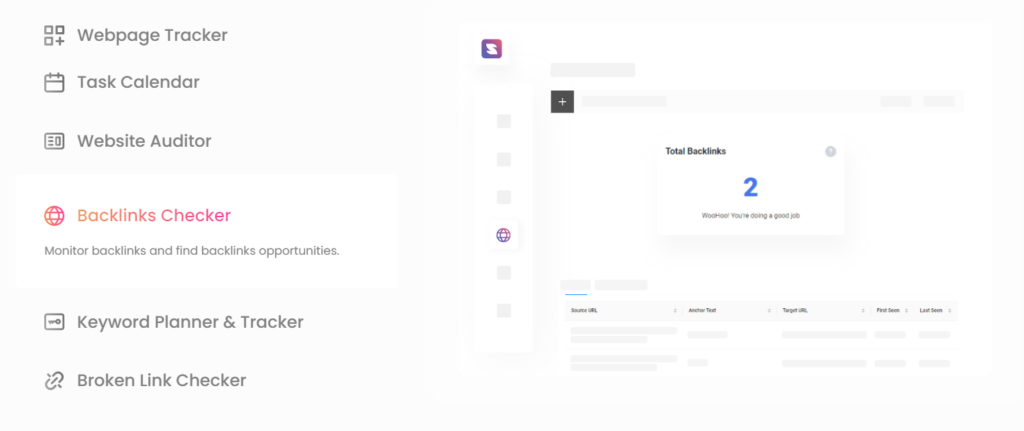 It can crawl your website and analyze every page for its associated issues. The broken link checker provides a detailed report on the number of broken links and their source link. The website auditor scans every page and estimates the score based on the loading speed. It can also determine the mobile-friendliness of your site.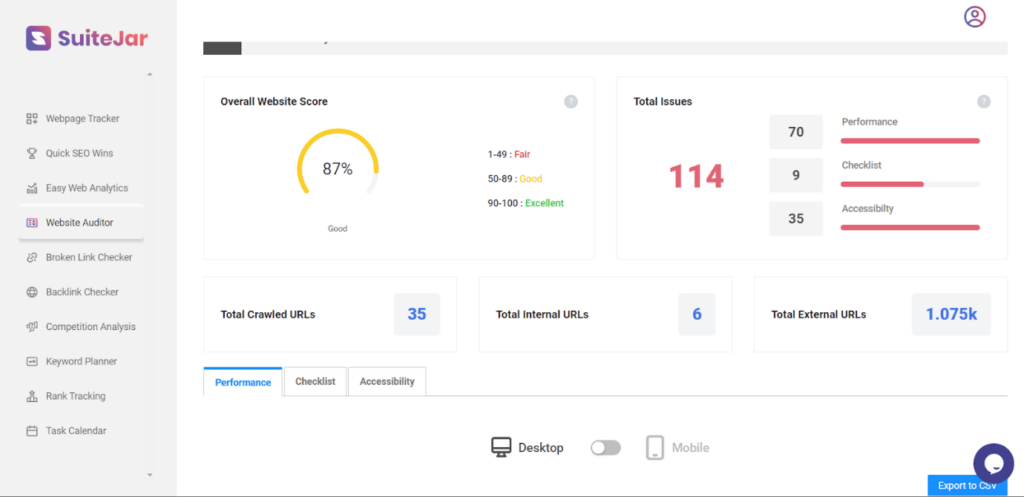 Key features
SuiteJar can be integrated with Google Analytics and Search Console.
The in-built task manager can assist you in managing all your SEO activities.
It can identify the webpages that contain outdated content and allows you to schedule revamping dates.
The rank tracker can help you analyze which keyword works best across different geographic locations.
Has a special feature helping you with identifying and prioritizing blog content to revamp and rank.
The keyword planner tool will help identify volume, difficulty, CPC, and the history of the keyword's volume for the past year.
Limitations
It is a relatively new tool in the market.
It offers only minimal insights compared to other SEO tools like Ahrefs and SEMrush.
Pricing
You can get full access to the tool for free.
2. Ahrefs
Ahrefs is a one-stop solution for all your SEO needs. It offers a wide range of features and provides many actionable insights.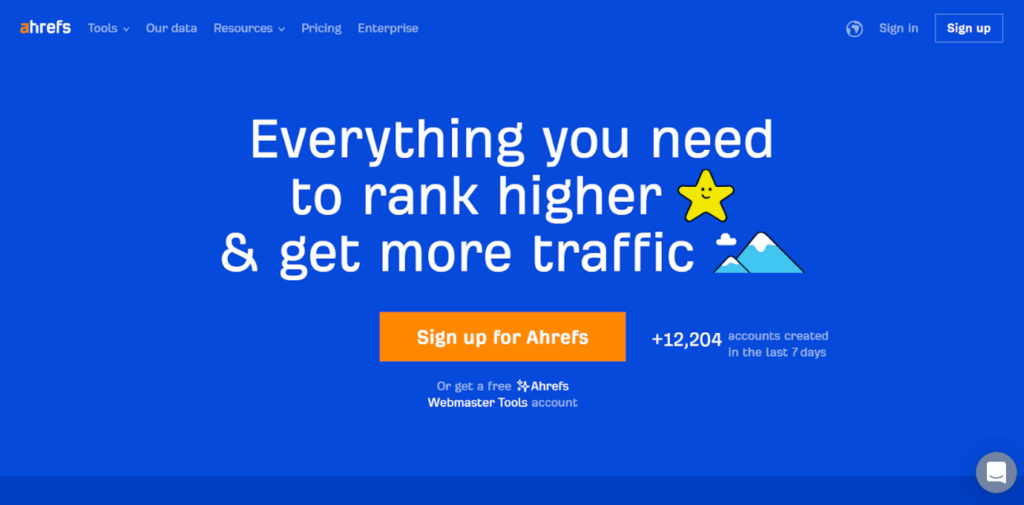 Key features
It can scan your website and identify up to 120 common SEO issues that can be encountered and perform SEO onsite analysis.
You can perform complete SEO audits and track ranking fluctuations.
The site explorer allows you to conduct competitor analysis by understanding your competitor's keywords and helps you to find gaps in your content strategy. You can also explore your competitor's backlink traffic and find keywords for ranking your competitors.
Limitation
The user interface of Ahrefs is complex, requiring practice to become familiar.
It's relatively costlier.
Pricing
The lite plan starts at $99 per month.
The standard plan starts at $199 per month.
The advanced plan starts at $399 per month.
The Enterprise plan starts at $999 per month.
On an annual subscription, you can get free access for two months. You can also customize your plan based on your requirements.
3. SEMrush
SEMrush is one of the most popular website SEO analyzer tools trusted by 20,000+ partners and has over 7,000,000+ active users. It can analyze and provide reports on SEO audits, keywords, technical SEO issues, and backlinks.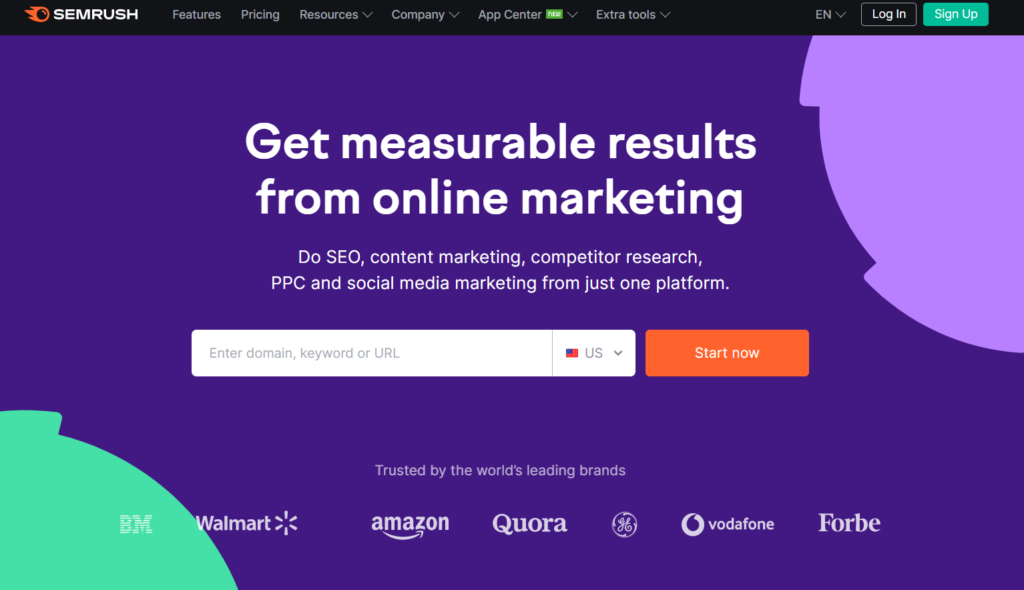 Key features
Through graphs and charts, it can provide insights into onsite health and a number of issues and warnings.
You can get daily reports on every error and warning, which is essential in tracking your progress.
It can spot the page with duplicate content allowing you to resolve it.
The SERP tracking tools can check the daily change in position for your targeted keywords.
It provides a proprietary score that helps you to find which domain is getting high traffic through organic search. This helps you to streamline and optimize your strategies.
Limitations
Costlier than all other SEO tools
SEMrush is limited, with only 300K crawls per month. This may not be sufficient for large SEO agencies.
You would always be required to upgrade plans to get complete insights.
Pricing
The Pro plan starts at $119.95 per month.
The Guru plan starts at $229.95 per month.
The Business plan starts at $449.95 per month.
By subscribing to an annual plan, you can save up to 17% of the cost.
4. WooRank
WooRank is one of the best tools for SEO analysis as it helps you to identify the right keywords and find opportunities for growth. This complete marketing tool can help you conduct technical SEO audits, track keyword ranks and perform competitive analysis. It can present key metrics on your website score in a few clicks and assist you in sales by providing white-label reports.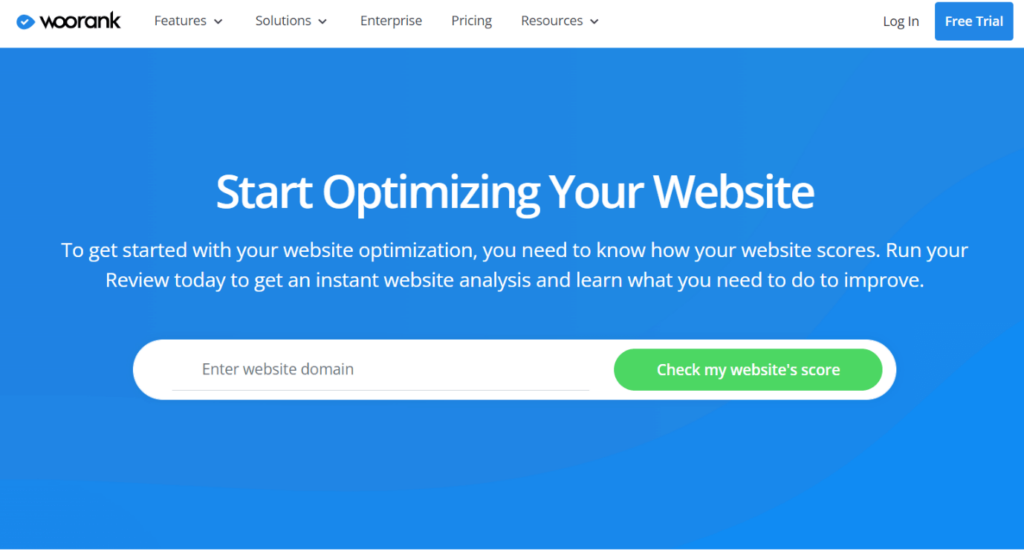 Key features
The site crawl tool can identify pages with errors and their source.
You can schedule website crawls to identify the new page that encounters technical SEO issues quickly.
Based on best SEO practices, it can analyze your website and provides scores.
Limitations
Though it offers many features, it can provide only limited insights compared to SEMrush.
This tool cannot be used to identify pages that need updation, like SuiteJar.
It allows you to perform competitor analysis only for up to three sites, beyond which you need to upgrade your plan.
Pricing
The Pro plan starts at US$79.99 per month.
The Premium plan starts at US$199.99 per month.
The business plan can be customized and priced based on usage.
With annual billing, you can enjoy free access for four months.
5. Screaming Frog
This website crawling tool was created specifically to improve onsite SEO. This can assist a seasoned SEO analyst in spotting common website issues. And with this tool, you can also automate the procedure and plan your SEO audit.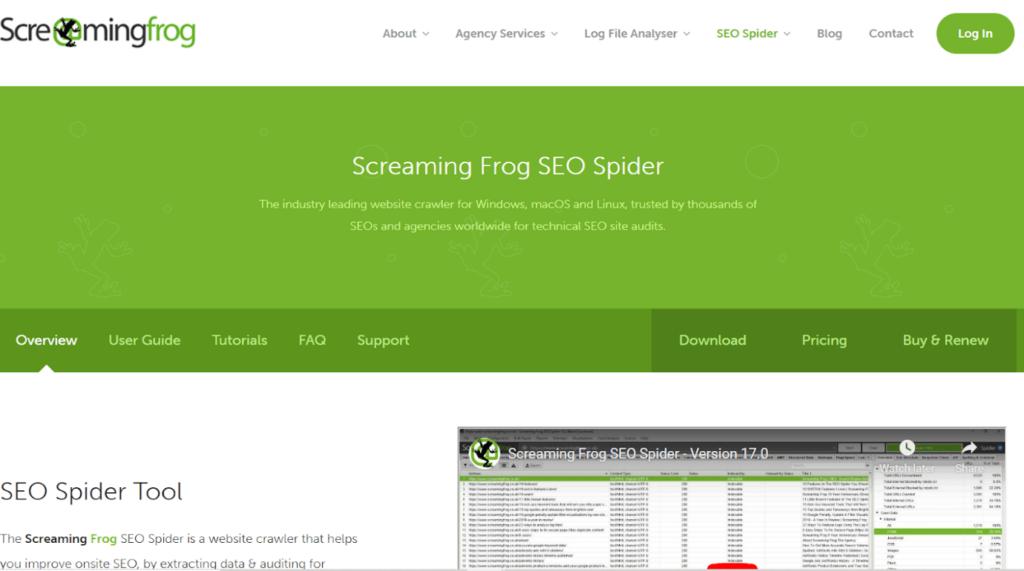 Key features
The Screaming frog can uncover all the broken links on your website and allows you to export them.
The SEO web page analyzer can help you find irrelevant and long meta tags and titles.
You can discover duplicate URLs and eliminate those.
It can check the redirecting page and analyzes its associated issues.
You can integrate Screaming Frog with Google Analytics and Google Search.
Limitations
New users may find it daunting with its interface.
Pricing
You can make the Screaming Frog SEO Spider crawl up to 500 URLs using your free license.
The Paid version starts at $209 per year.
6. MOZ
MOZ is one of the best SEO tools for website analysis that can find potential areas for improvising. It can help you identify the right keywords by providing insights like search volume, keyword difficulty, average CTR, and much other info. It can discover the common SEO technical issues that refrain your site from ranking higher.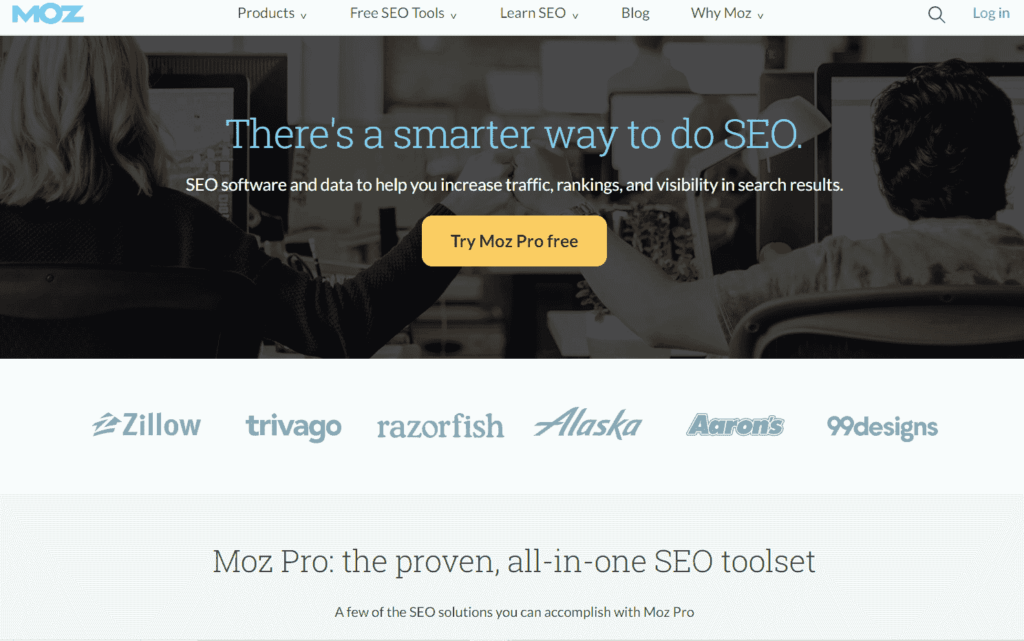 Key features
It allows you to prioritize your focus keywords based on its metrics.
It can provide on-page content suggestions to optimize your page for specific keywords.
The Link Explorer can identify the most valuable pages and the quality of your backlinks.
Limitations
It can audit and crawl any website, only up to 3000 pages per month.
You can only create up to 100 keyword lists per month. For more keywords, you have to make a new payment.
To track your links, you can create only 100 link-tracking lists per month.
Pricing
The Standard plan is available at $99 per month.
The Medium plan is available at $179 per month.
The Large plan is available at $299 per month.
The Premium plan is available at $599 per month.
Annual billing can help you to save 20% on subscribing costs.
7. Majestic
Majestic is one of the top website SEO analyzer tools for checking the history of backlinks. The Backlink Checker Report can indicate the links referring to target websites. It can help you identify similar sites even with no common inbound links.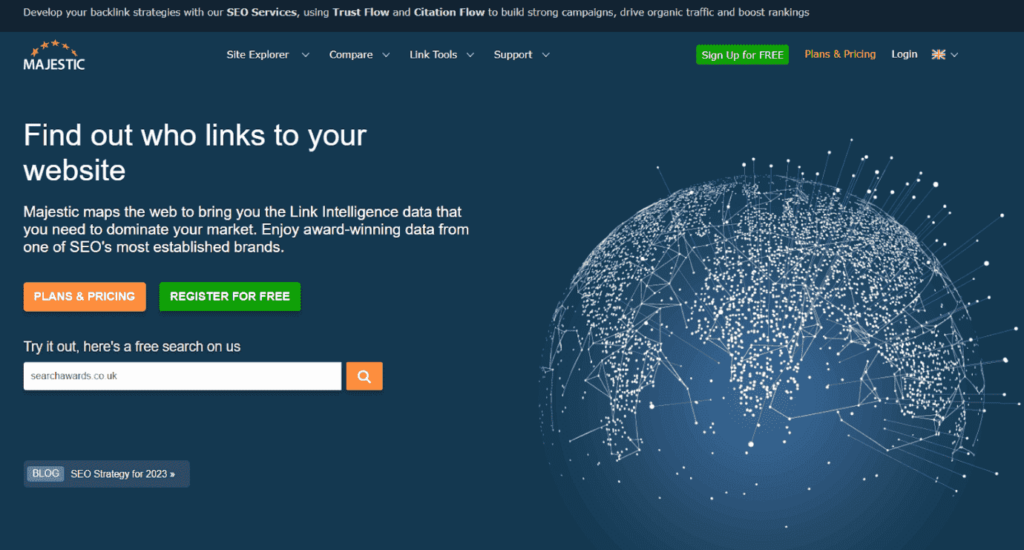 Key features
The Keyword generator can provide useful insights into the keywords and help you find potential relevant keywords.
You can get details on the number of times a keyword appears on SERPs and its search volume.
Using the Bulk Backlink Checker, you can add up to 1,000,000 URLs from a file upload.
Limitations
Only a max of five users is allowed.
Pricing
The Lite plan is available at $ 49.99 per month
The Pro Plan is available at $99.99 per month
The Full API plan is available at $399.99 per month
8. Google Search Console
Most SEO analysts and marketers use GSC (Google Search Console) for SEO analysis, which was initially called Google Webmaster Tool. This is a free tool like SuiteJar, preferred by everyone who owns a website.
You can find deep insights about your user and gain insights on how google discovers your website to users. It can be considered an asset by all website owners as it provides an overall understanding of your website's performance.
Key Features
It can easily pick the broken links that exist on your site, allowing help you to fix them.
You can navigate to Security & Manual Actions to check if your site is facing any security issues.
GSC can spot irrelevant indexed pages on your site.
It can provide the accurate date on the last crawled time of your webpage and the indexed pages.
Limitations
It does not provide any suggestions for improving your website.
It cannot generate reports about SEO technical issues.
Pricing
It is a completely free tool.
9. Google Analytics
Google Analytics is a website analyzer tool that can provide accurate data on your website traffic. This tool has a simple user interface that anyone can use without hassle. It can provide complete information on how your audience interacts with your website.
It can track data on goal conversions, page views, session duration, bounce rate, CTR, and many more. It helps to analyze your website's performance based on 200 different metrics.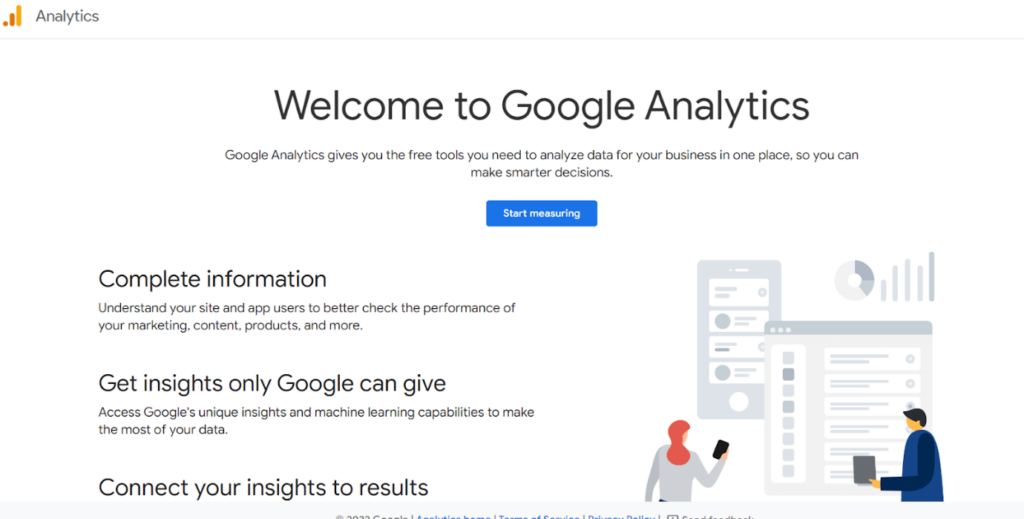 Key features
You can easily compare two different metrics and their trends for any given period.
It can provide insights into channels that bring traffic to your website. You can also identify fake referral traffic and filter them out.
It provides data on user acquisition and behavioral key parameters that are analyzed to streamline SEO and content strategies.
You can identify potential keywords that work best for your landing pages.
Limitations
Due to many reasons, GA cannot provide accurate reports. Sometimes you can observe discrepancies in the collected data. The data you get should be considered an approximation, but you can follow the trends in the data.
To protect the user, it hides certain keywords that bring traffic to your site.
Pricing
The standard version of Google Analytics is completely free.
10. Bing Webmaster
The Microsoft Bing Webmaster offers a complete suite of SEO tools for website analysis. It can provide insights on backlinks, conduct SEO audits, and perform keyword research.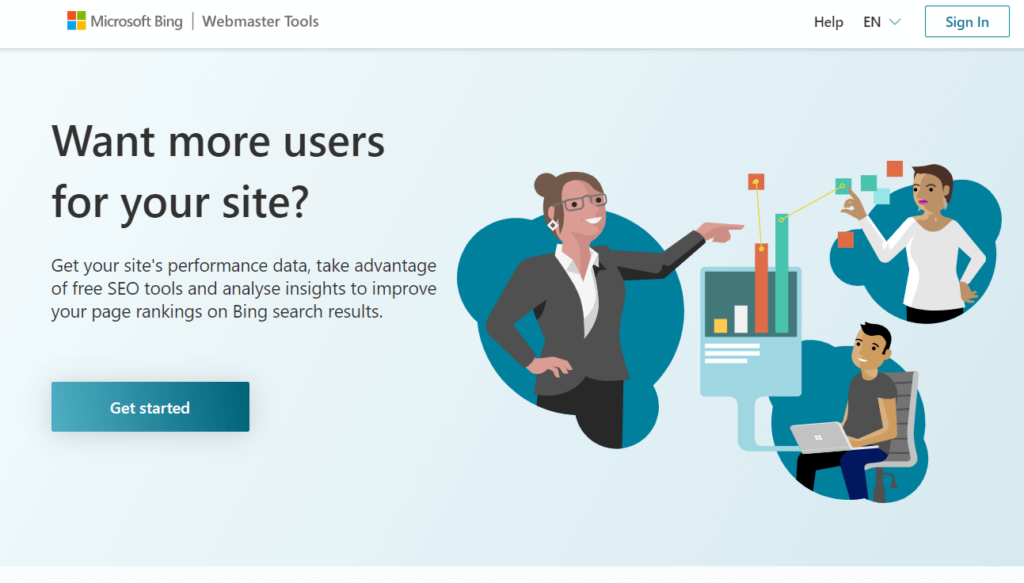 Key features
It can provide a detailed report on backlinks, referring domains, referring pages, anchor text, and similar sites.
It allows you to import data from Google Search Console.
The Keyword Research tool can fetch data on the number of impressions based on geographic location, device, and language.
It can generate SEO reports by identifying the pages with missing H1 tags, descriptions, or other associated issues.
The site scanner can crawl all your web pages and check for possible SEO technical issues.
Limitations
It cannot integrate google analytics.
It cannot fetch details of pages with outdated content like SuiteJar.
Pricing
It is a free tool offering impactful insights.
Conclusion
A website SEO analyzer tool must be able to crawl your website completely and check meta tags, analyze spam scores, broken links, backlinks, ranking, and many other KPIs. All these metrics must be constantly investigated to keep your page updated and provide a better user experience.
As an owner of the website, it is your responsibility to follow standardized methods and provide relevant content. With Google's latest helpful content algorithm update, it is sure that there is no room for irrelevant content at all.
The credibility of your website will be not only get affected by technical issues but also by existing outdated content. Updating an existing blog with fresh content is easier than creating one from scratch. In this line, you can use the free tool SuiteJar to spot outdated pages and schedule them in the task manager for planning.
Even for the paid tools, you can get a free trial or use the free version and reap the benefits. In the long run, it is worth spending on these website analysis tools for SEO to widen your organic presence.