For any online business or brand, it has become essential to show its online presence to drive organic sales. To make the most of it, you must push your website to rank higher through the best SEO practices and the right keyword usage.
The work of an SEO analyst is ever-ending as search engines constantly update their algorithms to enhance their user experience. Sometimes a slight change to an existing keyword can tremendously boost your webpage.
But to identify the gap, you have to keep an eye to track the performance of keywords. The best rank checking tool will be helpful in your way to identify the right keyword and validate your website based on different SERPs features.
Your website ranking will be influenced by multiple factors, including page load time, quality of content, domain authority, URL structure, etc. Analyzing each feature and identifying gaps through a constant and consistent process will yield better results.
For a small website, you can perform manual tracking.
Here's the list of the top 10 SEO rank checking tools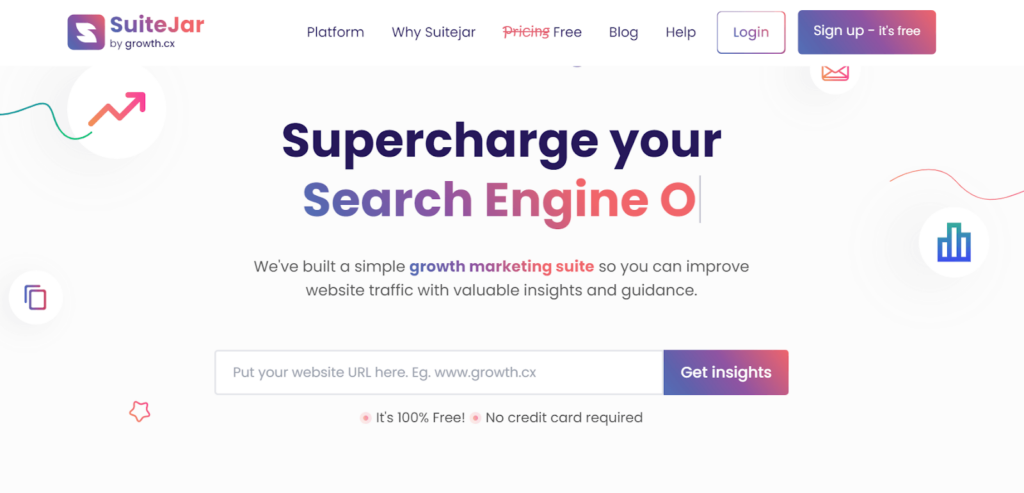 SuiteJar is a new tool built to help content marketers and SEO analysts to streamline their strategies. This user-friendly tool is free of cost and can show you amazing SEO audit reports. SuiteJar is our top pick among Google's keyword-ranking tools for small businesses and startups. Using it, you can easily track the ranks of the keywords that you need to check.
The keyword ranking feature of this tool can give insights on rank, search volume and the webpage that Google ranks for different geographic locations. Apart from that, it also displays monthly search volume trends for that particular keyword. With these cool insights, you can understand and analyze the impact of your SEO efforts.
How can SuiteJar help you with rank tracking?
It helps to track keywords that are your primary focus.
A built-in task calendar to manage your SEO roadmap.
Can spot web pages that have outdated content.
Detailed backlink analysis for your website
Flag the pages that have missing H1 tags and structure issues.
You can download the data for analysis.
2. SEMrush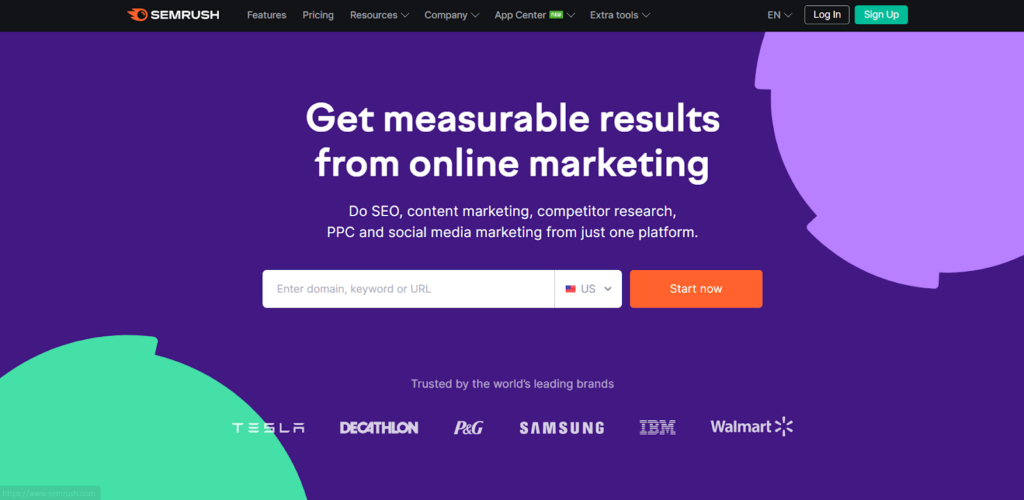 The position tracking feature of SEMrush can help you find the top-performing keywords and websites competing for target keywords. It is the most popular tool for competitor analysis among SEO analysts and content marketers. It can provide position distribution information by comparing your site's performance with competitors.
SEMrush is a suite for all your SEO and content marketing needs and can show you many avenues for organic growth. This tool can track up to ten geographic locations in a single project. The SEMrush sensor validates the SERP volatility on a scale of 0 to 10 and actively monitors daily changes in ranking.
It offers a 7-day trial period, and the basic plan starts at $99.95. But only higher tariff plans can provide you with all the necessary details.
How can SEMrush help you with rank tracking?
You can discover top opportunities using the keyword gap.
Its proprietary score can help you spot the domains that are top performing.
Can track the ranking change due to the search engine's updations.
The deviation analysis can show you the significant impact of the update.
It can show a domain's estimated traffic by analyzing the keywords.
3. Sitechecker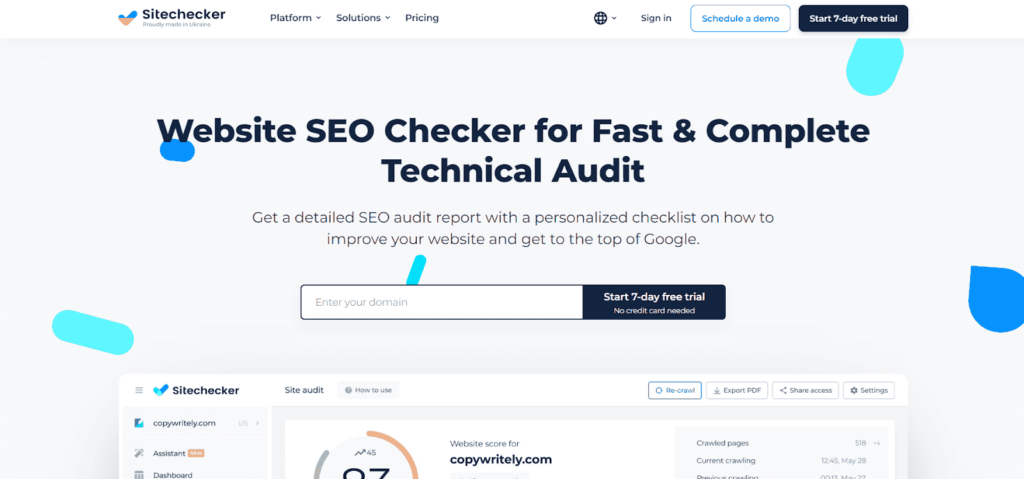 The Sitechcecker is one the best SEO rank checker tools for SMBs and SEO Analysts who work with a limited number of clients. It analyses keyword positions for different search engines, including Google, Bing, Yahoo, and Yandex. You can track the metrics of keywords across different geographic locations.
You can spot the keyword that has ranked for a particular URL and compare the positions for specific days. This tool greatly helps you understand how your pages perform compared to your competitors for the same keyword.
It offers a 7-day free trial, and the basic plan starts from $29.
How can Sitechecker help you with rank tracking?
Providing insights on indexation progress.
It projects visibility rate as a direct indicator of how well the user searches your domain.
You can find relevant keywords faster by adding filters(Ex: Search volume) in your search.
Sorting out the best-performing keywords for your brand by visualizing the position changes.
You can get daily or weekly mail updates for potential keywords that can enhance your organic reach.
4. Ahrefs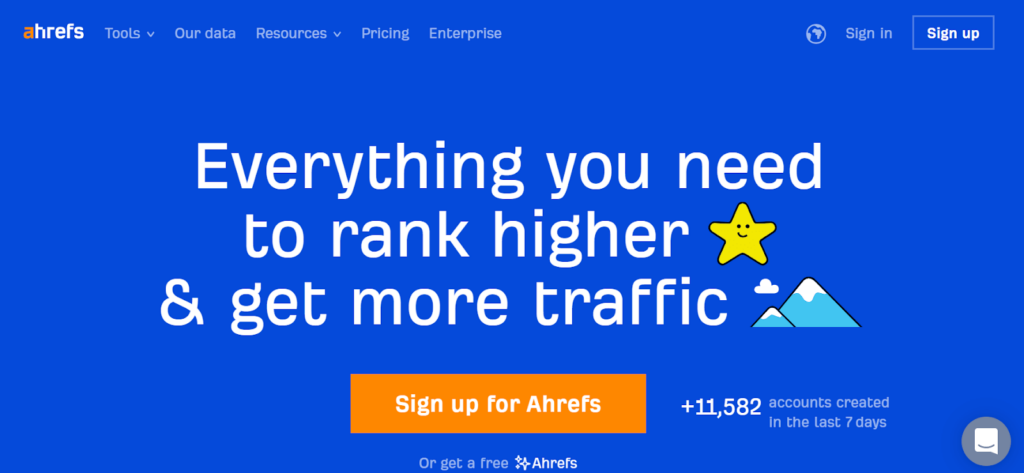 Ahrefs is a potential tool that can assist you in backlink analysis and developing long-term SEO strategies. This tool is a one-stop solution for businesses to promote their organic reach. You perform various audits and optimize your webpage for SEO.
You can analyze your keywords and compare them with your competitors. It can help you find relevant keywords and understand the behaviour of your top-performing pages. Since its inception, it has been crawling websites 24/7 to show you all the possible room for improvements.
It does not offer a free trial, but a 7-day paid trial period at $7. Its basic plan starts at $99.
How can Ahrefs help you with rank tracking?
As one of the best keyword ranking checker tools, it provides ranking details for mobile phones and desktops.
You can set up a customized report by providing the list of keywords for different countries and your competitor's URLs.
You can find the position distribution by grouping keywords based on ranks.
You can check if your website ranks for different SERPs features, including snippets, thumbnails, ads, site links and others.
5. SE Ranking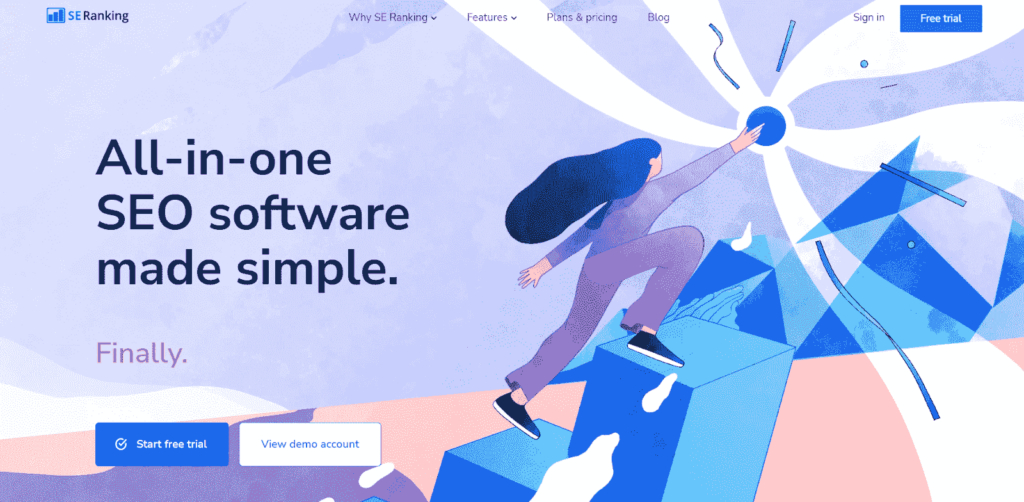 It is a keyword rank checker tool capable of generating accurate metrics of your keywords. The SE Ranking can help you to succeed in your marketing plan but providing a checklist. You can customize your plans and goals for website analysis and SEO audits.
It continuously monitors pages of both yours and your competitors and alerts you for any changes made. The SE ranking is best for digital agencies, analysts and marketers for finding issues and spying on your competitor.
It saves time by evaluating your website's URL for content and user experience. It can control and monitor all your backlinks and measure parameters on different aspects.
It provides a free trial period of 14 days, and the basic plan starts at $31. You can a 20% off with an annual subscription.
How can SE Ranking help you with rank tracking?
This tool can be integrated with google search console and google analytics.
You can find top keywords that bring more traffic to your website.
You prevent keyword cannibalization by identifying different website pages competing for the same rank.
You can prevent your website from losing traffic by proactively spotting the ranking drops.
6. MOZ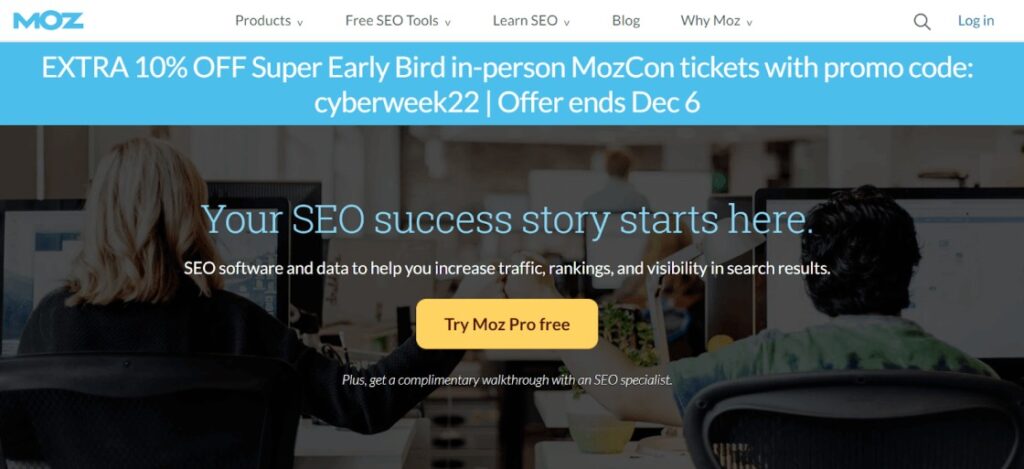 MOZ is one of the best SEO tools for its rank checker that can provide actionable insights to make your business reach desired heights. You can view the metrics for any website, including anchor text and domain authority, during your backlink analysis.
MOZ can provide you with intel about your competitors and track your progress. It can discover and provide analysis reports for thousands of keywords to optimize your page. It is limited compared to SEMrush or Ahref, but its user interface remains familiar for those using Google analytics.
The free version of MOZ allows you to analyze up to three potential competitors and can set up ten campaigns. This potential tool provides insight into your websites domain authority, spam score and top backlinks to your website.
How can Moz help you with rank tracking?
It can help you find keyword gaps and data about visibility on SERPs.
You can easily spot the keywords that have moved up and down over time.
It provides insight into customer behaviour and ranking fluctuation for 200+ countries.
You can understand what's working and dramatically increase your organic reach.
7. ProRank Tracker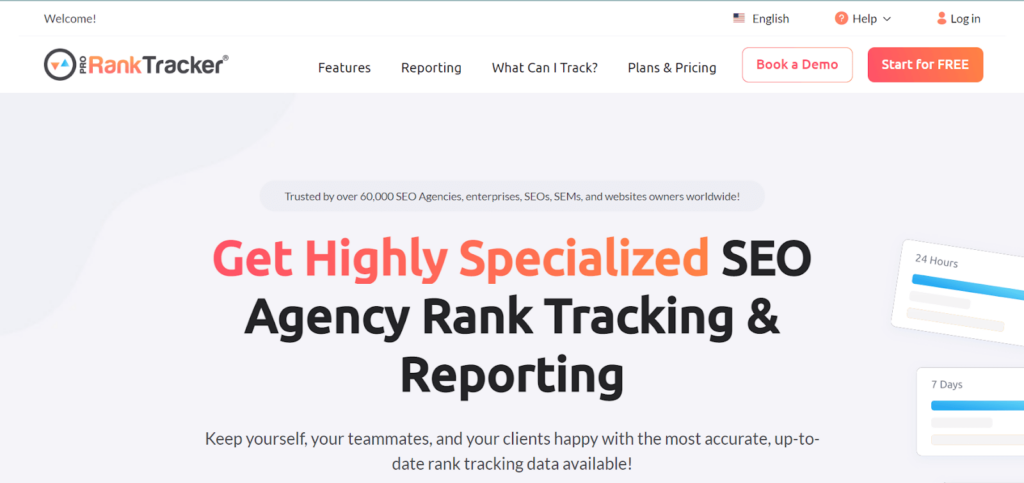 ProRank Tracker is a specially tailored software tool for keyword rank tracking and analysis. As one of the best keyword ranking checker tools, it automatically generates customized reports. This feature greatly helps you to build trust and relationships with your partners. This tool is best for marketing agencies as it allows you to generate unlimited reports in 13 languages.
The ProRank Tracker dynamically adjusts with updations to the search engine's algorithm to provide you with 100% accurate data. For start-ups to understand the performance of their keywords, it can provide a better landscape. Though it provides analytic reports with a lower pricing plan, it cannot be your one-stop SEO solution as it is a tailor-made tool for rank tracking.
It offers a free trial of 30 days with limited data, and the lowest plan starts at $13.5/mo.
How can ProRank Checker help you with rank tracking?
It is an ultimate rank checking tool across different countries, languages and search engines.
It can provide customized daily updates and permits live tracking for you and your clients.
It can provide data for your GMB listings.
It facilitates local rank tracking on different local sites like YouTube, Amazon, Yahoo sites and to name a few.
8. SERPSTAT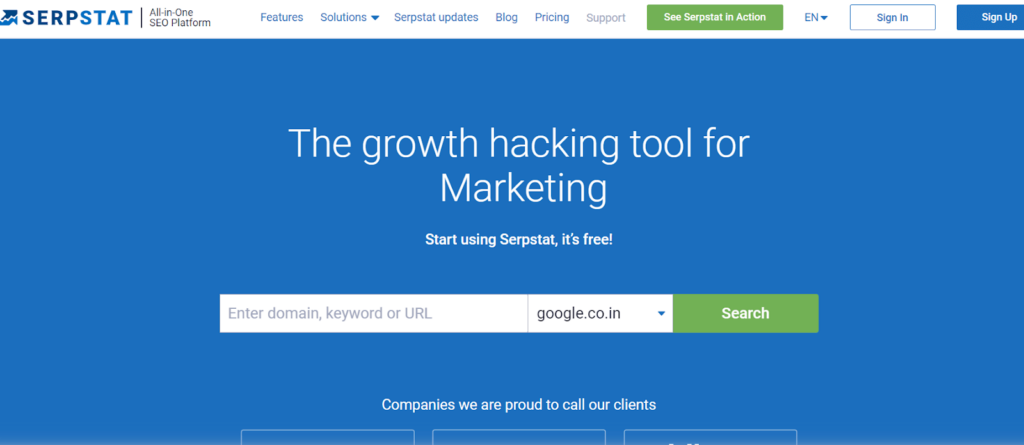 SERPSTAT can provide actionable insights for digital agencies, in-house marketers, SMBs and enterprises. It can help you perform website analysis, backlink analysis, keyword research and SEO audit. With over 50 tools for SEO and PPC, this SERPSTAT software tool remains a single-stop solution for all your marketing needs.
It helps to optimize your SEO, create content marketing campaigns and run and track ads. This user-friendly tool can do batch analysis for up to 100,000 keywords at an instance. Though this tool is criticized for providing inaccurate data, it still tops the list of the most used keyword rank checkers.
It offers a 30-day free trial; the lowest plan starts at $69.
How can SERPSTAT help you with rank tracking?
It can check local and global search results for organic and paid.
You can track your ranking for yours with your closest competitors.
Can monitor the progress of your website for ranking by scheduling daily, weekly and monthly customised reports.
You can identify high-quality keywords and can group them with different tags.
Can recognize top keywords for different localities and analyze trending queries.
9. Seobility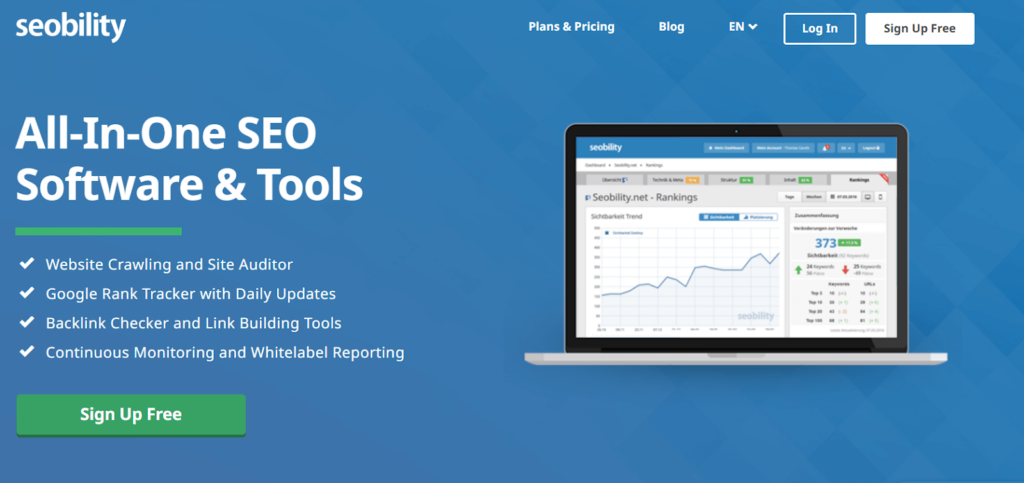 The Seobility is a rank checker tool for keywords, a website crawler and a site auditing software solution. It also provides insight into white labelling. Large websites and agencies can make the best of it by performing backlink analysis.
The Seobility can do keyword monitoring, competitor analysis, and email updates. This tool can help to spot problematic URLs and issues associated with meta tags. It can check your website structure for ease of search engines can evaluate the quality of content. It can also make you view duplicate content, which will help you to avoid keyword cannibalization.
The user interfaces may confuse new users, but they can show you how to progress. The free version of this tool is limited to one project and 1000 webpage crawls. It offers a 7-day free trial to the premium plan, and it is available at $50/Mo.
How can Seobility help you with rank tracking?
Its ranking dashboard provides ranking at a glance, which indicates your site's visibility.
It can provide actionable insights for optimization to promote ranking for a particular search term.
It can project every individual URL along with its ranking and keywords.
It allows you to compare your results with your competitors to streamline your strategies.
10. Mangools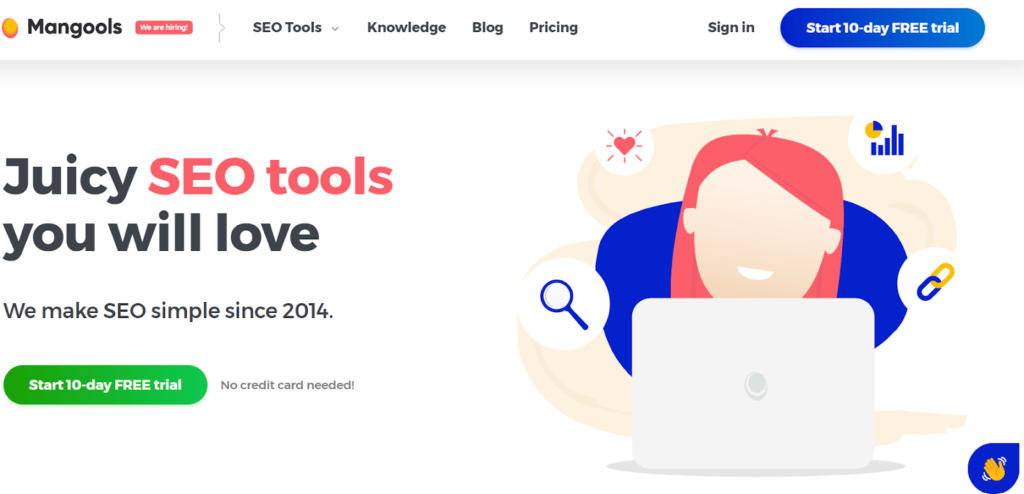 Mangools has the most interactive user interface, making SEO analysts gain insights quickly. It provides a performance index to alert your average position in SERP based on keyword ranking and search volume. As the best keyword ranking checker tool, it can precisely track rankings in 50K locations across the globe.
The Mangools provides daily updates through emails with an easy sharing process. It can provide insights into the impact of snippets and other features of a SERP. With this tool, you can do local SEO and backlink analysis which are other essential features.
It offers a 10-day free trial, and its lowest monthly plan starts at $29.90.
How can Mangools help you with rank tracking?
It can help you to find the right keywords for different demographic locations.
Even a newbie can maximize results using this tool by understanding competitors' metrics.
It can indicate daily changes in ranking to take immediate action.
Final Words
To enhance user experience, Google customizes its SERPs result based on language and geographic locations. The moment when the user types in their query, the search engine's algorithm filters all the indexed webpage and displays its top pick on the SERP.
Facts tell that 67.6% of all clicks go into the first five pages that appear, and the rest go unnoticed by the user. Don't let this happen to your website. Pick up the tool that best suits your needs among the SEO tools with rank checker features.
The keyword's rank varies from search engine to search engine, and you have to determine which you have to align. More than 90% of users across the globe prefer Google. But people in certain locations predominantly use other search engines. For example, the popular search engine in China is Baidu.

As an SEO analyst or a marketer, be aware of your brand audience's nation and behaviour to cater for their needs. Use the best keyword ranking checker tool to maximize your results.