All the activities that are carried out by professionals to bring up the site to the top of the SERP result come under the scope of SEO. For those businesses leveraging digital marketing strategies, it is important to maximize the opportunities to show a strong online presence, as it could offer the best ROI.
On-page SEO is a part of search engine optimization activities that focuses on the elements of your site and what is visible to the user. This includes overhauling metadata, site structure, internal linking, and on-page content.
We know what exactly you need to look into to reap all the benefits of on-page SEO. Here we have compiled a list of 9 best on-page SEO tools which you can utilize to beat your competitors.
Top On-Page SEO Tools to Try Out in 2023
1. SuiteJar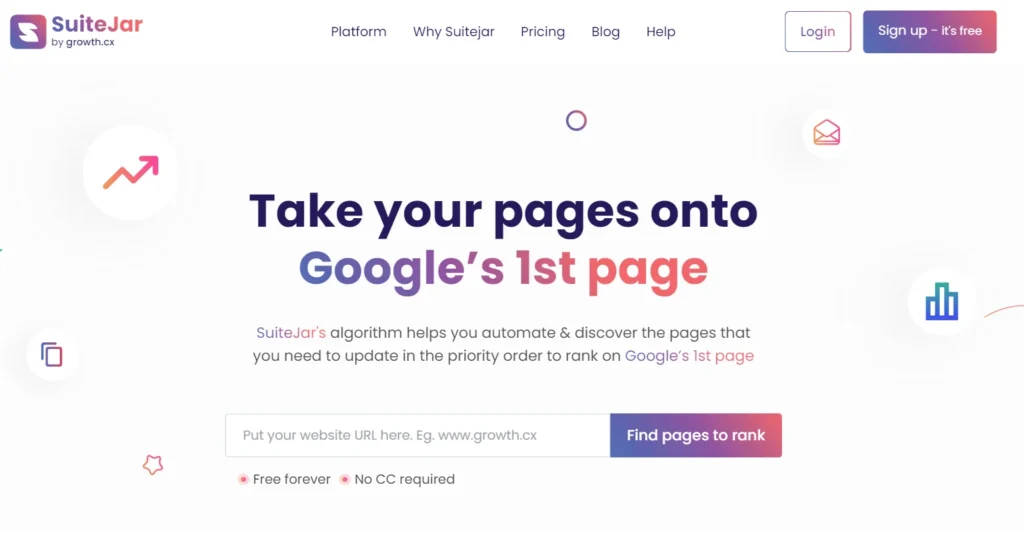 SuiteJar is a comprehensive SEO and Content Marketing tool that is best for on-page analysis. The tool offers a wide range of features that go beyond mere keyword research and audit. Its interface is simple and easy to use.
One of the main reasons SuiteJar holds the first position here is its unique feature like First-Page Ranker, Easy Web Analysis, and Webpage Tracker.
First-Page Ranker or FPR analyzes your web content and lists the pages that have the most potential to rank on the first page when optimized properly. The feature further provides you with deeper insights such as the keyword the webpage is ranking for, the suggested keywords to add, the elements missing in the webpage like alt text and schema, the webpage's internal and backlinks, and more.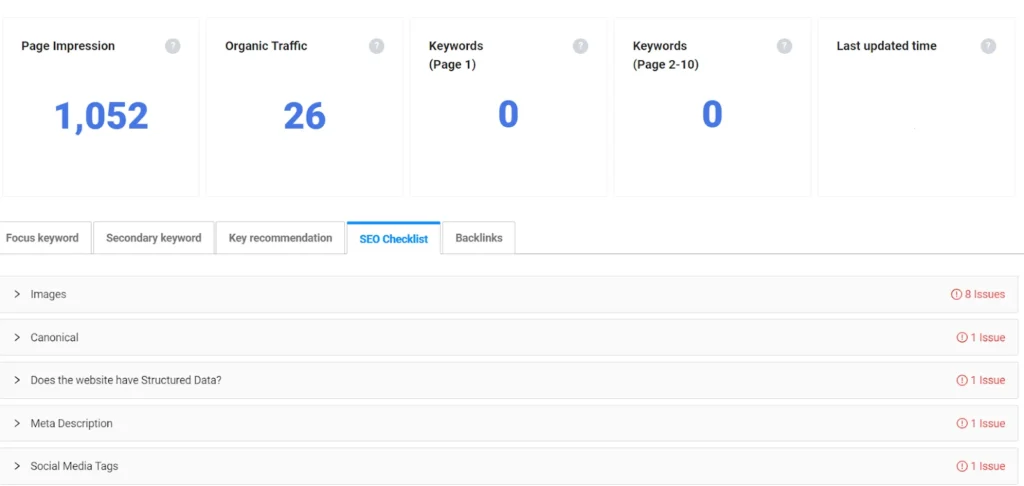 And "Easy Web Analytics", helps you better understand the metrics behind the website health. The new version of Google Analytics (GA4) is live, and it is not the easiest one to make use of. But upon integrating GA4 with Suitejar, you can visualize all your critical data in one place. Thus it makes it easier to monitor, analyze and act on the data to improve your website health.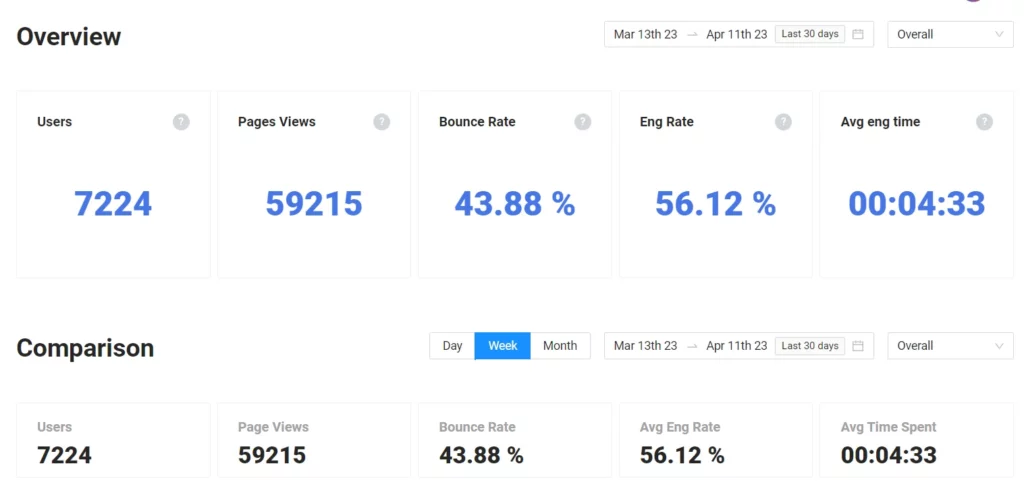 Let's look at the other features.
Key features
This is a simpler version of the First-Page Ranker. Though it doesn't prioritize webpage content or provide insights into where to optimize, it helps the user identify the pages with outdated content.
A simple but powerful auditing tool that helps you get a holistic view of your website's health. You can understand how well your website is performing as per Google's standards. The technical SEO checklist will provide insight into the errors and where you should do the necessary optimization.
This keyword research feature helps you find the right keywords for your content strategy or ad campaigns. On top of the regular volume and SEO difficulty, the feature also shows the paid difficulty and CPC of the keywords. Thus it helps performance marketers with running effective ad campaigns.
Pricing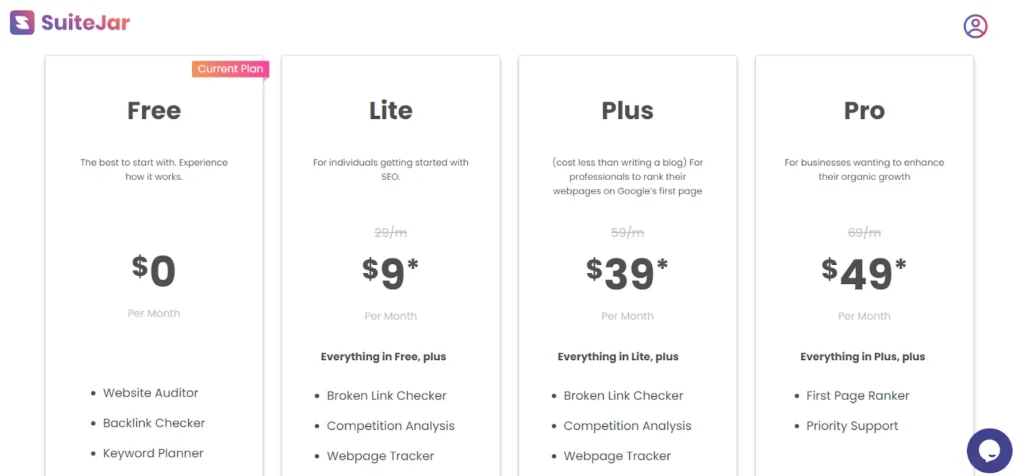 The tool offers a free version to try out its features. Their paid plans are as follows –
Lite – $9 per month
Plus – $39 per month
Pro – $49 per month
2. SEMrush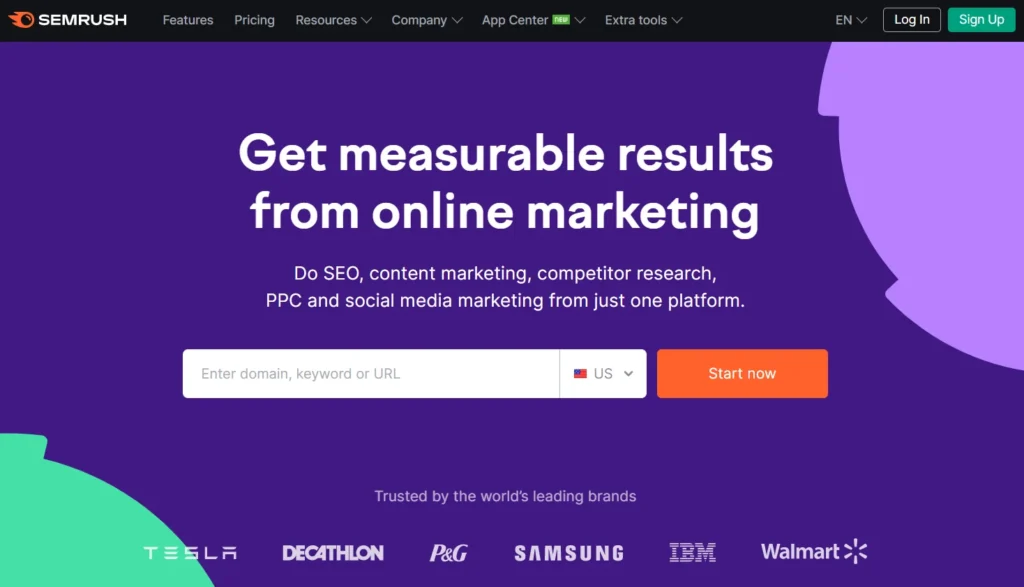 SEMrush is a complete suite offering various SEO tools for different purposes. Its scope not only lies in on-page SEO but also can be extended to off-page and technical SEO. With this tool, you can never fail to build a winning website.
SEMrush's on-page SEO checker is a potential tool that can derive the data of your top 10 organic competitors for specific keywords and guide you with steps to improve your site's performance. It helps to detect the weak spots of your website and allows you to eliminate those.
Key Features
By analyzing your competitor's site, this tool helps to identify the content gap and pave ways to beat them with your content. It will help you to understand where your content stands in comparison to your competitors.
Semantic keywords are essential to make the content more personalized to your target audiences. Providing suggestions for related keywords and topics, the on-page checker will help you to enrich your site with more relevant keywords.
It extracts data from Google Analytics on how your audience views your page and provides actionable insight to enhance user engagement.
Pricing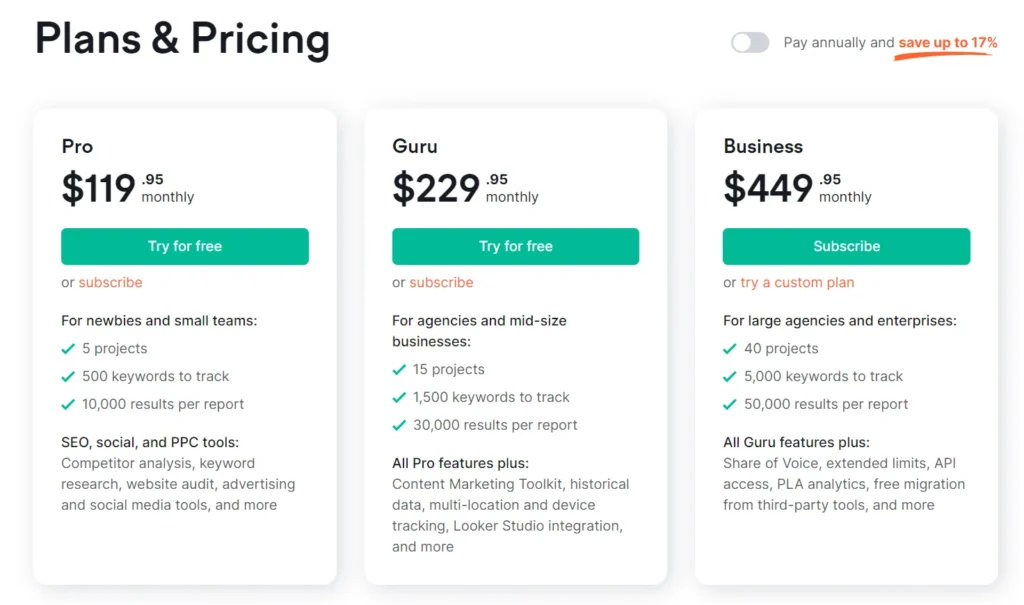 The pricing of the tool is threefold, as shown in the figure. The basic Pro plan is available at $119.95 per month.
Also, take a look at the 7 SEMrush alternatives of 2023.
3. Ahrefs

Ahrefs is another on-page SEO tool, like SEMrush, that can discover all the possibilities to bring your website to the top of the SERPs. The complete suite of Ahrefs entails various tools for maximizing the efforts of on-page SEO.
Key features
Identify proven strategies:
It is essential to identify the top-performing pages in order to tailor the SEO and Content Marketing strategies. The Ahrefs can help you in that way and paves the way for you to build winning strategies.
Ahrefs allows you to analyze thousands of keywords for 171 countries and 10 different search engines, along with search volume, CPC, and other metrics. This helps you make use of all the available opportunities to get traffic.
We all know search engines are constantly updating their algorithm to deliver the best to their users. In this process, it is common to notice a fluctuation in ranking. The rank tracker of Ahrefs will provide info about the root cause for those fluctuations and help you resolve the issues that are encountered.
Pricing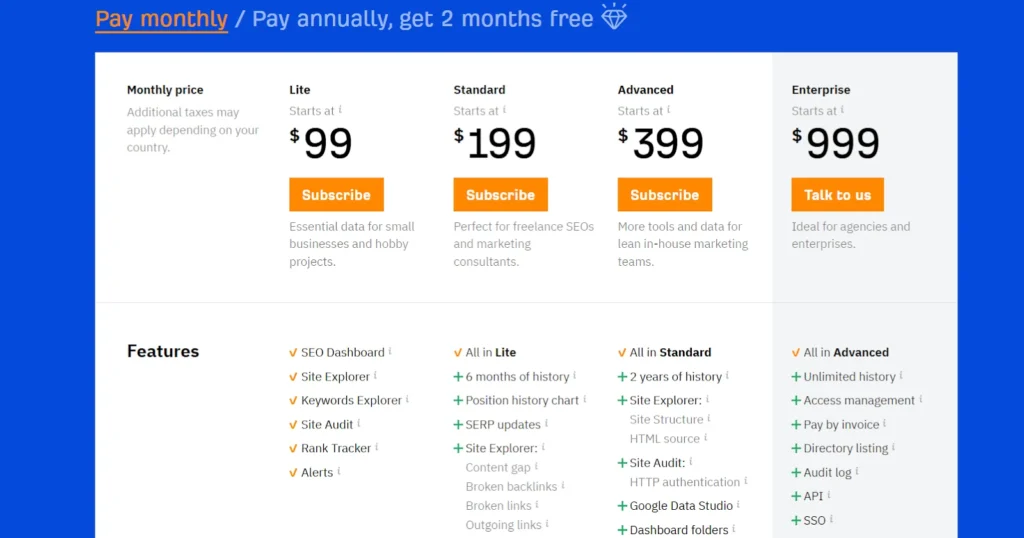 Ahrefs paid plan [Lite plan] starts at $99 per month.
Suggested read: Top 7 Free and Paid Ahrefs Alternatives
4. Google Search Console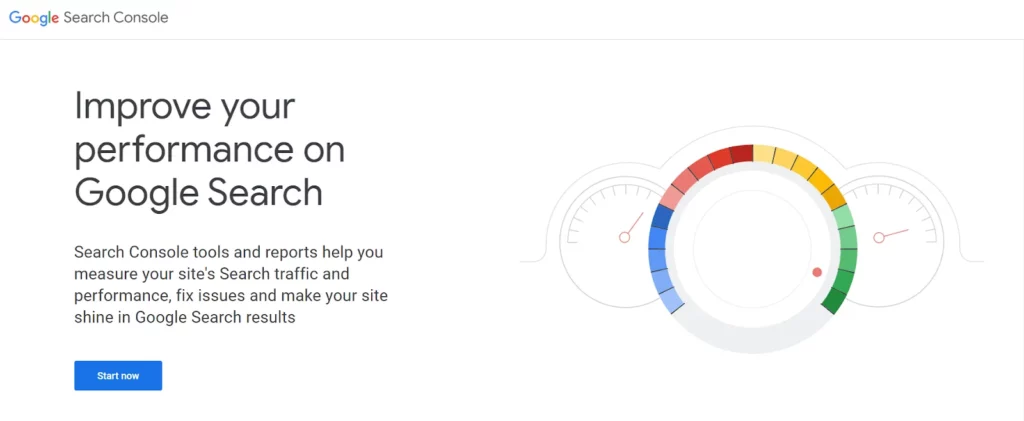 Google search console can offer many benefits to SEO by providing real-time accurate insights on several website SEO metrics. It is also a medium through which Google communicates with webmasters and keeps them posted on possible issues that may happen.
Key features
GSC helps SEO analysts to determine which keywords and search queries are getting high traffic to their site. This will help to build a better keyword strategy. It also helps to spot the keywords with high CTR and allows you to curate the best SEO campaign.
It can provide detailed information on how Google crawls and indexes your pages. It can generate alerts to keep you informed about the issues impacting your site's organic reach.
Mobile Usability Reports:
To reach your target audience without much hassle, you need to optimize your site for desktop as well as mobile usage. The mobile usability report of GSC can pinpoint all the issues that need a fix.
Pricing
It is a completely free tool.
5. Moz Pro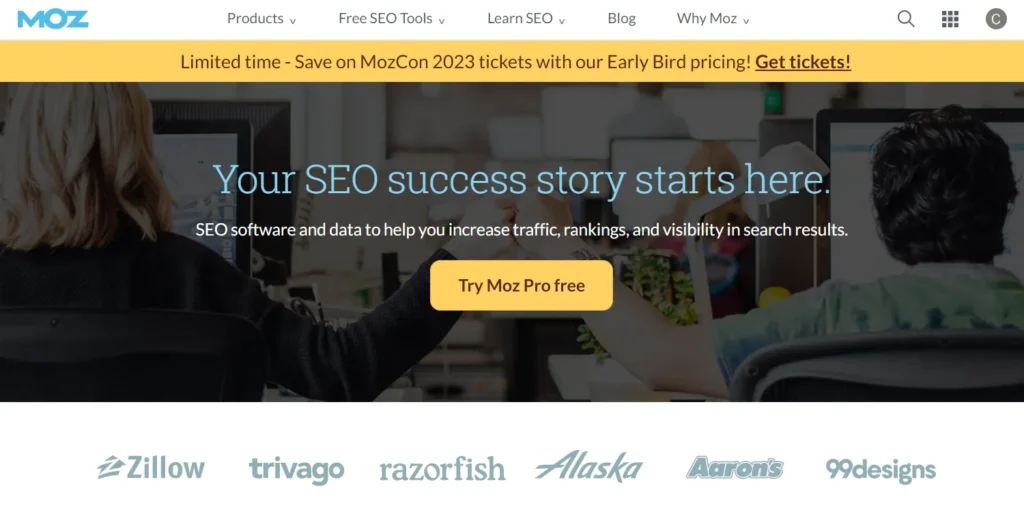 It is an all-in-one SEO tools suite that can provide all the insight necessary to align your SEO strategies with the dynamically changing Google algorithm. By providing the right insight, you can target the right audience and get quality traffic for your site.
Key features
The custom report of Moz Pro helps you to compare keywords for their search volume, CTR, and keyword difficulty. This will help you to analyze and prioritize keywords for finetuning your keyword strategy.
To help you quickly identify opportunities for improvement, the on-page optimization tool sorts the pages based on scores. It also provides step-by-step guidance to carry out the process, which in turn can result in higher rankings.
Each link pointing toward your site represents a vote of confidence in your content and is a positive sign as per Google's algorithm. The Moz Pro offers a solution for identifying backlinks and enables you to build high-quality links, thereby enhancing your DA score.
Pricing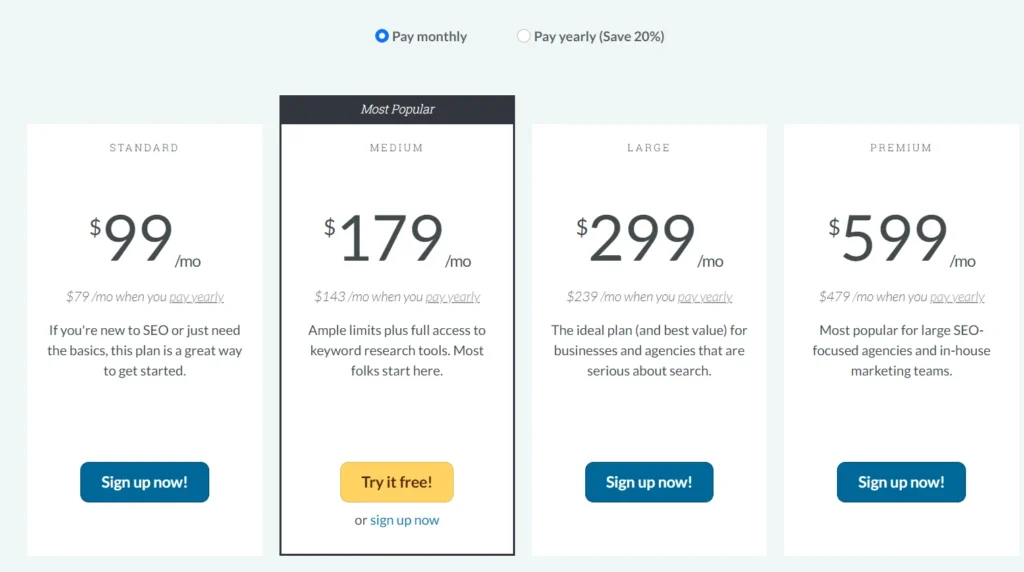 The Standard plan of Moz Pro starts at $99 per month.
6. SEOptimer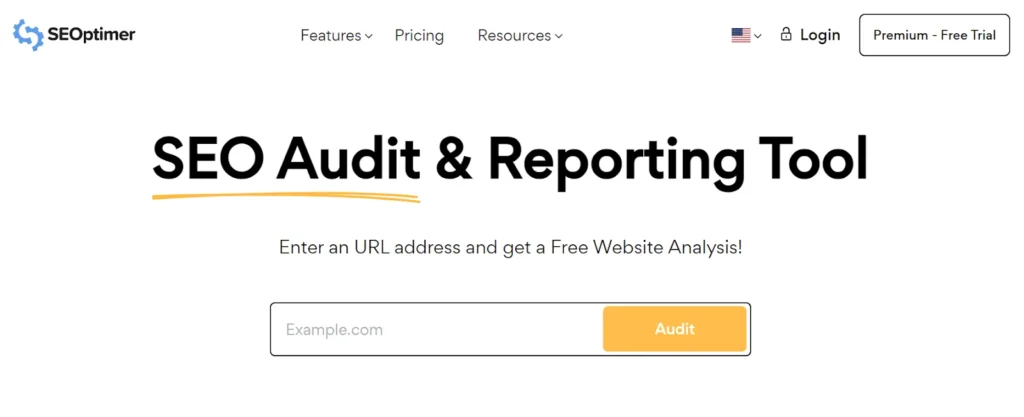 SEOptimer is an SEO audit tool that proactively finds what holds back your website from reaching its fullest potential. Getting a high rank on SERPs is a result of optimizing many elements of a site, and the SEOptimer can provide insights into all the factors that are contributing to gaining higher visibility on SERPs.
Key features
The keyword tracking tool will project the ranking of specific pages, search volume, estimated traffic, and competition for keywords. This tool will also scan for your commonly used keyword that has a high value in terms of on-page SEO.
To focus your efforts on the right track, the SEOptimer offers a keyword research tool to help you target the right keywords. This will help you to make smarter decisions and get the most out of your SEO efforts.
Pricing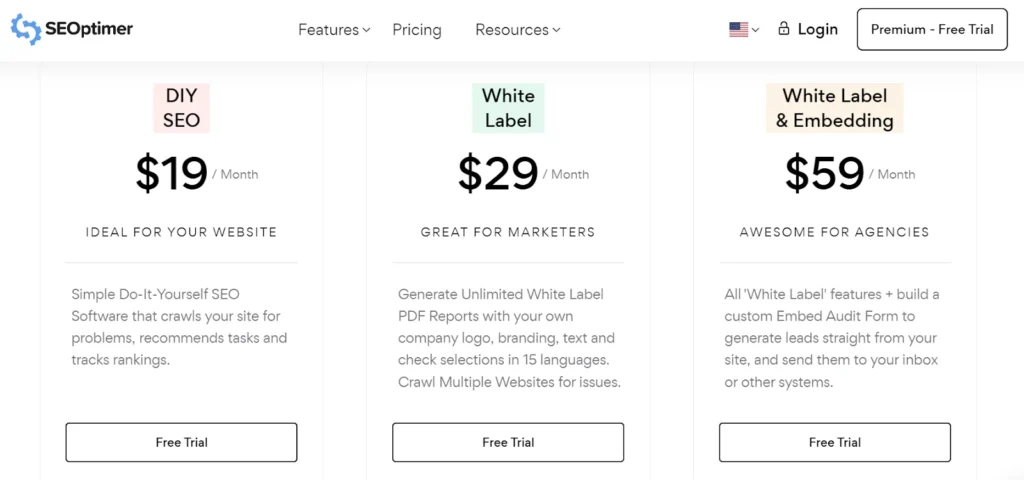 The basic plan of the tool is a DIY SEO plan and is available at $19 per month.
7. Screaming Frog
It is a website-crawling SEO tool that analyzes your website and delivers key action points to improve its performance. It can be integrated into GSC, GA, and PSI and fetch real-time data.
Key features
Discover duplicate content:
While framing your on-page SEO strategy, you should be cautious to avoid creating any duplicate content to eliminate content cannibalization. The Screaming Frog's SEO spider crawls through your site and spots if there is any duplicate content.
Analyzing page title and metadata:
The metadata and page title are one of important factors in bringing your site to the top of SERPs. It analyzes your metadata and title and keeps you posted if any is too short, long, missing, or duplicated.
Pricing

The paid version of Screaming Frog is available at $259 per year. You can still make use of the free version with limited features and crawl up to 500 URLs.
8. Ubersuggest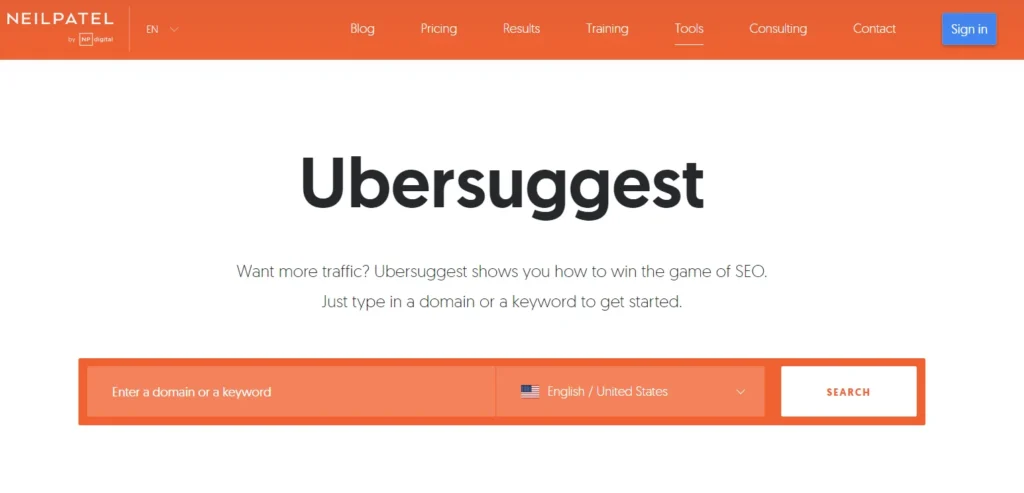 Ubersuggest is a perfect tool for performing keyword research. It provides a complete overview of the target keywords enabling you to maximize your on-page SEO strategies. The easy-to-use UI of Ubersuggest allows you the extract the data you need about a keyword in a few clicks.
Key Features
For the provided seed keyword, Ubersuggest brings different versions of keywords to your desk. It can suggest keywords with high search volume and low competition, which you might have failed to notice.
The ultimate goal of all SEO efforts is to get higher traffic. Ubersuggest helps you to achieve this goal by projecting the traffic of each page. It also provides content ideas that are attractive in terms of SEO.
Getting insights into your competitor's backlinks will help you to strategize better. The backlink opportunities feature will spot the pages that are linked to your competitors and not to yours. This will give a boost to your SEO journey.
Pricing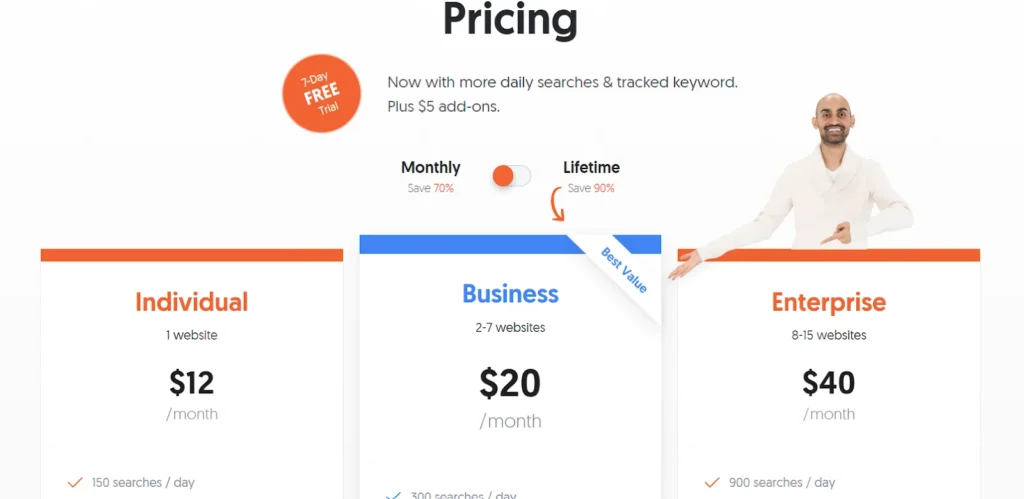 The Individual plan is the basic paid plan offered by Ubersuggest and is available at $12 per month.
9. Clearscope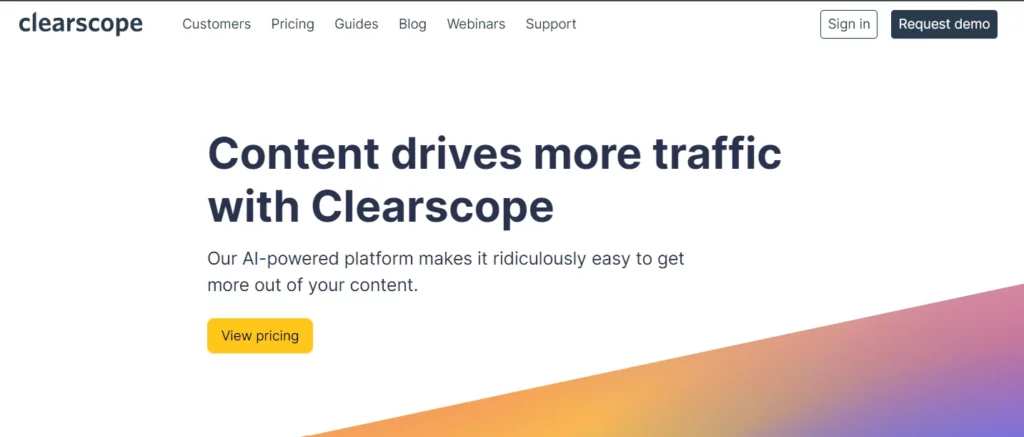 It is an AI-powered platform that can help you to generate content strategically, allowing you to optimize it. With this tool, you can uncover opportunities for organic growth and track the content health of your site.
Key features
Clearscope can present basic metrics for keywords or queries that you have typed in or generate new ideas for content. You can also perform a URL search and understand what keywords are used by your competitor for ranking.
The content reports of Clearscope can guide you in developing an outline for your content and finding how similar other sites generate such content. You can also dig deep into the top-ranking competitor's page for your target keyword and look into the word count, content grade, and rank positions on desktop and mobile devices.
Pricing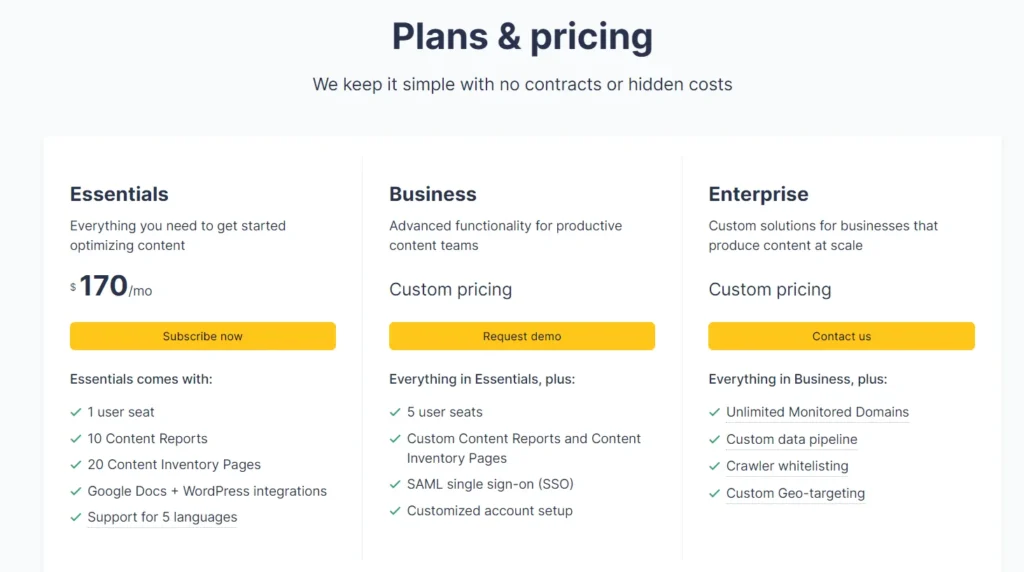 The Essentials plan is available at $170 per month. Custom pricing option is available for the Business plan and Enterprise plan.
Conclusion
There are many crucial elements in your on-page that need to be optimized for search engines to crawl better and encourage you to get a higher ranking. The majority of the work depends on how well you enrich your site with relevant keywords by following the best SEO practices.
Overhauling your strategies and realigning them is another key to holding the top position on the SERPs. For this, you can make use of any of the above-mentioned platforms. Based on your business goals, choose the right tool that can get all the solutions for your on-page SEO optimization.
You can try our powerful tool SuiteJar which can boost your results with zero investment. This complete suite for SEO can help any business or individual to play smarter in the field of SEO.