Keywords – that's what everyone thinks of at first when talking about SEO. And for good reason. Whether it's on-page or off-page, and to some extent even in technical SEO, keywords play a crucial role.
In fact, ranking for a particular is the baseline for any SEO and content marketing strategies. But to find the appropriate keyword, you will need a keyword research tool. And with so many available in the market, it can be a daunting task to choose one.
This blog discusses the 9 best keyword research tools currently available in the market, including their key features and pricing, to help you choose the ideal tool for your SEO and content strategy.
A Quick Overview of the Keyword Research Tools
| | | |
| --- | --- | --- |
| Keyword Research Tools | Key Features | Pricing [*Starts from] |
| SuiteJar | Keyword Planner, Website Auditor, Google First Page Ranker, Outdated Pages, Broken Link Checker | $9 per month |
| SEMrush | Site Audit, Competitive AnalysisFull SEO SuiteContent Marketing Toolkit | $119 per month |
| MOZ | Site Audit, Rank Tracking, Backlink Analysis, On-Page Optimization | $99 per month |
| Jaaxy | SEO Analysis, SiteRank, Niche Discovery, Keyword Lists | $49 per month |
| Ahrefs | Keyword Analysis, Site Explorer, Content Explorer, Rank Tracker, Site Audit | $99 per month |
| Soovle | Multi-Source Keyword Suggestions, Customizable Engine Selection, Speedy Autocomplete, Easy Comparison | Free |
| Keywordtool.io | Multiple Platform Support, Long-Tail Keyword Generation, Multilingual and Multi-Regional, Hashtag Suggestions | $69 per month |
| KWFinder (Mangools) | SERP Analysis, Search Volume Trends, Localized Results, Keyword Lists | $30 per month |
| QuestionDB | Keyword Search, Topic Categorization, Popularity Metrics, Export Function | $15 per month |
Best Keyword Research Tool For SEO
1. SuiteJar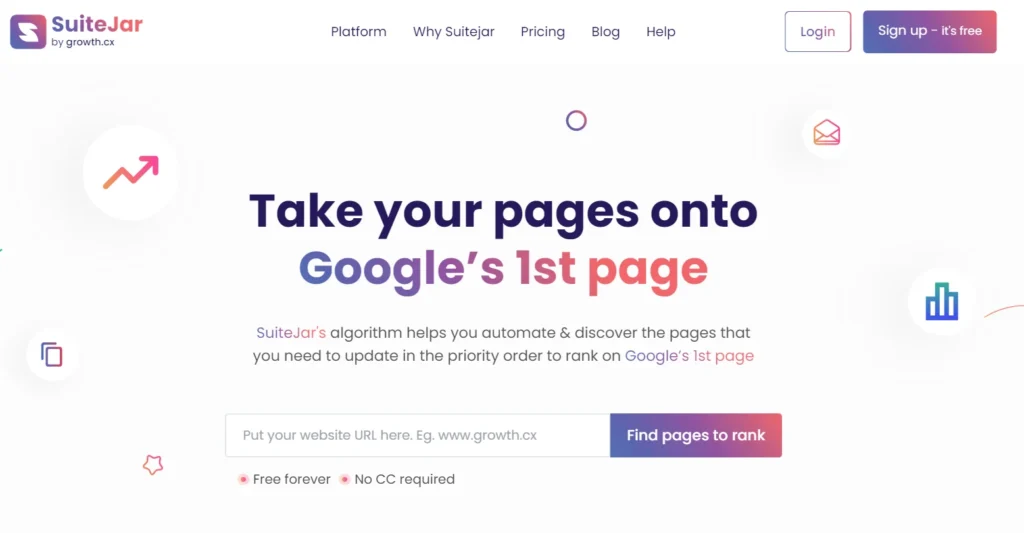 SuiteJar is a comprehensive SEO and content marketing tool. It offers a suite of tools that can help you with all aspects of SEO and content. Its keyword planner not only offers the keyword volume and SEO difficulty but also the CPC and paid difficulty.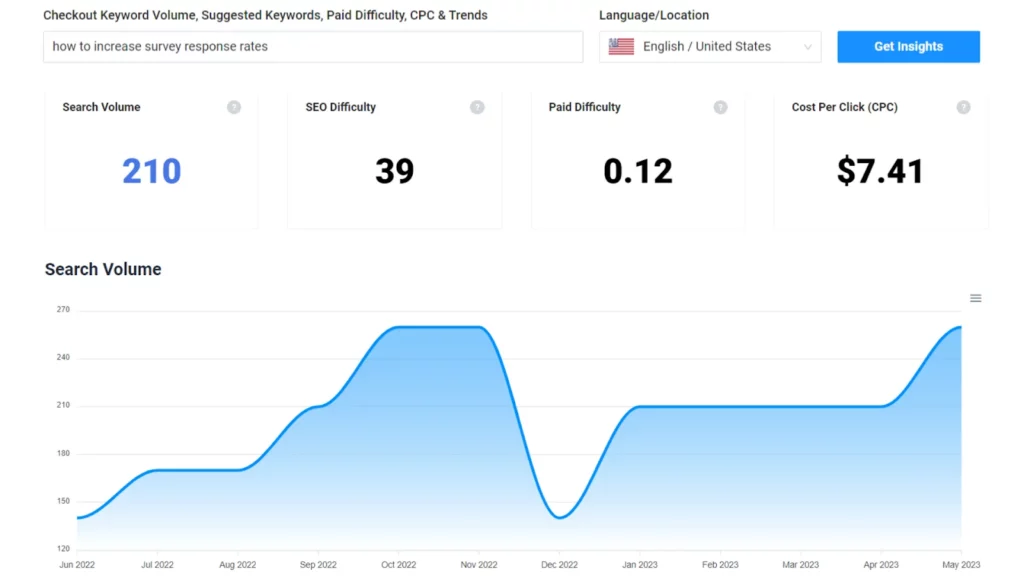 Performance marketers can choose the one that is ideal for their ad campaigns. And the keyword trend history will provide insight into whether the trend is growing or not.
The keyword planner offers keyword insight from more than 100 countries, which only a few tools are offering. All this makes SuiteJar one of the best keyword research tools available in the market.
Following are some of the key features of suiteJar other than the keyword planner.
Key Features

As the name indicates, this feature helps you rank on the first page of Google. It will analyze your website and list all the existing content pieces that have the potential to rank. Also, it offers actionable insights on how to update the content and rank them on Google's first page.
This feature will help identify the old content pieces on your website. Although it doesn't offer any insight on how to update these old content, it does help you identify them. You can update or remove it as per your requirement. 
With GA4 replacing UA, it has become harder for digital marketers to monitor and analyze KPIs. And that's where this feature comes into play. It collects and visualizes all critical data from GA4 into a single place. This allows easy interpretation of data and understanding of the changes in the KPIs.
Pricing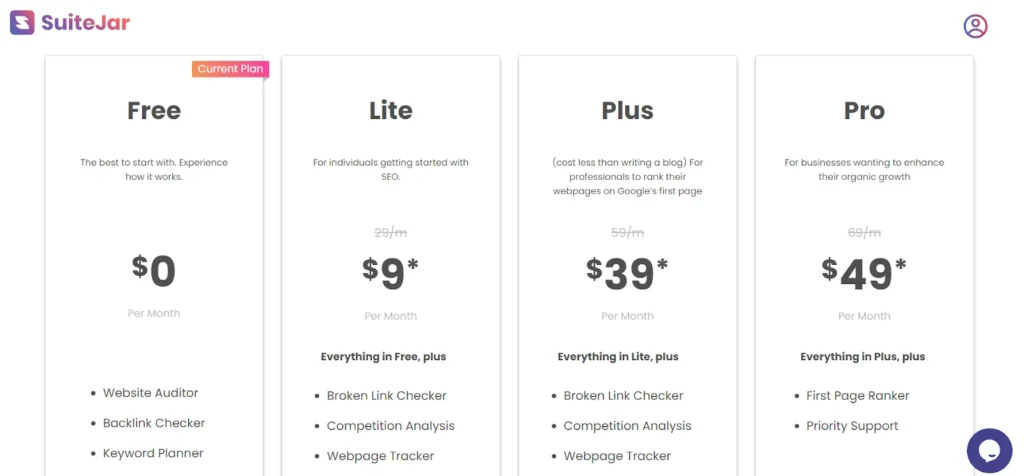 Suitejar offers a free version and a 14-day trial for its paid plan. The pricing starts at a meager $9 per month.

2. SEMrush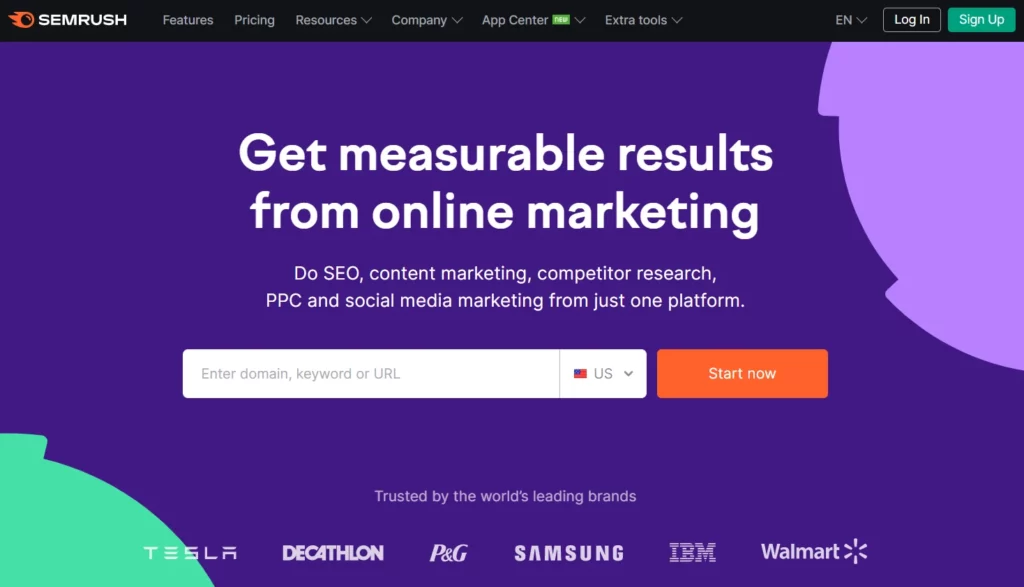 SEMrush has been the fanciest and the most popular tool among marketers worldwide. It provides many SEO services and is a whale suite with many built-in tools.
You can get an overview of keywords like search volume, trends, keyword difficulty, and many more. SEMrush generates related keywords which can give you ideas for running ads. It can reveal useful information about the keyword history for running ads allowing you to make informed decisions.
The only problem is that it is expensive.
Key Features
Keyword Research: Provides exhaustive data on keyword search volume, trends, difficulty, and more.
Competitive Analysis: Allows you to analyze your competitors' strategies in display organic and paid search and link building.
Full SEO Suite: Offers a comprehensive set of SEO tools, including site audit, position tracking, and backlink analysis.
Content Marketing Toolkit: Helps you create SEO-friendly content that drives more traffic.
Social Media Tracker: Enables you to track your competitor's social media strategies and compare them with yours.
Pricing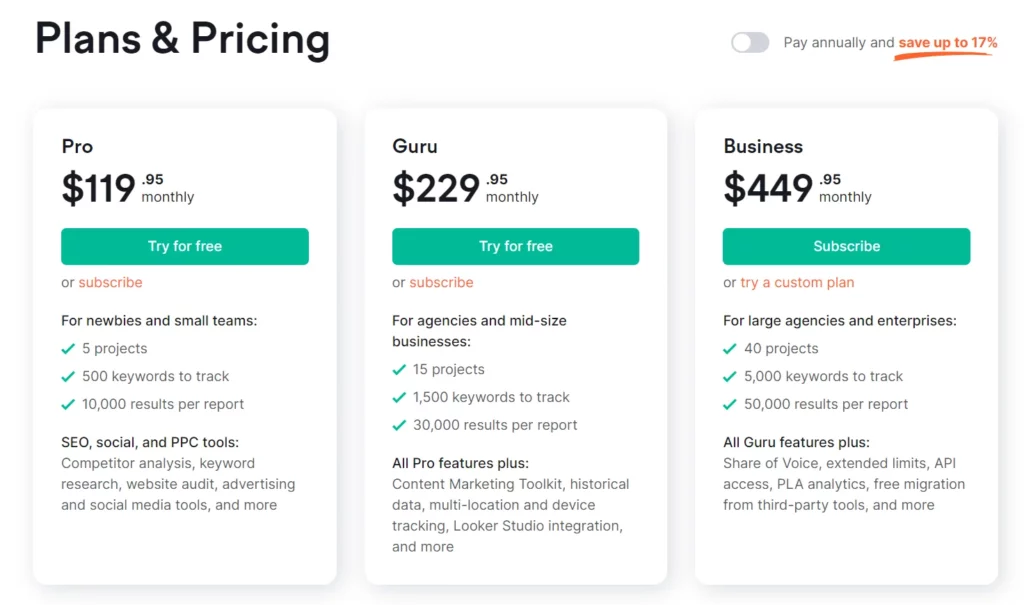 You can avail of the seven days free trials with your credit card, after which your billing would be
$119.95/month for the Pro plan
$229.95/ month for the Guru plan
$449.95/month for the Business plan.
If you find the tool to be expensive for your use, here are some SEMrush alternatives you can look into. 
3. Moz Keyword Explorer: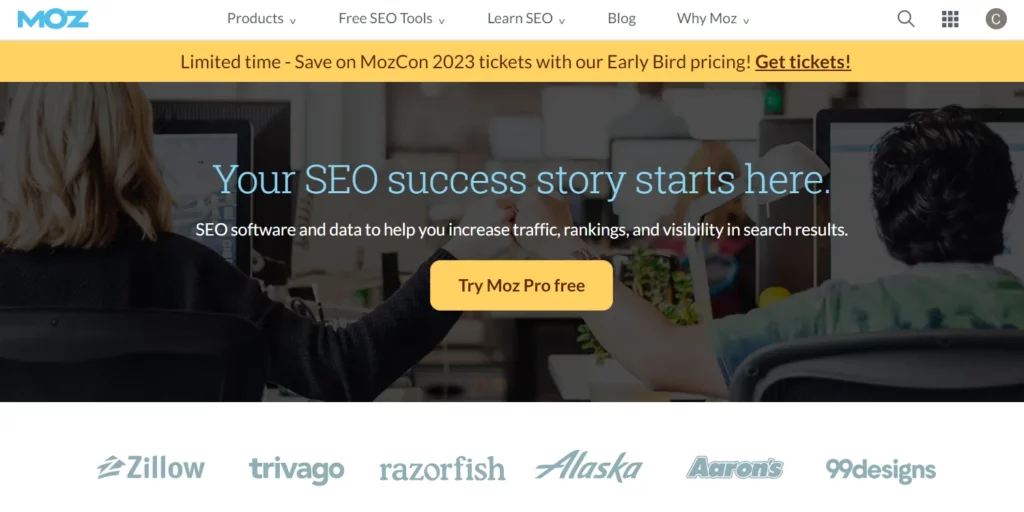 Moz's keyword research tool, Keyword Explorer, offers a wealth of features. It provides keyword suggestions, SERP analysis, and a broad set of SEO metrics. One of Moz's unique features is its Priority Score, which combines all keyword metrics to help you prioritize your efforts.
Key Features
Site Audit: Offers a detailed site audit to identify and fix SEO issues.
Rank Tracking: Monitors keyword rankings over time and across locations with the Rank Tracker.
Backlink Analysis: Delivers insights into the quality and origin of backlinks.
On-Page Optimization: Provides recommendations to optimize individual web pages.
Pricing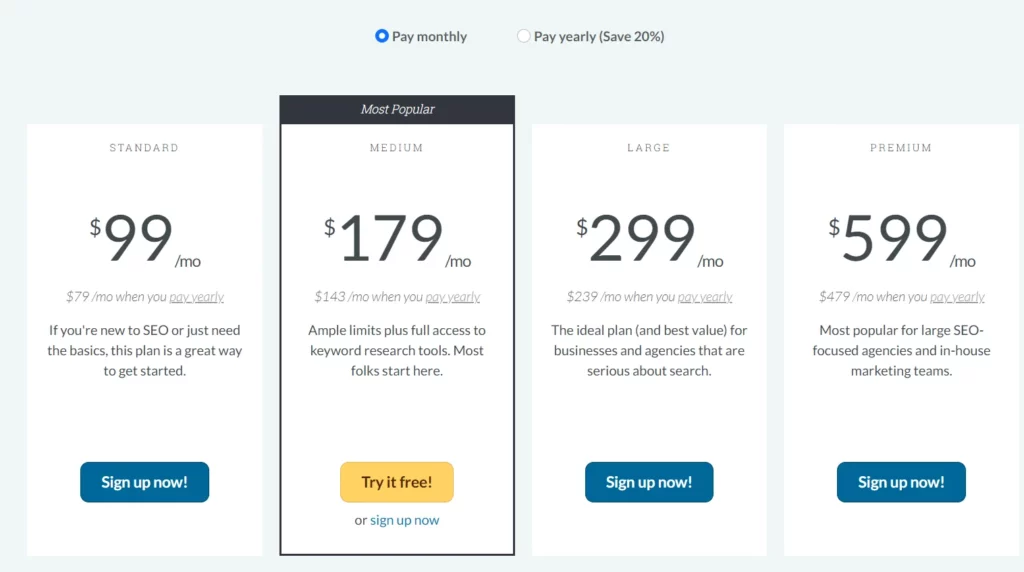 The tool offers a free version with limited features and a free trial for its paid plans. The basic pricing starts from $99 per month.
Here is a list of Moz alternatives to choose from if you find the pricing to be expensive.
4. Jaaxy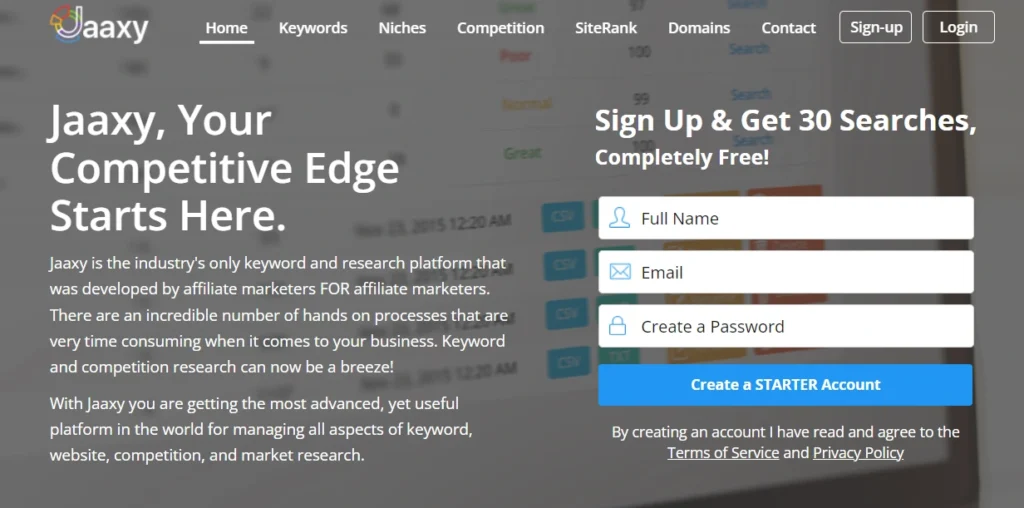 Jaaxy is a one-of-a-kind keyword research tool built by affiliate marketers for affiliate marketers. This tool can spy on your competitor's keywords and tell how and where they rank. It can provide insight into billions of keywords accurately on traffic and competition.
Across different search engines, including Google, Bing, and Yahoo! this powerful tool traces the fluctuations in the ranks of keywords. You can make the best out of this tool if you are an affiliate marketer, blog site owner, or entrepreneur.
Key Features
SEO Analysis: Offers detailed SEO metrics to help optimize content.
SiteRank: Monitors and tracks the ranking of your website for specific keywords.
Niche Discovery: Helps users find profitable and low-competition niches.
Keyword Lists: Lets users create and manage lists of their favorite keywords.
Pricing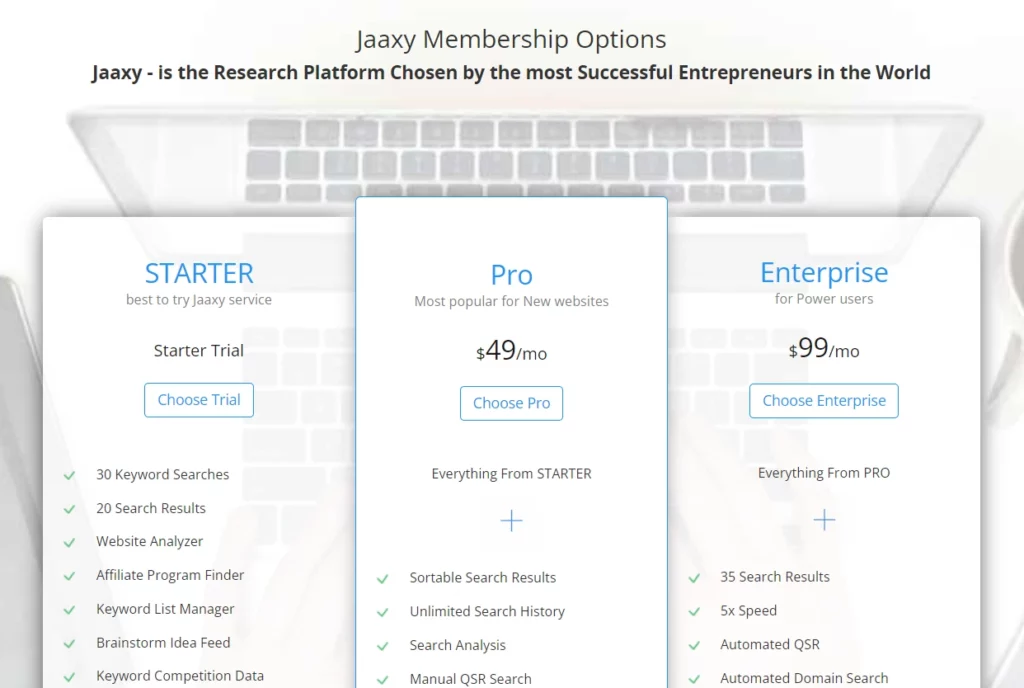 Jaaxy provides a free Starter plan without credit cards for up to 30 keyword searchers. Their paid plans start from $49 per month.
5. Ahrefs

Ahrefs is one of the popular tools among SEO analysts. It provides all the basic metrics for keywords like keyword difficulty score, clicks, search volumes, etc.
This keyword research tool provides insights on billions of keywords across different regions and search engines. You can get an overview of the top-ranking pages on SERP and view their history. This will make you understand why those pages are featured on the top. It brings the parent topic of a particular keyword to you.
Key Features
Site Explorer: Provides an in-depth look at the organic search traffic and backlink profile of any website or URL.
Content Explorer: Helps discover the most popular content for any topic sorted by backlinks, organic traffic, and social shares.
Rank Tracker: Monitors website rankings for specific keywords over time.
Site Audit: Performs an in-depth analysis of a website's on-page SEO performance.
Pricing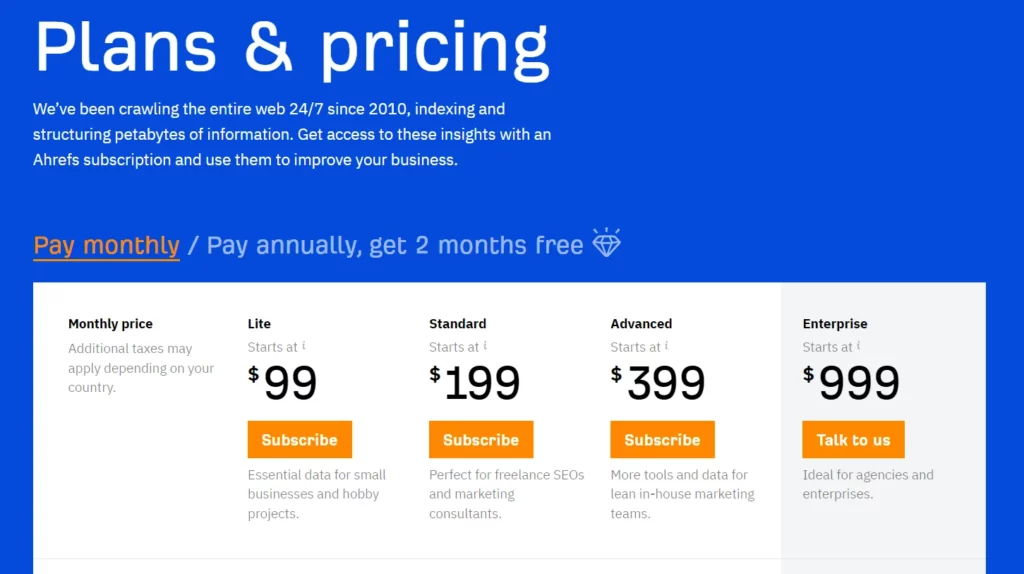 It has four different pricing plans with no free trial period. The basic pricing plan is Lite and is available at $99 per month.
Suggested read: Top 7 Free and Paid Ahrefs Alternatives
6. Soovle

Soovle is an instant keyword explorer that provides insights for different and local search engines. This tool is easy to use, and even a fresher can make the best of it.
First, you must select the search engine and type in the seed keyword you want to explore. This SEO keyword tool will then find all the trending topics for you, and you can discover the content ideas for that specific keyword. If you have integrated the tool API and installed it as an add-on to your Chrome browser, the search volume and CPA will be visible.
Key Features
Multi-Source Keyword Suggestions: Gives keyword suggestions from multiple search engines and online platforms.
Customizable Engine Selection: Allows users to select which search engines to display suggestions from.
Speedy Autocomplete: Offers fast and dynamic keyword suggestions as you type.
Easy Comparison: Enables users to compare keyword suggestions across different platforms.
Pricing
You can enjoy full access to Soovle for free.
7. Keywordtool.io

Keywordtool.io is a popular SEO keyword research tool that can instantly generate thousands of long-tail keyword ideas. Like other SEO keyword tools, it provides basic data on trends, CPC, search volume, and estimated competition for specific keywords. You can go ahead of your competitors by identifying low-competition and high-search volume keywords.
You remove negative keywords that are relevant to you. Along with keywords, it also fetches hashtags that can be used for social media platforms. This tool also helps in finding relevant keywords for your YouTube channel.
Key Features
Multiple Platform Support: Generates keywords for Google, YouTube, Bing, Amazon, eBay, and more.
Long-Tail Keyword Generation: Provides long-tail keywords that are often less competitive.
Keyword Questions: Generates question-based keywords to target informational queries.
Multilingual and Multi-Regional: Supports keyword research in multiple languages and regions.
Hashtag Suggestions: Offers hashtag suggestions for social media platforms.
Pricing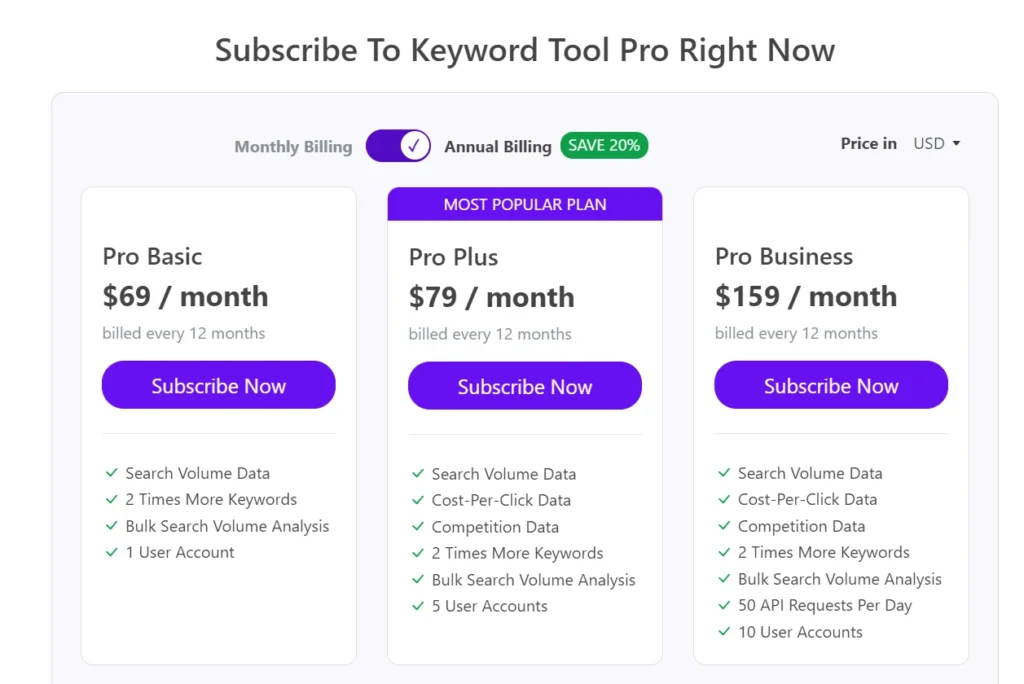 The basic subscription plan for this tool starts at $69 per month. They also offer a 30-day money-back guarantee through which you can cancel your subscription and get a full refund if you are dissatisfied with Keywordtool.io.
8. KWFinder [Mangools]: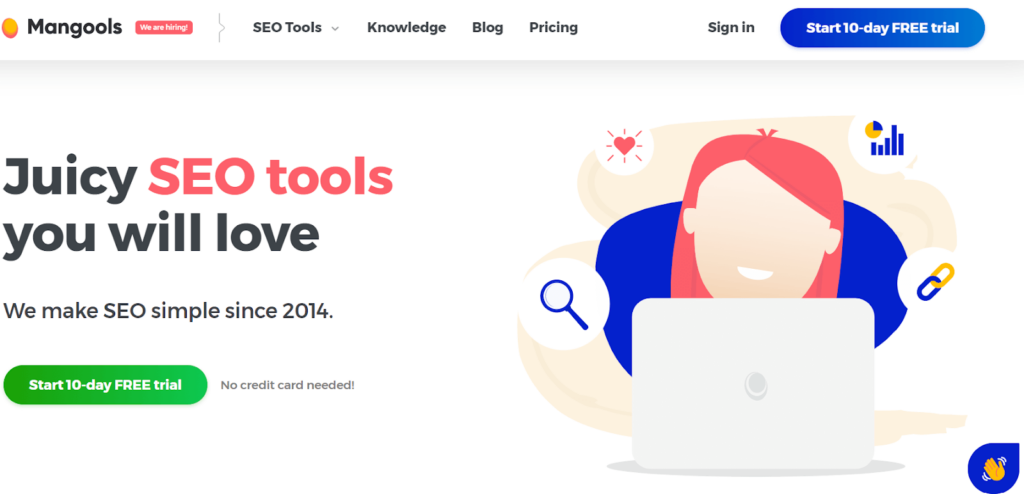 KWFinder, now Mangools, specializes in finding long-tail keywords with low SEO difficulty. It provides an intuitive interface and displays keyword data like trends, search volume, cost per click, and competition level. Additionally, it offers a SERP checker and a rank tracker to monitor your SEO performance.
Key Features
SERP Analysis: Offers a detailed look at the search engine results page (SERP) for each keyword.
Search Volume Trends: Shows historical trends and future predictions for keyword search volume.
Localized Results: Allows users to get keyword data for specific geographic locations.
Keyword Lists: Lets users create, manage, and export lists of keywords.
Pricing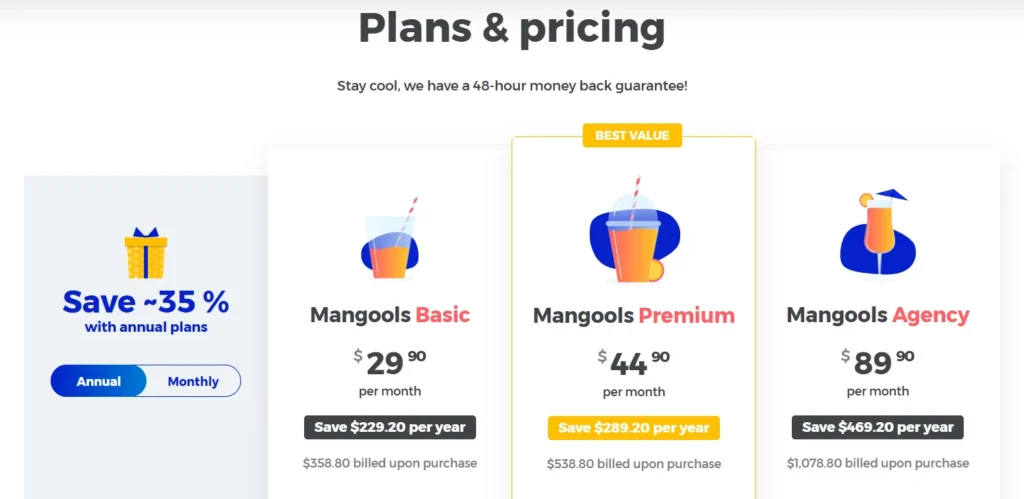 The basic pricing plans for KWFinder starts at $29 per month.
9. QuestionDB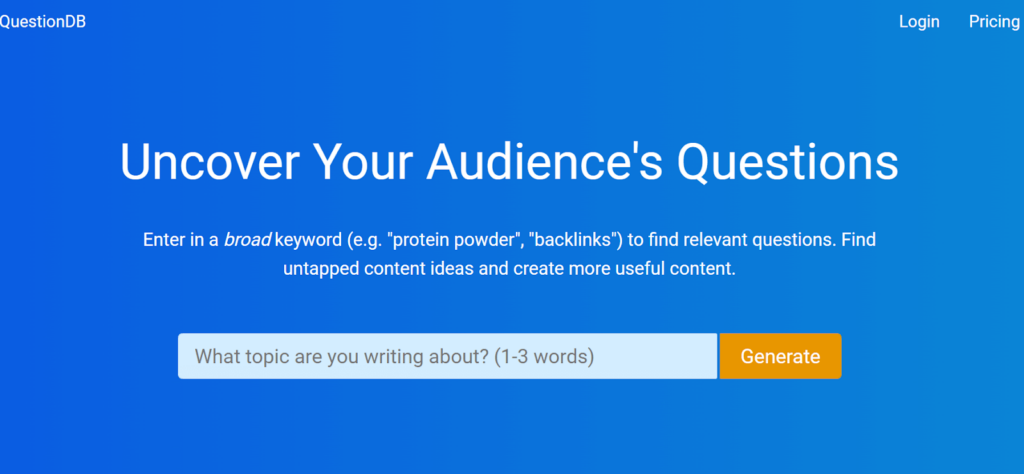 QuestionDB is a cool SEO keyword research tool for generating keywords based on search queries. It analyzes the popular queries in Quora, Reddit, and many other sources to provide accurate results. This tool can tell you all the possible long-tail keywords.
Content marketers can use this tool to generate new ideas for content as it provides insights on search queries. You can use those long-tail keywords to create a blog or Quora questions. This tool can help you to discover trends and understand the gap in the market.
Key Features
Keyword Search: Lets users search for specific keywords to find relevant questions.
Topic Categorization: Sorts questions into categories for easy navigation.
Popularity Metrics: Shows how popular certain questions are based on Reddit upvotes.
Export Function: Allows users to export selected questions for further analysis.
Relevance Filters: Enables users to filter questions based on their relevance to the chosen keyword.
Pricing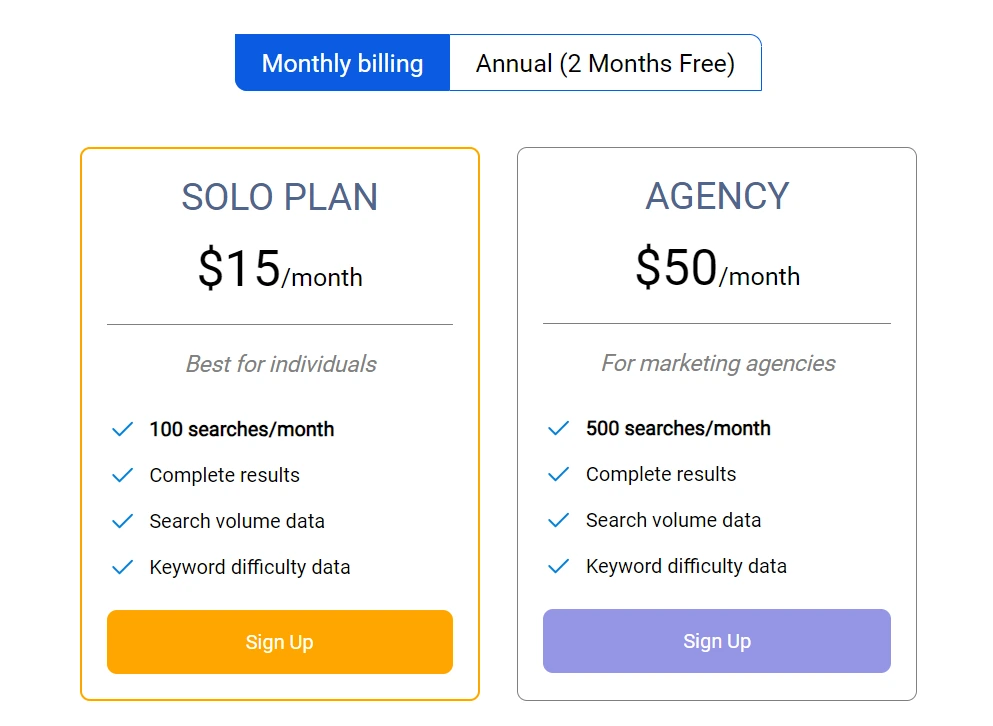 The basic plan is free. The Pro plan is available at $15/month and can get complete results for 500 searches, and the Agency plan is available at $50/month and can get complete results for 5000 searches. You can enjoy two months of free access by making an annual payment.
Conclusion
Keyword research is proven to be the cornerstone of any seo strategies and it is vital that you select the right one. Even in content marketing, keywords play a crucial role. Therefore, you'll need the right keyword research tool with you. 
The list of tools we discussed are a few among the many. And every tool offers some level of keyword research. But when selecting a tool, ensure that the pricing is well within your budget and it offers other features like audit, competitive analysis, and more.
Why? Because otherwise, you will have to spend on more than one tool for every purpose, and that can be quite expensive. If you are looking for a keyword research tool for your seo strategy, then try out SuiteJar. Make use of the free version and trail, and see if it is the right SEO tool for you.