Imagine driving your car to a destination, only to find that the direction on the sign points to a dead end. It is really frustrating, right?
This is how many users feel when they click on a broken link. The same is true for bots that crawl your website. Although they don't have feelings, they keep a score that negatively affects your search engine rankings.
A recent study by Ahrefs estimates that 66.5% of links to sites over the past 9 years are dead and that 35.2% of homepages have one or more broken links.
Link rot happens for many reasons – some pages are simply deleted, while others experience server errors or are blocked by firewalls. Sometimes, link rot is caused by typos in the original URL.
Link rot can have a serious impact on your website's SEO. Google's algorithms are designed to crawl and index the web, so when it encounters a broken link, it will mark the page as "404 not found". This can result in a drop in your website's search ranking.
To avoid link rot, it's important to regularly check your website for broken links and fix them as soon as possible.
In this blog, we will walk you through the world of broken links and the top 10 tools you can leverage to check the broken links on your website.
Why do you need to check for Broken Links?
The importance of broken link checkers cannot be understated. The reason is simple:
They provide a quick way to identify broken links and fix them.
Improve the user experience,
Save your website from being penalised by search engines.
An HTTP error 404 or other unsuccessful HTTP response would be received if a user clicked on a broken link.
Keeping track of all your website's links and pages can be difficult as your site grows, which is why a broken link checker can help. Broken links can hurt your website's click-through rate (CTR).
A Quick Overview of the Top Broken Link Checker
Broken Link Checker Tools
Key Features
Pricing [*Starts from]
SuiteJar
Keyword Planner, Website Auditor, Google First Page Ranker, Outdated Pages, Broken Link Checker
$9 per month
SEMrush
Site Audit, Competitive Analysis
Full SEO Suite
Content Marketing Toolkit
$119 per month
Google Search Console
Performance report, URL Inspection, Index Coverage, Mobile Usability, Core Web Vitals
Free
Ahrefs
Keyword Analysis, Site Explorer, Content Explorer, Rank Tracker, Site Audit
$99 per month
Dead Link Checker
Multi-check option, Compatible with major browsers, Auto-check feature
$9.95 per month
Dr. Link Checker
Deep linking, Scheduled link checks, SSL verification, visual representation of broken links
$10 per month
Broken Link Check
Filter specific URL keywords, Support quick identification, Highlight the exact location of problematic links.
Free
W3C Link Checker
Deep Scanning, Status Report, Recursion
Free
SiteChecker
Broken Link Checker, On-page SEO Audit, Website Health Check, Site Monitoring, Backlink Tracker
$39 per month
Link Assistant
Broken Link Checker, Keyword Research, Backlink Analysis, Website Auditor, Link Building and Management
$99 per year
10 Best Broken Link Checker Tools for Your Website
Go through each tool and evaluate them to choose the best one for your SEO strategy.
1. Suitejar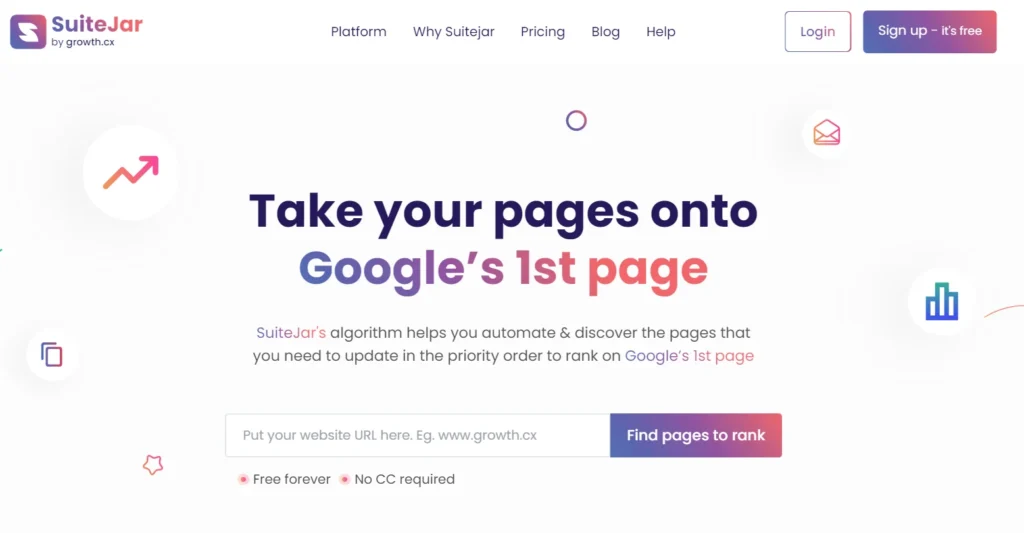 Suitejar is a comprehensive SEO & content marketing software. It offers a suite of tools, including a keyword planner, website auditor, broken link checker, and more.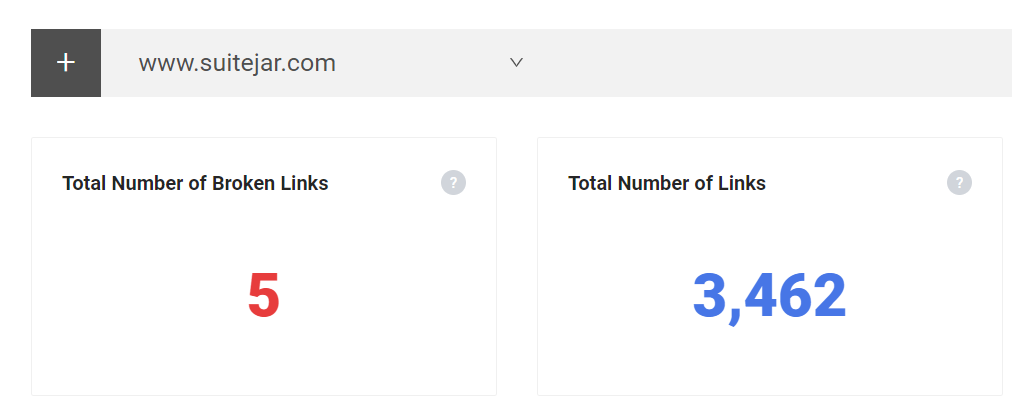 SuiteJar unveils the total number of links and broken links you have on your website. The analysis report further points out the broken link, its anchor text, the URL source, and, most importantly, the 4XX error.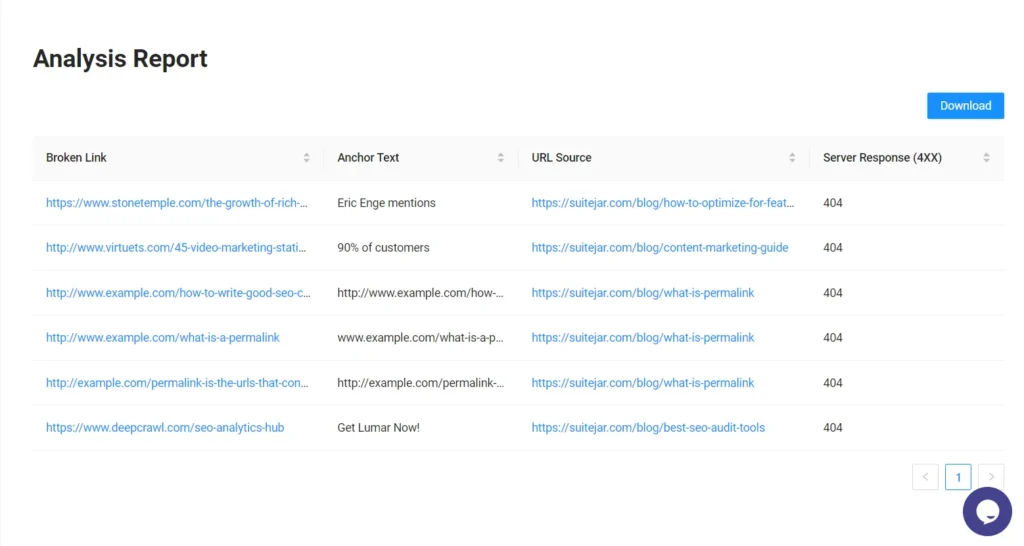 Suitejar meticulously crawls the pages of your site and looks for broken links. Depending on the type of error, you can edit or remove the link to improve your website performance.
But the main reason Suitejar is the first on the list of the best broken link checkers is because of its ability to find outdated content.
By helping you find the webpage with outdated content pieces, the tool helps you stay up-to-date. Therefore, ensuring the content and link health at regular intervals and avoiding link rot.
Key Features

This one-of-a-kind feature allows you to identify the existing web pages that have the potential to rank on Google's first page. Not only that, it also offers actionable insight into how to update these pages and rank them. The insights include keywords to add, links to build, errors to rectify, and more.
This feature helps marketers like you with acquiring and analyzing all critical data from GA4. It collects and visualizes all data in one place, helping you understand the data better and strategize accordingly.
Get the up-to-date keyword volume, SEO difficulty, and more, and find the right keyword for your SEO strategy. It also offers insight into the keyword's CPC and paid difficulty, helping performance marketers with running effective ad campaigns.
Pros:
It is easy to use and has an intuitive interface.
This tool finds all broken links on your site and tells you what the anchor text is for each one.
It helps you identify outdated content on your website.
It offers precise data on keyword research.
Affordable all-in-one SEO tool.
Cons:
The competitor analysis feature is absent.
Comparatively new tool
Pricing Plan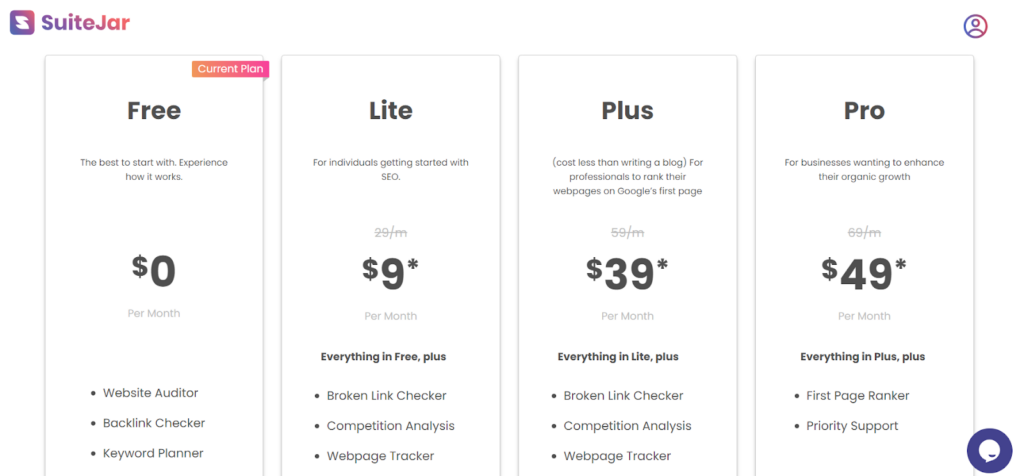 The tool offers a free version and a 14-day free trial for all its paid plans. The pricing starts at $9 per month if billed quarterly.

2. SEMrush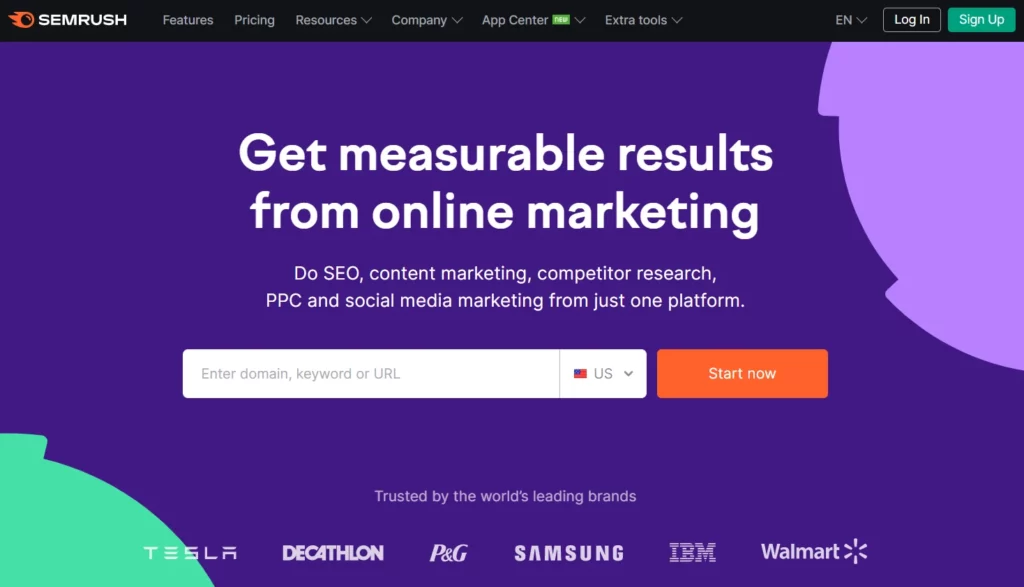 SEMrush is one of the giants in the SEO field. It has many features and can help you efficiently optimize your SEO efforts. Though it doesn't exactly have a broken link checker, its backlink analysis tool help in identifying all the broken links present on your website.
You can also see which pages on your competitor's site are not ranking as well as they should be, so you know what to focus on improving.
Key Features
Competitor analysis to uncover your rivals' online strategies.
Backlink tracking and analysis to evaluate your link profile.
Site Audit to identify and fix on-site optimization issues.
Position tracking to monitor your website's rankings in search engines
Pros
A world guide, diagrams, and pie charts are provided as geo-distribution resources.
Using SEMrush, you can analyse a site's links and anchor messages and learn about the external links of the websites.
Using it, you can conduct a thorough analysis of links.
Among the highlights are the IP addresses of referring domains, the IP distributions among countries, and so on.
Cons
Pricing Plan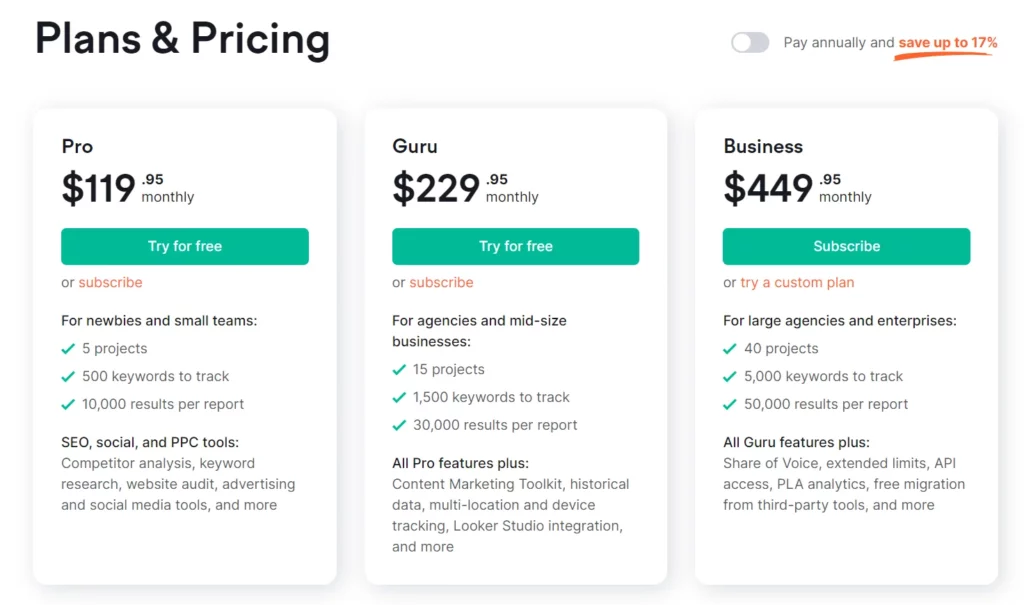 The free version offered is limited, and the paid plans are a bit expensive, with the starter PRO plan starting at $199.95 per month.
Here are 7 affordable SEMrush alternatives you can look into.
3. Google Search Console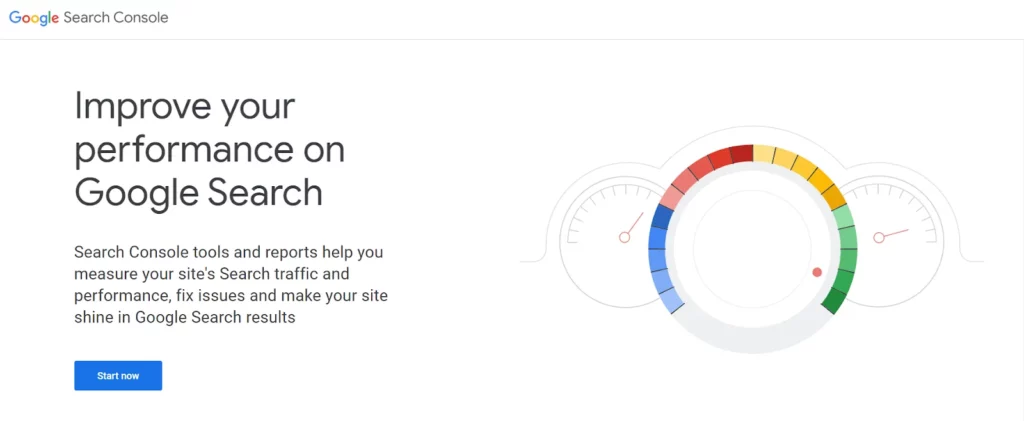 Google Search Console is a free and must tool for all businesses. The tool lets you identify broken links on your website. It works by scanning the link structure of your site and then crawling through it to see if there are any broken links.
You can use this tool to find out if any pages on your site aren't linking properly. If you notice a page isn't working as intended or has broken links, you'll know about it immediately.
Key Features
Performance report helps monitor search traffic and performance on Google Search.
URL Inspection analyzes specific URLs to detect crawling, indexing, and serving issues.
Index Coverage tracks which pages from your site are indexed in Google.
Mobile Usability identifies the pages with usability problems on mobile devices.
Pros:
It allows you to improve your site's SEO by knowing which sites have the most visitors.
Find out what information will help you publicise your campaign.
You can improve your link-building by creating campaigns that inform your audience about your external and internal links.
Explore your website's indexing and crawling actions from the perspective of the search engine process.
Cons:
Only Google can remove links from its search results.
Data updates that are anomalous.
Pricing Plan:
It's Free
4. Ahrefs Broken Link Checker

Ahrefs is an all-in-one SEO tool that can help with your SEO efforts. Its broken link checker is powerful and can help you find broken links in your website and fix them. You can use it to find out if any of your links have been broken for a long time or if they are only broken temporarily.
The main advantage of Ahrefs Broken Link Checker is that it does not require any technical knowledge or programming skills. This makes it ideal for businesses that do not have the necessary expertise in this field.
Key Features
Extensive backlink analysis will help explore the link profile of any website.
Keyword Explorer offers in-depth keyword research and difficulty scoring.
Site Audit tool for detecting SEO issues and providing actionable insights.
Rank tracker to monitor keyword rankings over time and against competitors.
Pros:
Exported links are used to identify broken external links on related sites.
Backlinks can be channeled and sorted.
Find lost content pages linked to your rivals.
The full picture of any URL's no-follow and do-follow links is displayed.
Cons:
The cost is high for new companies, especially start-ups.
The pages do not allow you to trade graphs.
There are no total SEO results available.
Pricing Plan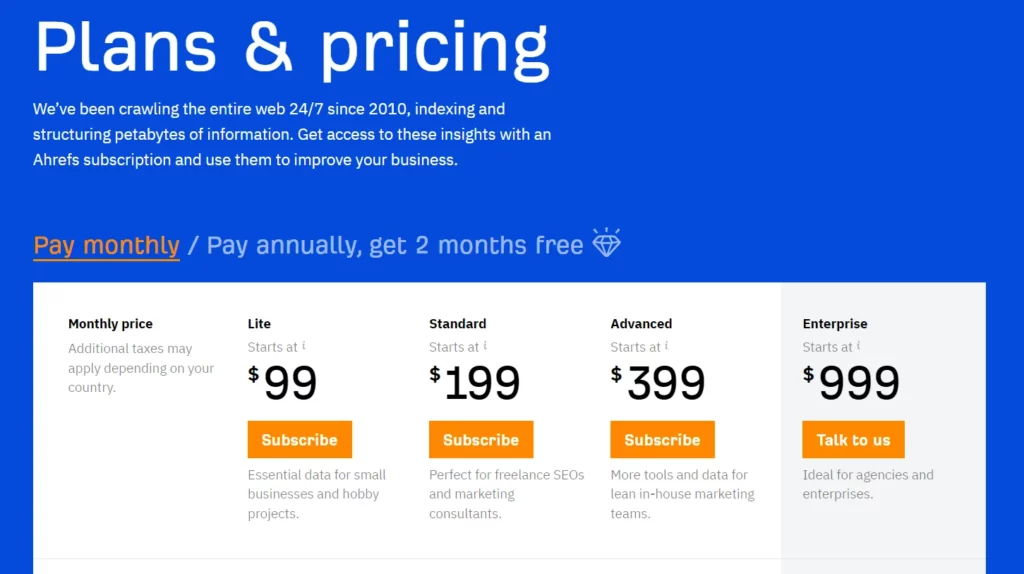 Their pricing starts at $99 per month. Also, if you are finding this pricing to be expensive, here are some Ahrefs alternatives to look into.
5. Dead Link Checker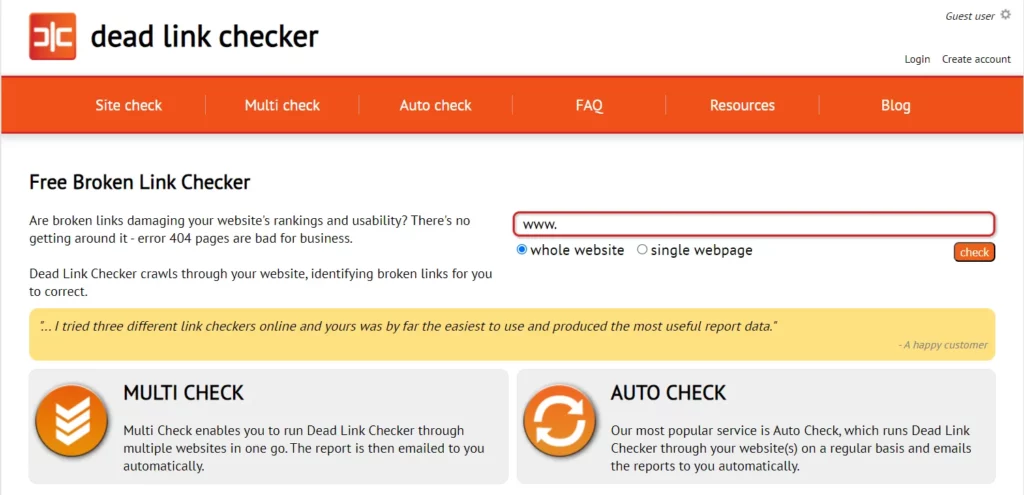 An effective broken link checker tool is the Dead Link Checker. This tool is a simple yet effective way of checking your website for broken links. It is compatible with all major browsers and devices.
It also offers an extension for Google Chrome and Mozilla Firefox browsers, which will help you ensure that your websites are not dead links. You can also use the dead link checker to report broken links on other sites.
Key Features
Scans websites for broken links to improve usability and SEO.
Multi-check option to scan multiple websites simultaneously.
Auto-check feature for regular broken link detection.
Report links with issues, providing HTTP status codes.
Pros:
This tool can identify broken links such as Page not found, Timeout, Server error, and whatever else prevents the site from showing its content.
At any time, it can be paused and resumed.
During the check, links are also checked.
Cons:
An impediment to examining the pages.
The subdomain changes will not be checked since they are considered changes to the site.
Pricing Plan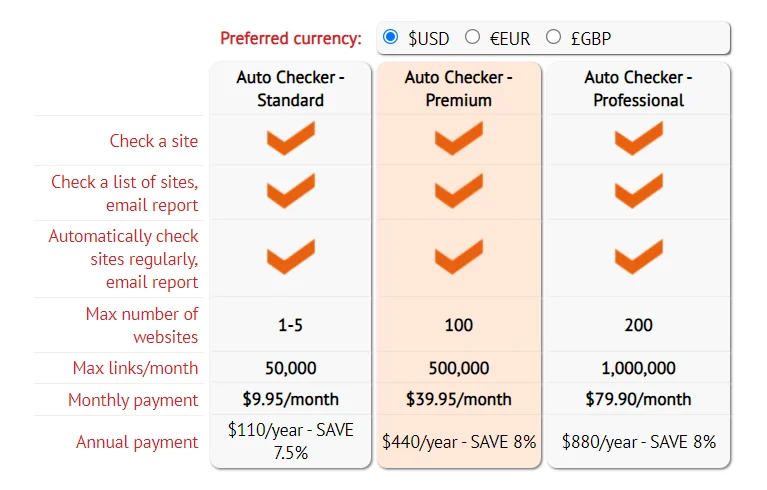 It offers a free version, and its paid plans start from a meager $9.95 per month.
6. Dr. Link Checker

Dr. Link Checker is another simple broken link checker tool. This tool works well, and it's easy to use too.
You enter the URL(s) you want to check and click "Start Check". The program will look through each page during its scan and tell you if there are any issues with those pages or not!
Key Features
It automatically checks and classifies links as valid, warning, or broken.
The tool distinguishes between internal and external links for easier management.
It also offers a visual representation of where broken links are on the page.
It supports deep link checking with multi-level crawling.
Pros:
The tool is user-friendly, making it accessible even for those new to website management.
Dr. Link Checker provides detailed reports on the status of each link, helping users identify and fix broken links effectively.
With the tool being web-based, there's no need to install any software on your computer.
The multi-level crawling capability ensures even deeply nested links are checked.
Cons:
The free version might have limitations regarding the number of pages it can check or the frequency of checks.
It provides a good overview and checks for broken links, but it might not offer an in-depth analysis compared to some more specialized tools.
Like many automated tools, there's a chance of receiving false positives, which can lead to unnecessary checks or changes.
Pricing Plan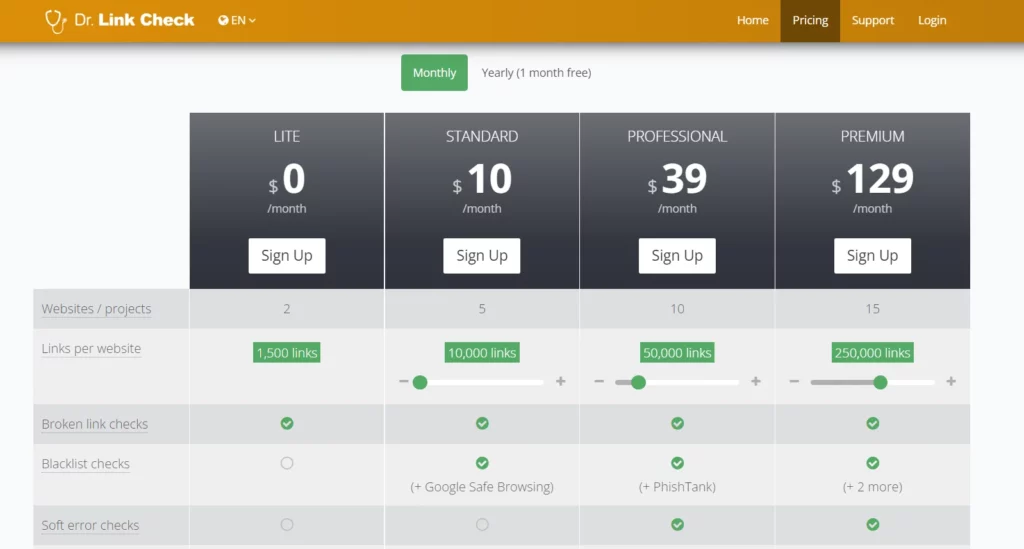 7. Broken Link Check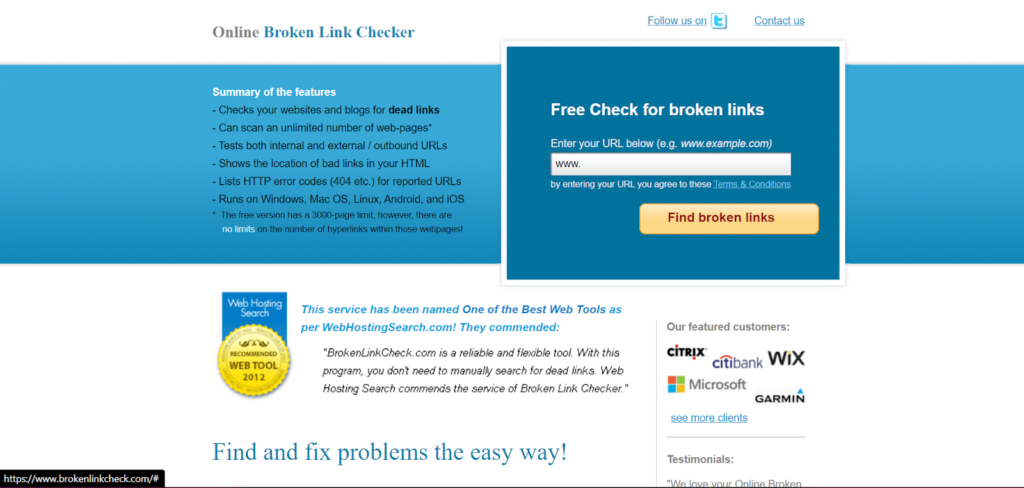 Broken Link Check is a free tool that checks your website for broken links. You can enter URLs, paste them into the search bar, and press Save. The program will search for duplicate pages, redirects, and other problems with your site's structure. It will also check for 404 errors and other errors that may occur if you have an outdated website.
Key Features
It can check both internal and external links for errors.
The tool highlights the exact location of problematic links in your HTML.
It also provides a status code for each broken link for easier diagnosis. It provides an option to report distinct broken links only.
It offers a user-friendly interface with no downloads or installations required.
Pros:
The tool is straightforward to use and doesn't require any special technical knowledge.
It's an online tool, so you don't need to download or install any software.
Each broken link is accompanied by a status code to help determine the exact issue.
It provides options to exclude specific links or domains from checks.
Cons:
It has a singular focus and doesn't offer additional features like backlink analysis, keyword tracking, etc.
Depending on the website size and server response, the scan process can sometimes be slow.
It doesn't provide ongoing or scheduled monitoring of a website. You have to manually run checks.
Pricing Plan
The tool is completely free.
8. W3C Link Checker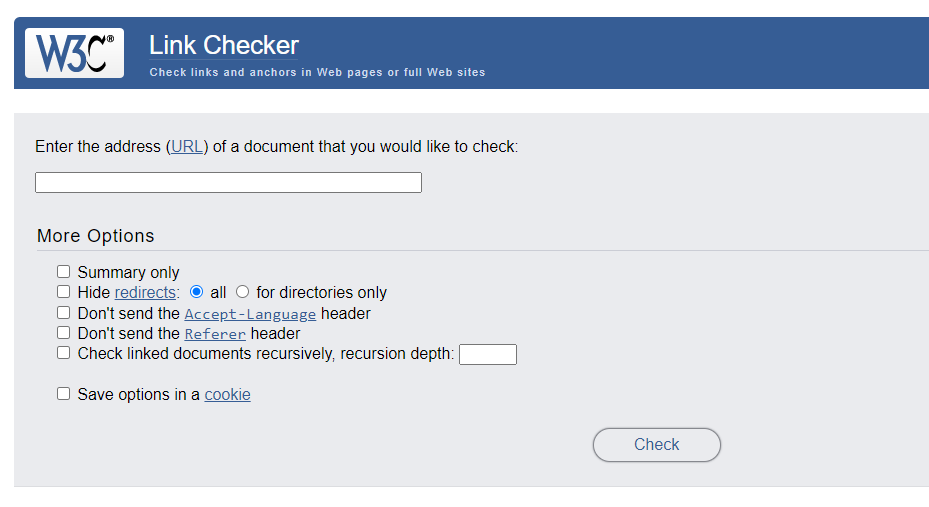 W3C Link Checker is a trusted broken link checker tool offered by the World Wide Web Consortium (W3C). As a free and open-source platform, it delivers meticulous scans of websites. It evaluates internal and external links, ensuring the health and credibility of a site's linking structure.
Key Features:
It evaluates both internal and external links for potential issues.
Each identified broken link comes with a detailed status code, aiding in diagnosing the specific problem.
It is supported by W3C, a renowned organization known for setting web standards.
It also offers an option to check linked documents recursively up to a defined depth.
Pros:
Completely free to use.
As an open-source tool, users can view and understand its codebase.
It is operated by W3C, a pillar in the web standards community, ensuring trustworthiness.
Cons:
The interface is relatively basic and might be less intuitive than some modern alternatives.
Depending on the website's size, the scanning process can sometimes be slower than other commercial tools.
Beyond broken link checking, it doesn't offer SEO insights, backlink analysis, or other comprehensive features.
Pricing Plan
The tool is free
9. Sitechecker

SiteChecker is an all-in-one website monitoring and optimization tool. It offers a range of features to enhance a site's performance and user experience.
Among its varied utilities, SiteChecker is particularly known as an effective broken link checker. It ensures that websites maintain credibility by eliminating dead links.
Key Features
The broken link checker helps identify and pinpoint internal and external dead links.
It offers insights into how individual pages can be optimized for search engines.
The tool evaluates the overall performance and health of a website.
The backlink tracker analyzes the backlinks pointing to your site and evaluates their quality.
Pros:
Beyond just a broken link checker, it offers a range of SEO and site performance utilities.
It's easy to navigate and understand, making it suitable for both beginners and professionals.
It provides continuous monitoring, ensuring immediate alerts for any site issues.
It offers reliable customer support to address queries or issues.
Cons:
Some features are limited to premium plans, which might not suit all budget levels.
While user-friendly, the breadth of tools might be overwhelming for absolute beginners.
Some essential features might be restricted in the free version of the tool.
Pricing Plan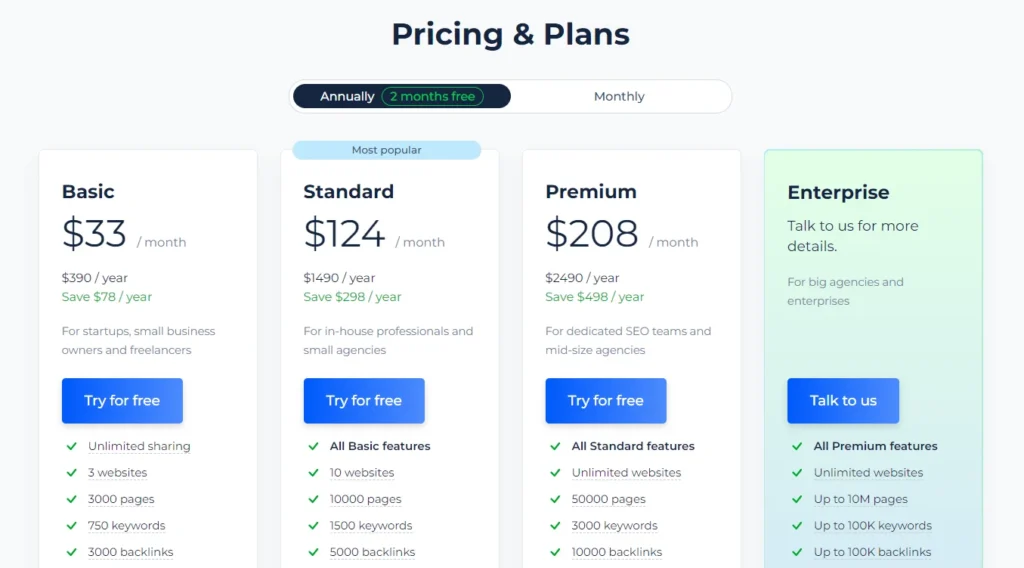 They offer a free version with limited features. Their pricing plan starts from $33 per month when billed annually. When billed monthly, it is $39 per month.
10. Link Assistant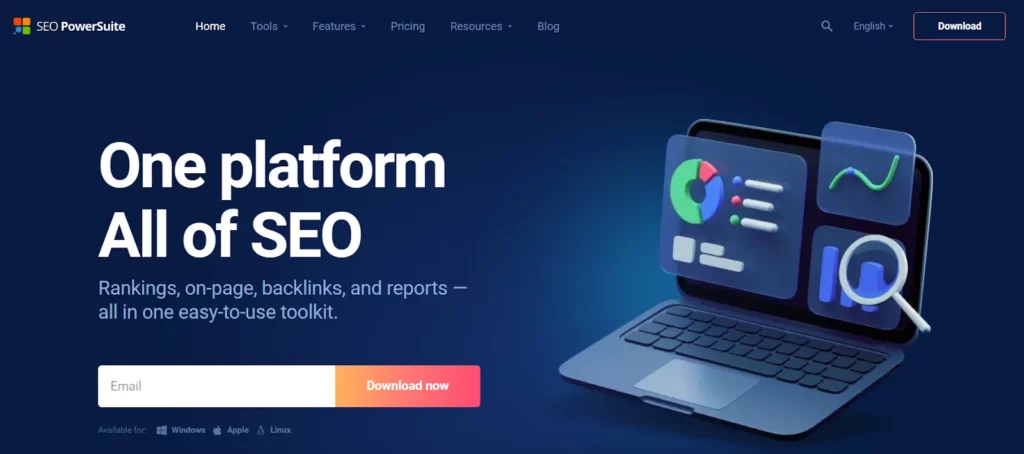 Link Assistant, part of the renowned SEO Powersuite, serves as an advanced broken link checker and much more. The tool scans internal and external links and diligently identifies and reports broken links, offering insights into the underlying issues.
Besides being a broken link checker, Link Assistant is enriched with a spectrum of SEO utilities. This includes keyword exploration, backlink assessment, and a thorough website audit.
Key Features:
Its keyword research tool uncovers profitable keywords and tracks your website's ranking for them.
The backlink analysis feature evaluates your link profile, identifying strengths and improvement areas.
Its website auditor examines your website's health and offers actionable optimization suggestions.
It also assists in link outreach and keeps track of your link-building efforts.
Pros:
The tool offers a multitude of SEO tools beyond just a broken link checker.
The clear, intuitive design makes it suitable for both beginners and professionals.
The tool frequently updates to align with the latest SEO best practices.
It seamlessly integrates with other tools in the SEO Powersuite.
Cons:
More advanced features might be locked behind a premium version.
With its vast array of features, new users might face a steep learning curve.
The sheer amount of data and reports can be overwhelming for some users.
Pricing Plan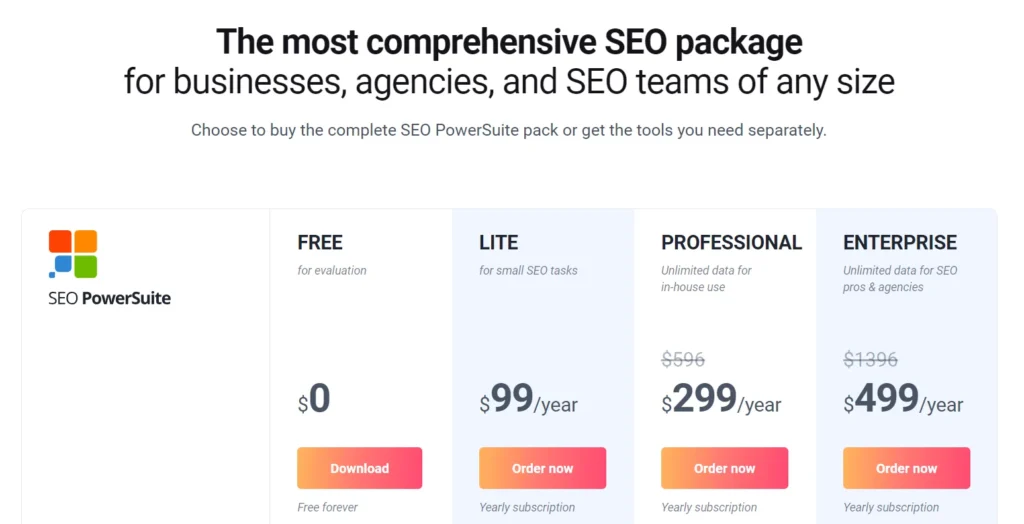 You can use the free version to evaluate the basic features of the tool. Its pricing starts from $99 per year.
Final Thoughts
The cons of having broken links on your website is devastating. Therefore it is imperative that you monitor the link health on your website and rectify them at the earliest.
Turn to reliable and tried broken link checker tools like SuiteJar. Such tools can help you regularly monitor the website's health and pinpoint broken links whenever it appears on your website.
If you are finding it difficult to choose one for you, here is a guide to help you choose the right SEO tool for your website.