Now that your startup website is up and running, you're eager to conquer the online world. And the most impactful approach is Search Engine Optimization (SEO).
You can cost-effectively achieve optimal results by implementing search engine optimization. SEO helps you be more visible and have a more substantial online presence to succeed today.
The process of starting a business can be challenging, especially with limited budget.
So, if you're considering investing in SEO, finding affordable SEO tools that fit your financial constraints is essential. While there are many options, balancing affordability with performance for your website is the real task.
We've rounded up the top seven budget-friendly SEO tools to leverage your SEO power. These tools help you be seen online and compete with big players in the digital world.
Best Affordable SEO Tools
| SEO Tool Name | Price [*Starts from] | Free Trial | Features |
| --- | --- | --- | --- |
| Suitejar | $9 per month | 7 days free trial | All-in-one SEO suite for comprehensive analysis and optimization. |
| Serpstat | $55 per month | 7 days free trial | best overall feature-rich, affordable SEO tool |
| Spyfu | $33 per month | 30 days free trial | Easy SEO spy tool for newbies |
| Screaming frog | $259 per year* | No free trial | best SEO audit & crawling tool |
| SE Ranking | $31 per month | 14 days free trial | User-friendly SEO tools tailored for beginners and pros alike. |
| Ubersuggest | $12 per month | 7 days free trial | best keyword research tool |
| Ahrefs | $99 per month | No free trial | A powerful toolkit for backlink and keyword analysis. |
1. SuiteJar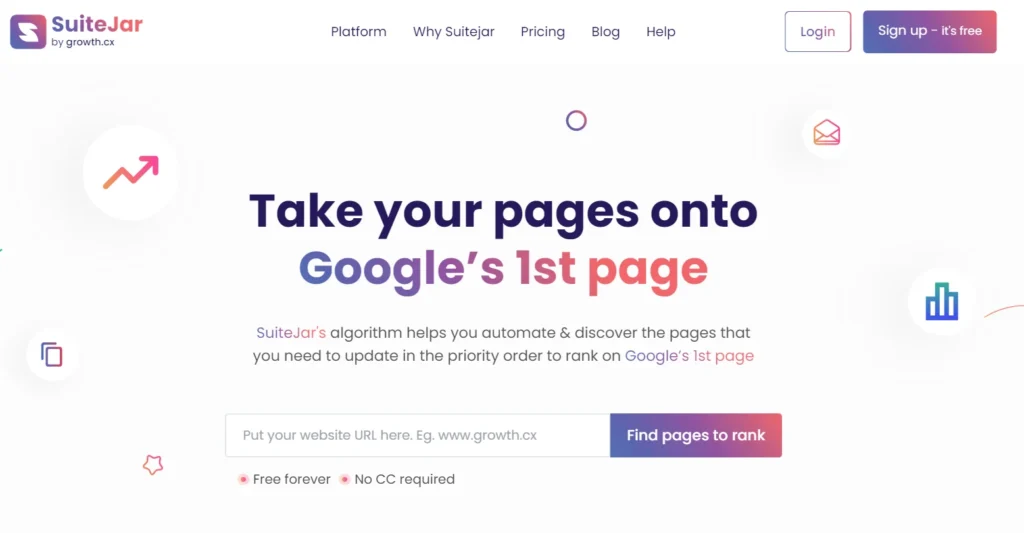 SuiteJar is one of the most affordable SEO and content analysis tools. It provides businesses of all sizes with a comprehensive suite of features, including a keyword planner, user-friendly website analytics, a broken link checker, and more.
Using this complete SEO tool suite, you can crawl your entire website, identify errors, and gain actionable insights. SuiteJar has become a leading website analysis and keyword research tool in the industry.
The main features that make it one of the top SEO tools are a First-page ranker, an easy web analytics tool, and an outdated page checker.
Key Features
This helps you find webpages that have the potential to rank on Google's first page. The tool, when integrated with GSC, provides actionable insights to optimize the web pages and help you increase the ranking possibilities. These insights include but are not limited to adding keywords, the internal links to add, and correcting tech SEO errors.
This feature helps you find old content on your site. You can update or delete it to keep your website up-to-date. It maintains your content's health and ensures it stays relevant.
This feature allows marketers to visualize all crucial GA4 metrics in one place. This infield view helps you get a clear idea of your marketing efforts and aids in improving them.
This tool offers insights into keyword search volume, SEO difficulty, CPC, and keyword suggestions.
Pricing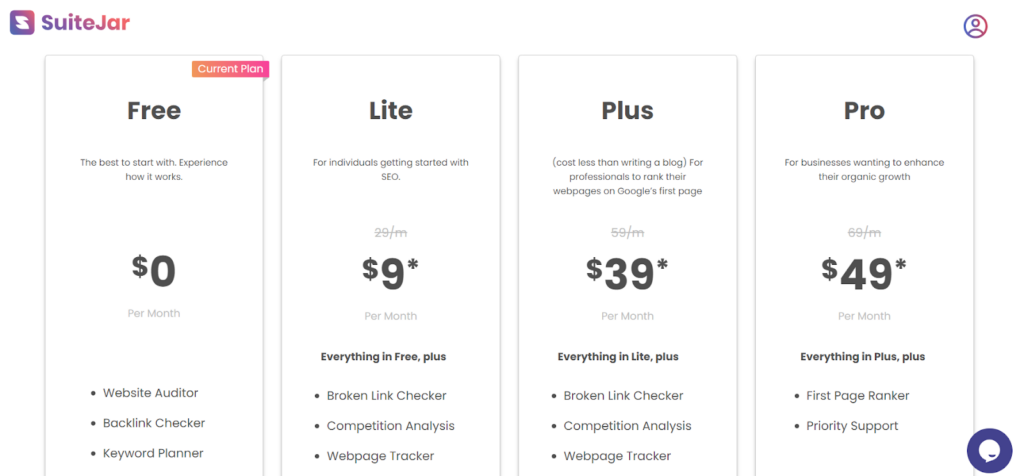 SuiteJar provides a 7-day free trial, and its paid plans start from a meager $9 per month. Get in touch with their team to learn more about their pricing.
2. Serpstat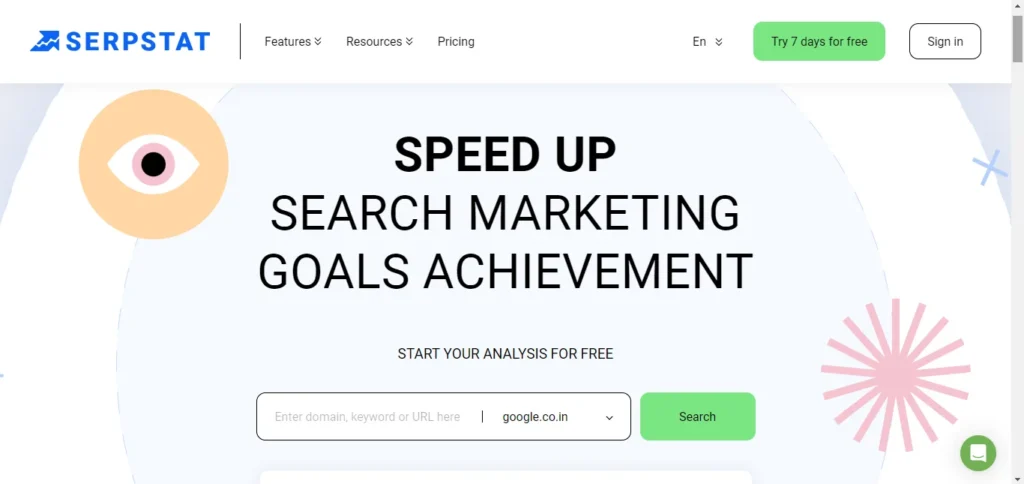 Serpstat is other affordable SEO tool you can use. It offers a range of feauters including, keyword research, competitor analysis, backlink analysis, rank tracking, and site audit. Its user-friendly interface and strong analytical capabilities make it a valuable tool for businesses looking to enhance website visibility and drive more traffic.
Key Features
This feature helps you identify your actual search competitors, providing insights into their traffic, visibility, backlinks, and various SEO metrics. Also, get keyword ideas from your competitors' strategies and improve your PPC campaigns.
With Serpstat's site audit feature, you can receive detailed insights about your website's health and can make necessary steps to enhance its performance. You can schedule automatic checks, prioritize and fix technical issues, and monitor your site's performance progress over time.
Pricing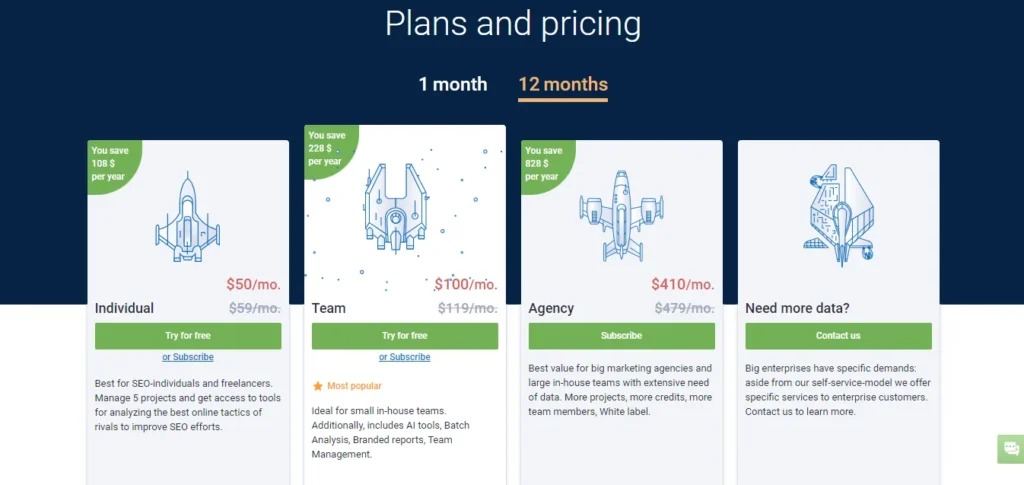 3. Spyfu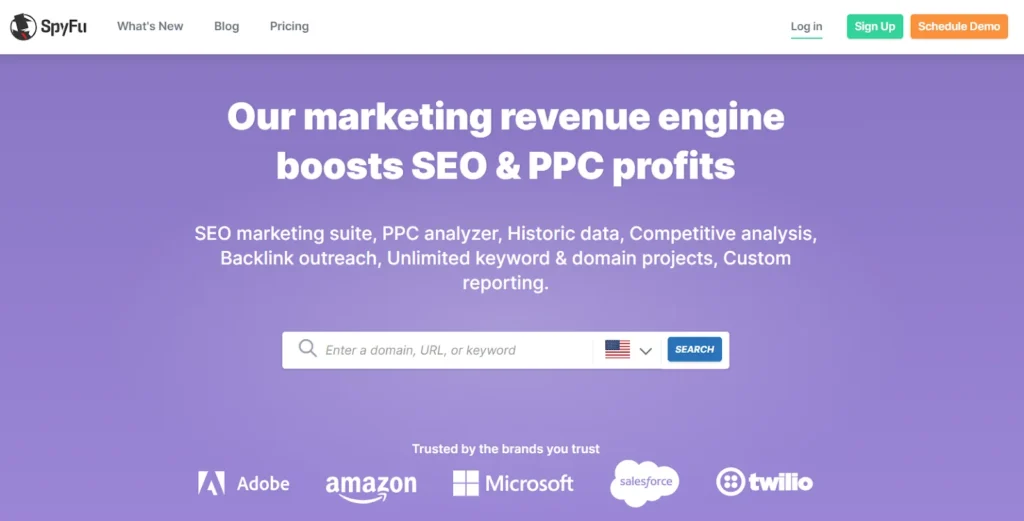 SpyFu is an SEO tool that startups can use to significantly improve their marketing efforts. This tool provides insights into your competition's strategies, keyword usage, and backlink sources. It also helps you analyze and outperform your competition in SEO.
Key Features
Easily get your competitors' PPC keywords, providing insights into their click volume and cost per keyword. SpyFu analyzes keyword ranking trends for any webpage or site, pinpointing what's causing the fluctuations, whether algorithm changes or site optimizations.
You can explore your competitors' keywords, backlinks, and content strategies. It also allows you to track changes in rankings and content within your niche, monitor emerging competitors, and pinpoint valuable keywords.
Pricing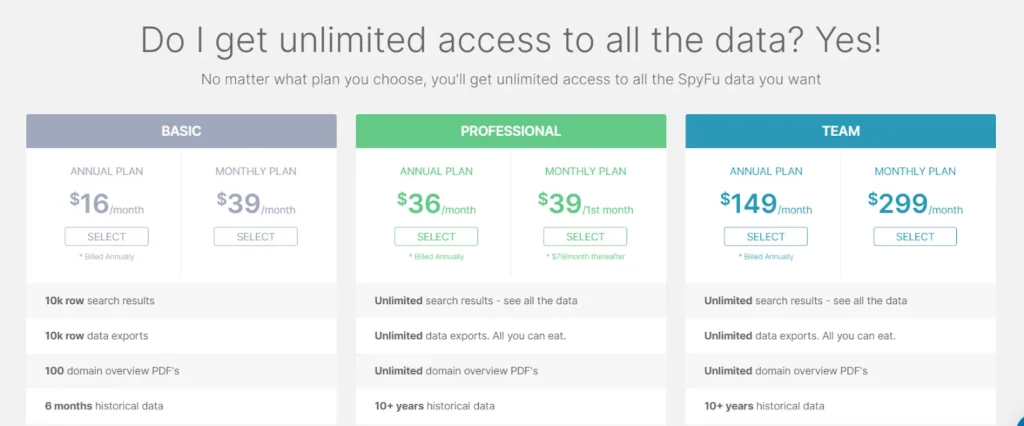 4. Screaming Frog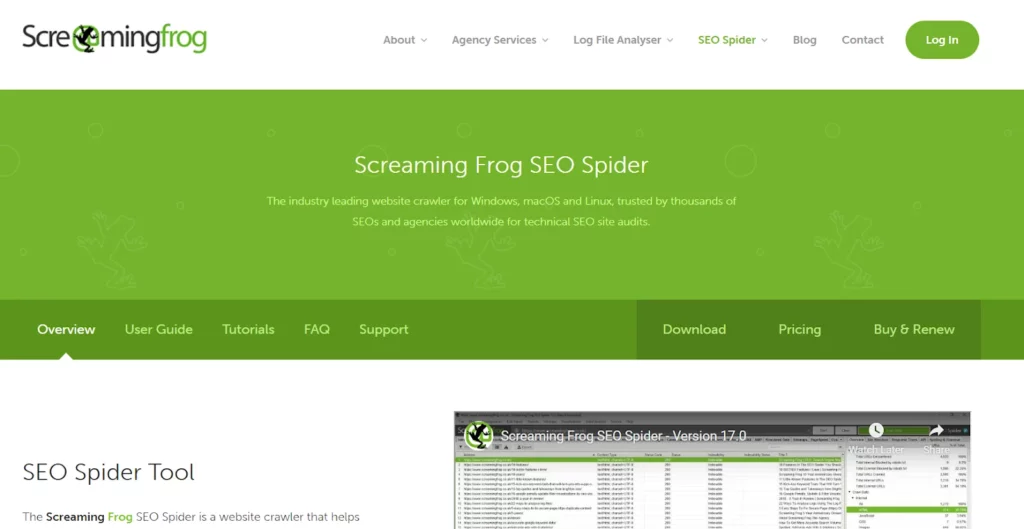 Screaming Frog is the ultimate technical SEO tool that guarantees to identify and fix any site errors, helping you easily enhance your search engine rankings. Improve your website by optimizing the title tags, fixing broken links, and more. It's a user-friendly software that simplifies your SEO tasks.
Key Features
The audit redirects feature helps you find temporary and permanent redirects. It also detects redirect chains and loops. You can easily audit a list of URLs with this feature.
You can optimize your site effectively with this feature, which conducts a comprehensive crawl to uncover hidden opportunities and potential problems.
Pricing
5. SE Ranking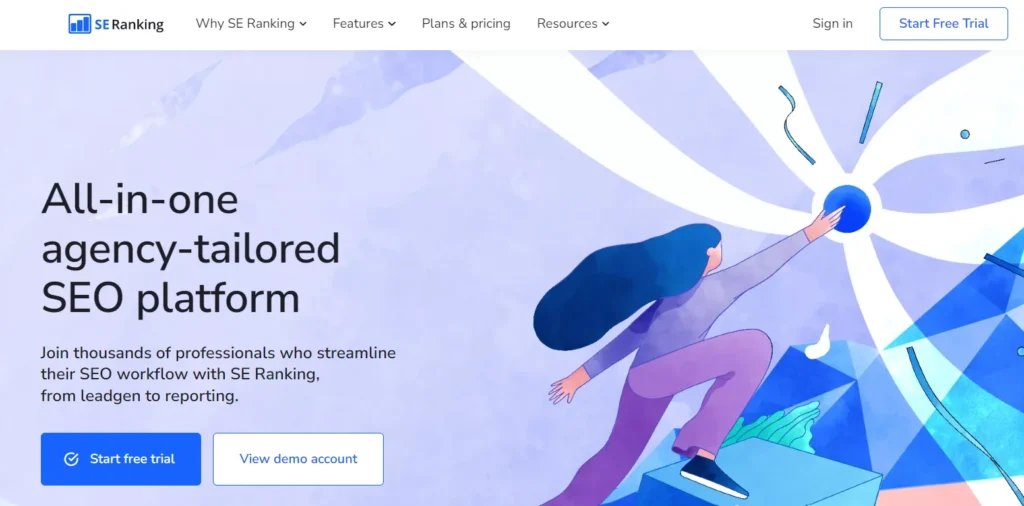 SE Ranking is an all-in-one SEO tool to help you achieve success in your SEO startegy. This platform has everything you need to make your website better. It helps you research keywords and check backlinks.
Key Features
The feature allows you to keep track of how your keywords rank across search engines. Stay informed about your website's performance in any location, language, and device.
This feature uncovers valuable insights into your competitor's keyword strategies – both organic and paid search. Use competitor research tools to learn about their past Google Ads and stay ahead.
Pricing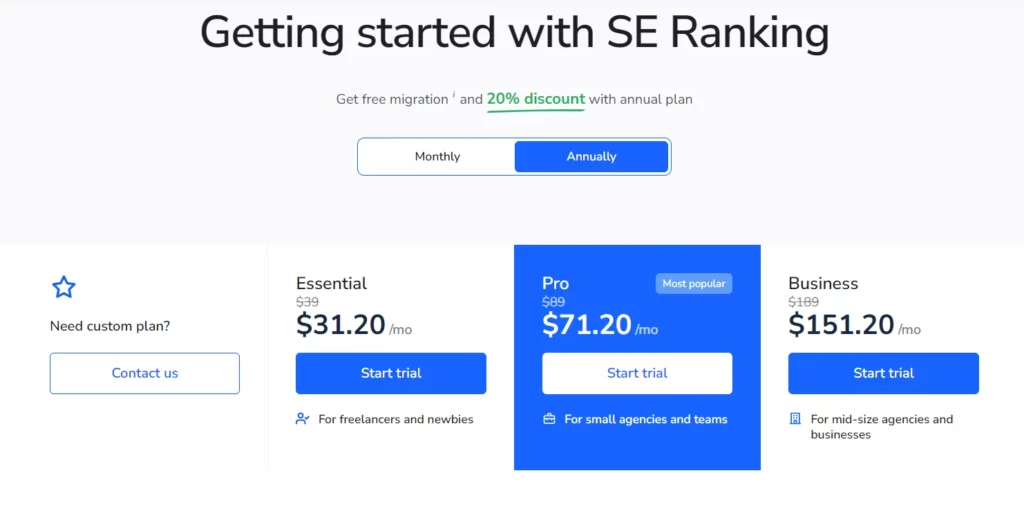 6. Ubersuggest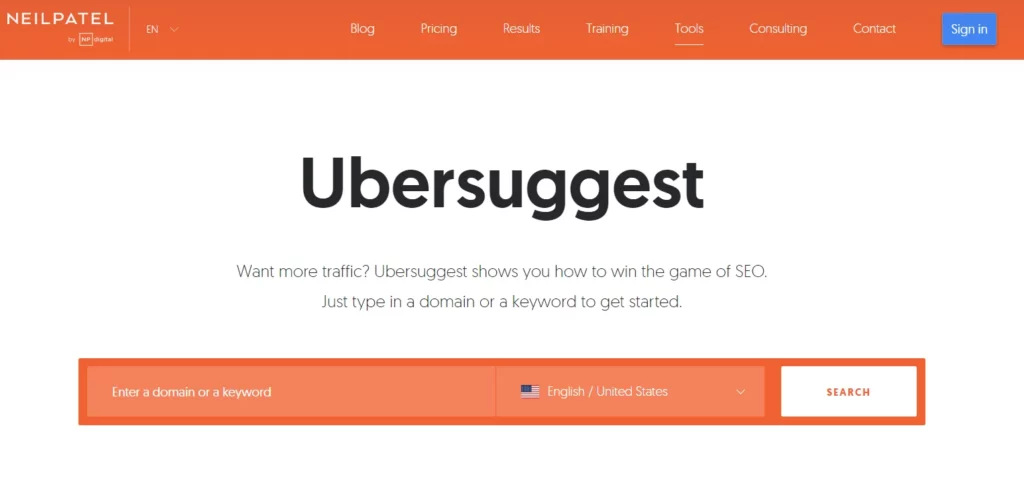 Ubersuggest stands out as an affordable SEO tool packed with powerful features. It provides valuable insights into practical strategies for your market, helping you discover keyword ideas, monthly search volume, CPC, PPC competition, and SEO competition.
Key Features
It lets you track and monitor your website's link profile and identify high-quality backlinks. You can use this tool to strategize and strengthen your backlink strategy.
The Ubersuggest website audit tool finds broken links, missing meta tags, and more. You can track changes over time and suggest improvements to maintain an SEO-friendly website.
Pricing
7. Ahrefs

Ahrefs is a comprehensive SEO tool that provides a wide array of features to assist digital marketers and SEO professionals in optimizing their websites for search engines. With Ahrefs' feature-rich suite, you can examine backlinks, keywords, competitor analysis, and rankings to improve the performance of your website.
Key Features
Ahrefs offers a comprehensive backlink profile for any URL, detailing metrics like the number of backlinks, referring domains, and domain rating.
Keywords Explorer shows search volume, keyword difficulty, related keyword ideas, and current ranking URLs for a given keyword.
Pricing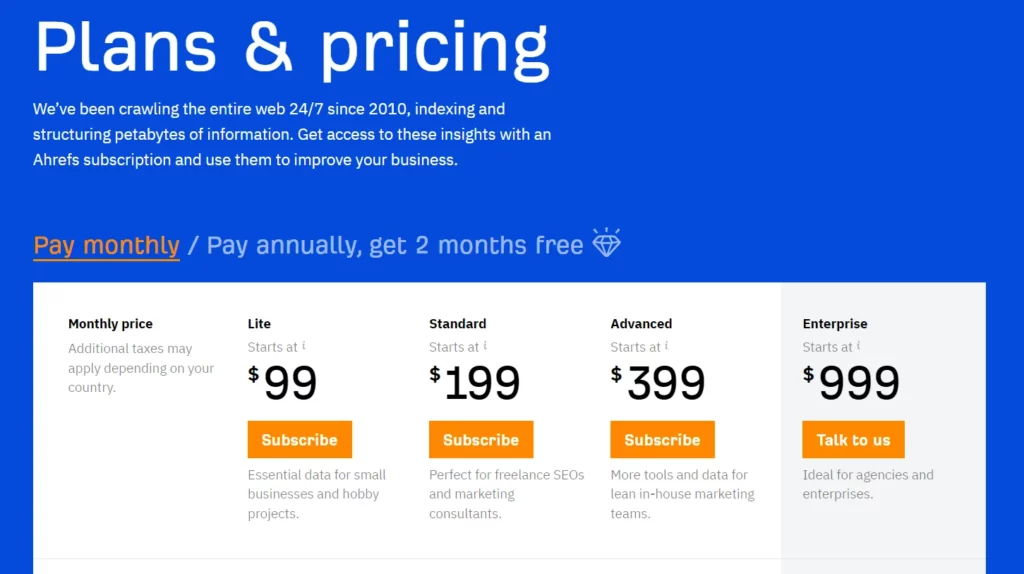 Conclusion
SEO can be challenging and exciting for startups, especially those with a limited budget. Startups and SaaS businesses can save money using affordable SaaS SEO tools to build an online presence.
Their affordability is essential, ensuring you can invest wisely without straining your financial resources. These SEO tools offer invaluable support for startups looking to optimize their websites, identify high-impact keywords, analyze competitors, and monitor their SEO progress.
In the digital age, there are endless possibilities, and with the right strategies and tools for SEO, you can navigate this successfully.